Texas Gov. Greg Abbott blasted the Obama administration Friday after Justice Department attorneys admitted the administration violated a federal court order by granting about 2,000 extended work permits to illegal immigrants.
"After months of obfuscation and stall tactics by the Obama administration, the president's lawyers, have been forced to admit that they acted outside the law by implementing president's executive amnesty – even after a federal judge had ordered them to stop," Abbott said in a statement.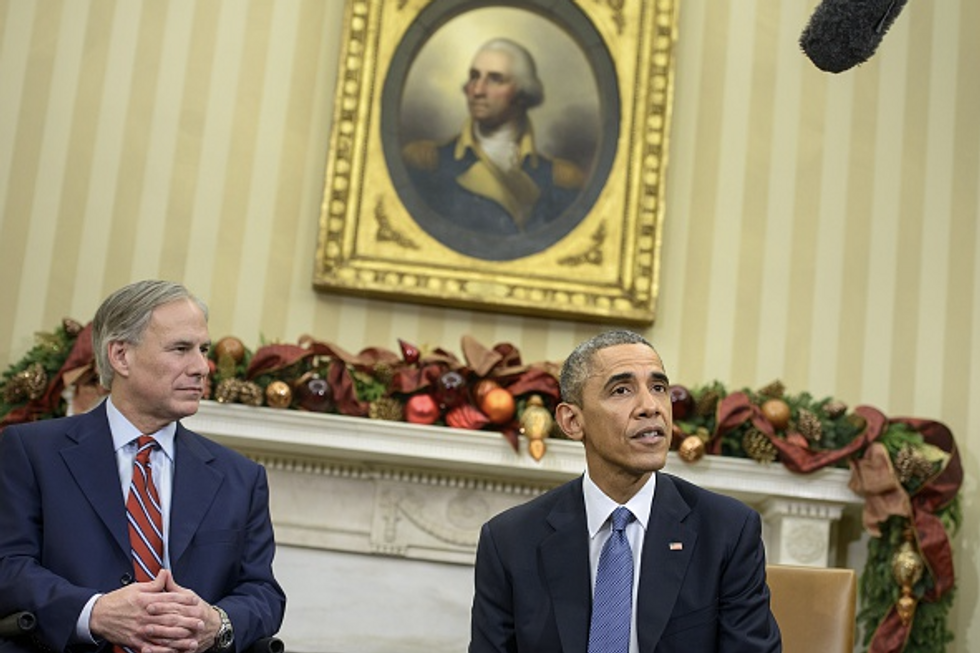 Texas Governor-Elect Greg Abbott listens while President Barack Obama makes a statement before a meeting in the Oval Office of the White House December 5, 2014 in Washington, DC. Obama met with the recently elected governors of Alaska, Illinois, Maryland, Massachusetts, Pennsylvania, Rhode Island and Texas. (BRENDAN SMIALOWSKI/AFP/Getty Images)
Texas is leading a multi-state lawsuit to stop President Barack Obama's executive actions from November to shield about five million illegal immigrants from deportation. In February, U.S. District Judge Andrew S. Hanen issued an injunction to halt much of the order.
But late Thursday, Justice Department attorneys admitted to Judge Hanen that the Department of Homeland Security had approved about 2,000 applications for three-year work permits.
"The government sincerely regrets these circumstances and is taking immediate steps to remedy these erroneous three-year terms," the administration lawyers said.
However Abbott sees the admission as part of a pattern.
"Not only did President Obama's executive action violate the U.S. Constitution; his lawyers' actions show a blatant disregard for the rule of law that has become typical of this administration and directly violates one of the fundamental principles upon which our nation was founded," Abbott continued.
---