The House Armed Services Committee is warning that it should no longer be assumed that the U.S. military is either the most technologically superior or the most dominant fighting force, an assessment that comes just as the rise of the Islamic State and Russia is posing a real challenge to the United States.
"[W]ith the continued diffusion of advanced technology, U.S. military technological superiority is no longer assumed and the dominance U.S. forces have long enjoyed in the air, sea, space, and cyberspace domains is no longer assured," the committee wrote in a report detailing the National Defense Authorization Act (NDAA) for fiscal year 2016. "Such a security environment demands that the nation's armed forces are agile, efficient, ready, and lethal."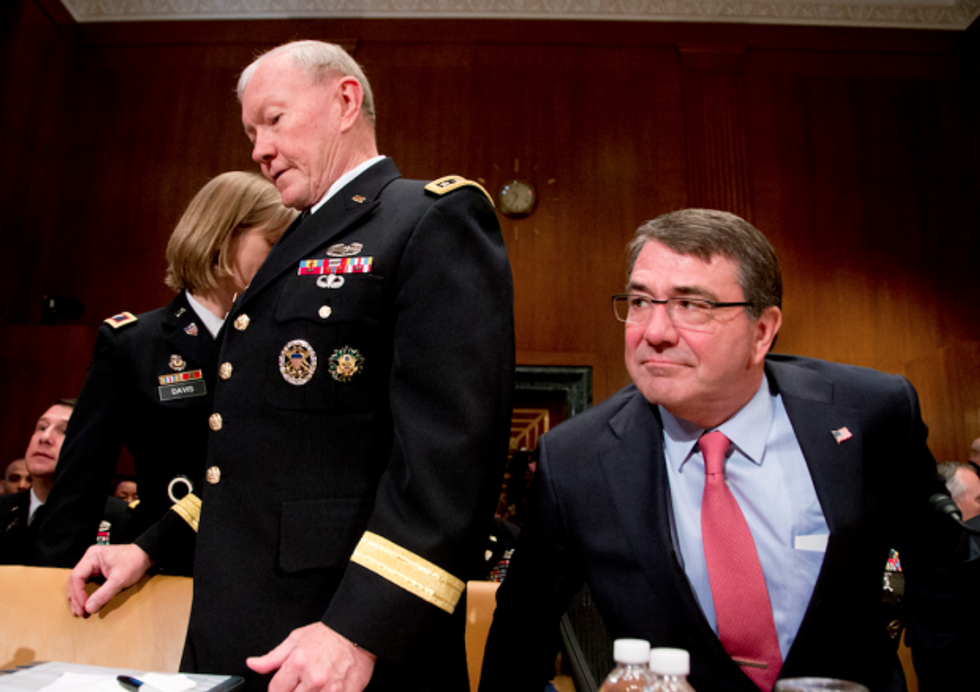 Defense Secretary Ashton Carter and Joint Chiefs Chairman Martin Dempsey testified in Congress this week on the defense budget. The House Armed Services Committee is warning that the U.S. military can no longer be automatically seen as the most dominant, technologically advanced fighting force. Image: AP
The committee said that trend is especially worrying in light of the various national security challenges that have come up in the last year. Those include "the rise of the Islamic State of Iraq and the Levant, growing instability across the Middle East and Africa, and a revanchist Russian Federation."
The committee said those threats "are a reminder of the continuing need for U.S. military engagement, presence, commitment, and strength to defend U.S. interests, deter would-be aggressors, and reassure allies and partners."
The NDAA doesn't fund the military, but it does set policy direction for the military, and authorizes specific spending levels within the Department of Defense. The 2016 NDAA authorizes $515 billion in discretionary spending, and $89.2 billion for "overseas contingency operations."
The overseas operations account is generally used to fund war operations, but this year, it has become controversial because Republicans are using that account to boost Defense Department funding above the cap on spending that was agreed in 2011.
The Obama administration requested a total of almost $612 billion in total Defense Department funding, and the House NDAA matches that once mandatory spending items are added.
One frustration in Congress has been the Obama administration's reluctance to send military aid to Ukraine to help that country stave off pro-Russia insurgents, who are still receiving support from Russian forces. The NDAA, however, would call on the U.S. to send this lethal aid to Ukraine.
"The bill would also authorize appropriations to provide sustainment and assistance to the military and national security forces of Ukraine, including the explicit authorization of lethal weapons of a defensive nature to enhance the defense of Ukraine and deter further Russian aggression," the committee report said.
— This story was corrected to note that the $612 billion NDAA bill matches the Obama administration's request for funding.