A senior Obama administration official told media outlets Sunday that Saudi King Salman's decision to not meet President Barack Obama at the White House or attend a Camp David summit this week was "not in response to any substantive issue," suggesting the administration did not view it as a snub.
"If one wants to snub you, they let you know it in different ways," an unnamed senior administration official told the New York Times.
That assessment was widely disputed in the U.S. media and by Middle East analysts.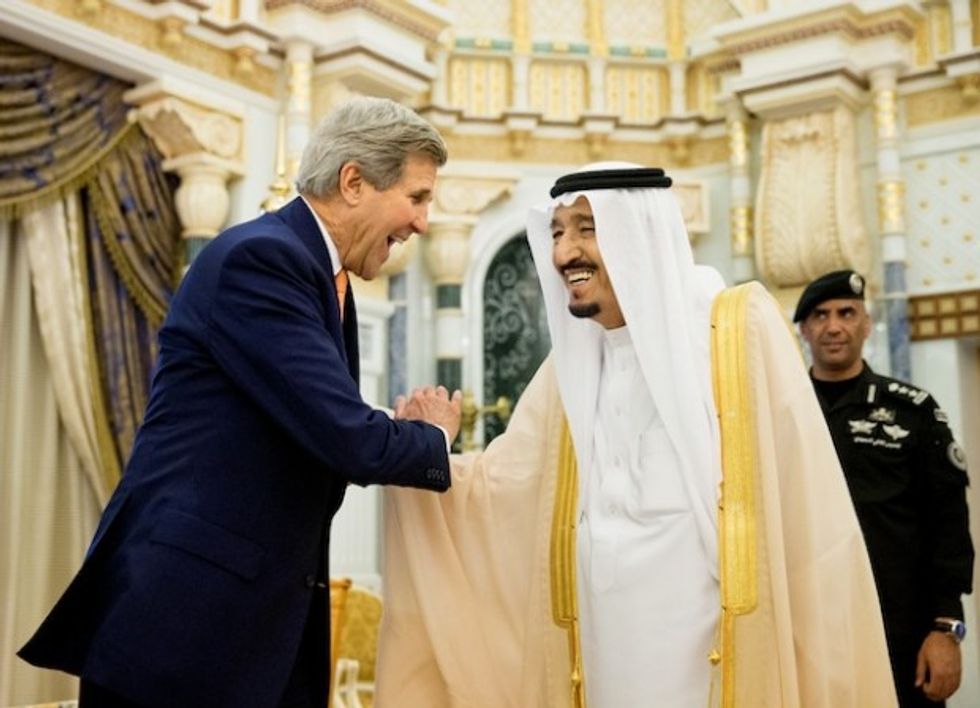 U.S. Secretary of State John Kerry, left, shakes hands with Saudi Arabia's King Salman at the Royal Court, in Riyadh, Saudi Arabia, Thursday, May 7, 2015. Kerry sought to secure a pause in Yemen's war after he arrived to Saudi Arabia to meet with the king and other top officials, citing increased shortages of food, fuel and medicine that are adding to a crisis that already has neighboring countries bracing for a mass exodus of refugees. (AP Photo/Andrew Harnik, Pool)
The Wall Street Journal characterized Salman's decision as "a diplomatic snub from one of the top leaders in the region" and "a blow to the White House's efforts to build Arab support for a nuclear accord with Iran."
The New York Times called it "an apparent signal of its [Saudi Arabia's] continued displeasure with the administration over United States relations with Iran, its rising regional adversary."
The Saudi announcement the king would not attend came just two days after the White House said Obama would meet King Salman this Wednesday at the White House, one day before the Camp David summit.
Obama admin in denial on Saudi king's snub — "If one wants to snub you, they let you know it in different ways" http://t.co/UFbx6M239j

— سلطان سعود القاسمي (@SultanAlQassemi) May 11, 2015
Salman snubs Obama: sign of disappointment with WH failure to back Arab allies against a rising #Iran. #Saudi http://t.co/kmBQLusPVt

— Jon Williams (@WilliamsJon) May 10, 2015
3/3 maybe king decided what US was offering was not worth the trip or true that he's busy at home. Either way, looks bad for Kerry and WH

— Kim Ghattas (@BBCKimGhattas) May 10, 2015
#SaudiArabia's King gives old heave-ho to #Obama. Won't come to Camp David charade. http://t.co/vyZGtHGm7C pic.twitter.com/UkdIejS1aJ

— Anne Bayefsky (@AnneBayefsky) May 10, 2015
Saudi Foreign Minister Adel al-Jubeir announced Sunday that the king would not travel to the summit and instead Crown Prince Mohammed bin Nayef, the Saudi interior minister, and the defense minister and king's son, Deputy Crown Prince Mohammed bin Salman would attend.
Al-Jubeir said the king would not attend, because the summit coincided with a humanitarian cease-fire in Yemen, where a Saudi-led coalition has been launching military strikes on Iranian-backed Shiite Houthi rebels.
Agence France-Presse noted that of the six Persian Gulf leaders Obama invited to the Camp David summit, only two were now expected to show up, the leaders of Kuwait and Qatar.
Obama invited the Gulf leaders in April "to strengthen our security cooperation" when he announced a framework agreement between the U.S., five world powers and Iran over Iran's nuclear program. The Gulf leaders, along with Israeli Prime Minister Benjamin Netanyahu, strongly oppose the provisions of the agreement, because they don't believe it will stop Iran from eventually obtaining a nuclear weapons capability.
"Obama's plans now lie in tatters, with only two heads of state slated to attend the Thursday meeting," AFP observed.
A senior administration official told the New York Times that when Secretary of State John Kerry met the king in Riyadh last week, the king said he was looking forward to coming to the meeting.
The Saudi media has been sharply critical of the Iran framework agreement, exemplified by one Saudi columnist's assessment that Obama is "one of the worst American presidents."