House Democrats on Wednesday pushed for more funding for Amtrak, the government-run rail service, just hours after a fatal derailment in Pennsylvania that so far has claimed seven lives.
Democrats have routinely argued in favor of more infrastructure spending, and early Wednesday were pointing to the crash as another reason why more money is needed. But even as they were making these arguments, reports were filtering out that bad infrastructure may not have been the problem, and that the crash happened after the train was traveling at 100 m.p.h. around a curve where the recommended speed was 50 m.p.h.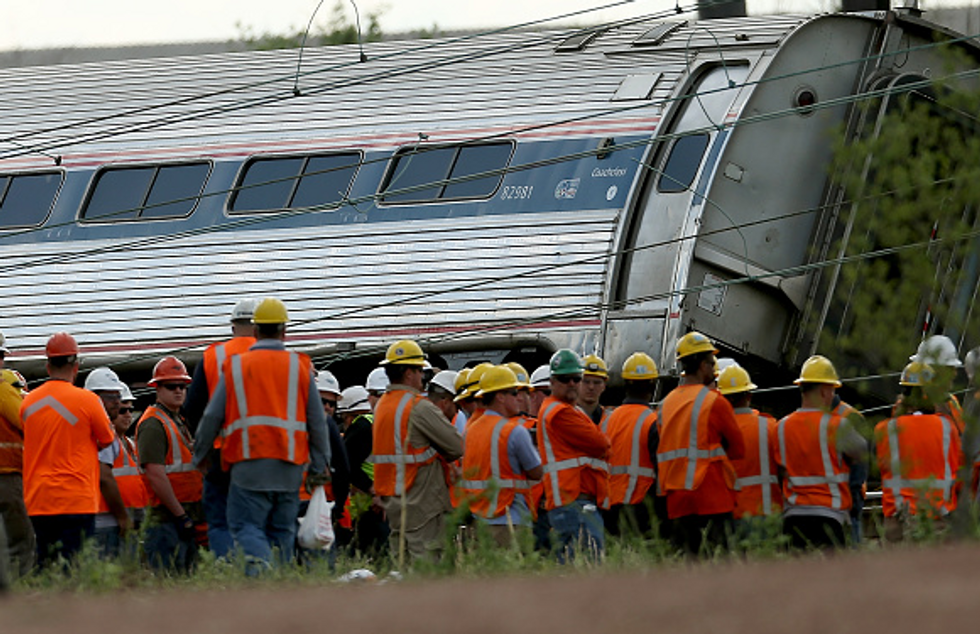 Democrats pushed for more Amtrak funding just hours after a fatal crash in Pennsylvania, but House Republicans rejected those demands and blasted Democrats for using the tragedy as a justification for more funding when all the details of the accident are not yet known.Win McNamee/Getty Images
Republicans weren't swayed in a House Appropriations Committee hearing of the need for more Amtrak funding. The legislation would cut total Amtrak funding by about $262 million from the current year to fiscal year 2016, and GOP members opposed any additional funding in a committee meeting today.
Reps. Steve Israel (D-N.Y.), David Price (D-N.C.), Chaka Fattah (D-Pa.) and others pushed to add billions to Amtrak, but were turned away by Republicans.
At today's Approps markup, I am fighting to reverse GOP cuts to @Amtrak & @USDOT and build a safer, smarter transportation system #Amtrak188

— David E. Price (@RepDavidEPrice) May 13, 2015
.@chakafattah amendment to fully fund #Amtrak that I supported was just voted down. We must stop divesting in American infrastructure

— Steve Israel (@RepSteveIsrael) May 13, 2015
The effort led to some tension between members of both parties, as Democrats blamed Republicans for failing to meet what they said is an obvious need for funding at Amtrak.
According to the Washington Post, Rep. Mike Simpson (R-Idaho) lashed out at Israel for trying to use the tragedy as an excuse to push funding to levels that exceed current budget caps, despite the lack of any complete report on what caused the accident.
"You have no idea what caused this accident," he said. "Don't use this tragedy in that way, it was beneath you."
According to the House Appropriations Committee, the bill provides $289 million for Amtrak operations, and $850 million for capital grants. It includes reforms that include a cap on overtime salaries, and prohibiting any funding for routes where Amtrak offers a discount of 50 percent or more off of peak fares.