Though liberals generally "hate blaming the victim," many of them are quick to do exactly that when it comes to radical Islam, HBO's Bill Maher argued on his show Friday.
Discussing the issue with author Ayaan Hirsi Ali, an outspoken critic of radical Islam, Maher asked why so many liberals tend to point the finger at victims and critics of radical Islam rather than standing by them.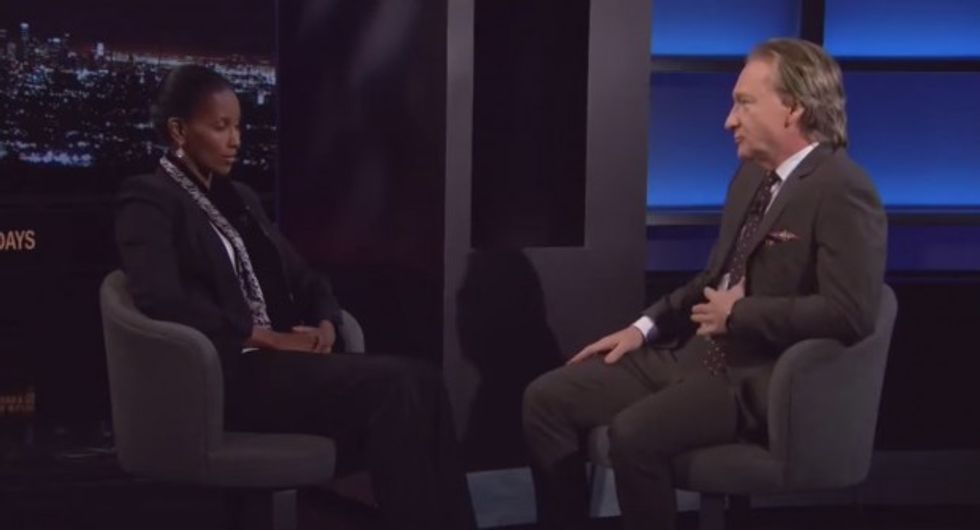 (HBO)
"I think some of them are scared, I think some of them are protective of the people who present to them as 'I'm the victim,'" Ali said, referring to some Islamic advocacy groups. "I don't know why it works with liberals."
Maher then revealed that when he sees a woman in full Muslim garb, he sees a woman that is "oppressed."
Later in the show, the host genuinely asked how to get liberals, some who he said he "used to respect," to understand that people like them are the "liberals" trying to "shine a light" on the oppressive nature of radical Islam.
"I say to them that the cancer of Islamic extremism is an assault on liberalism, on liberal ideas," Ali said. "On the idea of the human being as, you know, protect the life of the human being, the freedom of the human being, the equality of human beings...Islamic extremists divide the world into 'us and them.'"
Watch the entire segment via HBO:
(H/T: Mediaite)