CONCORD, N.C. (TheBlaze/AP) -- NASCAR is updating its fire safety requirements for race teams in the wake of an explosive accident on pit road at Richmond.
Three crew members were injured in a fire that erupted during a pit stop in last month's Xfinity Series race. Fuel spilled as the crew was servicing Brendan Gaughan's car and a spark ignited the blaze.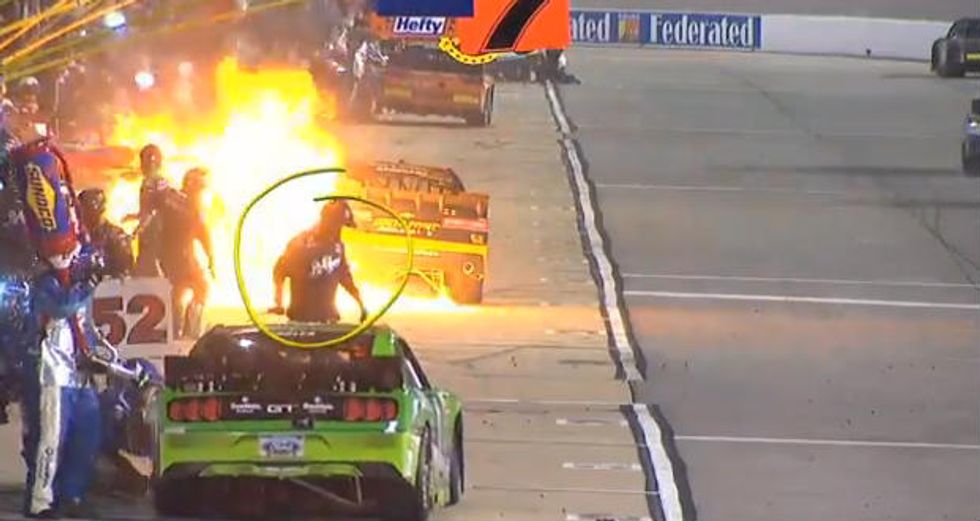 Image source: YouTube
NASCAR senior vice president Robin Pemberton said Friday the Richmond fire was caused when a fastener bolt failed on the gas can.
ICYMI: The @NASCAR_XFINITY pit road fire at @RIRInsider here» http://t.co/lrDKZvkBEZ #NASCAR pic.twitter.com/40a6dwA346

— FOX SPORTS: NASCAR (@NASCARONFOX) April 25, 2015
NASCAR will now mandate all over-the-wall pit crew members wear fire-protective underwear, socks, head socks and gloves. All previously were recommended for over-the-wall pit crew members other than the gas man.
The mandate takes effect June 4, except for the socks, which must be SFI-certified by August.
The announcement came just hours after Helio Castroneves lost control of his car and flipped during practice for the Indianapolis 500. The car didn't catch fire but served as another vivid reminder of the risks involved in one of America's most popular sporting events.
"I didn't expect to go flipping backward," Castroneves told USAToday. "I was very surprised by that. I was expecting a big shunt and big issues, but it was just like I spun out at any other racetrack."
Roger Penske, owner of Team Penske Chevrolet, later said it was unclear why the car flipped but added that it's something they're looking into.
"You can only test so much in simulations and a small wind tunnel. I think this is something that's good to know now because we can look at it and see the right things to do to help all the cars on the track," Penske said.