"Everything was different in the '70s."
That was the key idea comedian Louis C.K. kept coming back to in his "Saturday Night Live" monologue — a monologue that got progressively more and more "disgusting," according to some viewers, as it went on.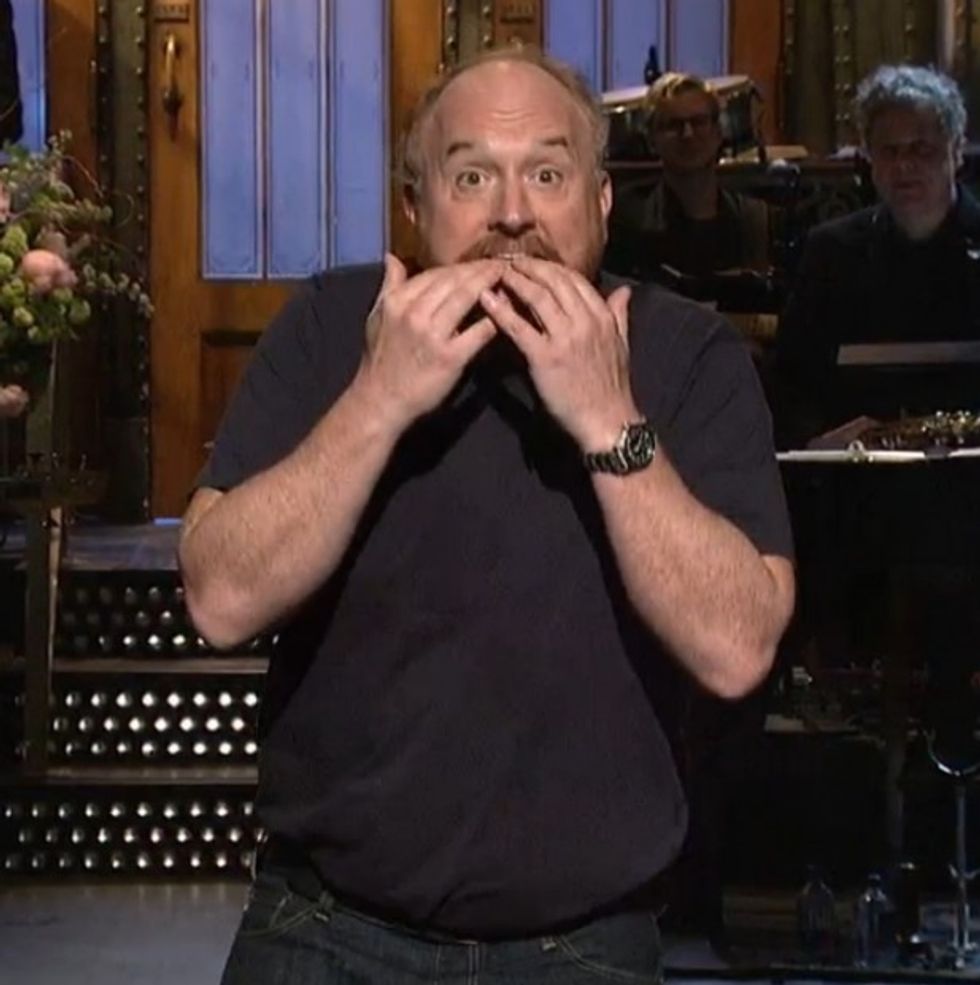 Image via NBC
First, the comic talked about racism in the '70s and how now he's "mildly racist" because of his upbringing.
Then he compared the decades of violence between Israel and the Palestinian people to his daughters fighting, calling both pairs "b*****s" for their fighting.
That comparison drew some criticism online, but it was what the comedian said next that infuriated people.
"Child molesters are very tenacious people," Louis C.K. remarked. "They love molesting childs [sic], it's crazy, it's like their favorite thing."
Since child molesters risk so much, he speculated, molesting children "must be really good."
As the audience started groaning he quickly clarified, "From their point of view! ... It must be amazing for them to risk so much."
He compared molesting children to his own love of chocolate bars.
He loves Mounds bars, but if he was told he'd go to prison and everyone would hate him if he ate another one, Louis C.K. said he'd stop because, "They don't taste as good as a young boy does." He had to clarify that remark too.
He sensed the audience's discomfort, joking, "How do you think I feel, this is my last show probably."
Watch the whole thing below (content warning: strong language):
On Twitter, condemnation of the monologue erupted, with many saying it's simply not OK to joke about child molestation.
Sorry. Joking about child molestation is bad form. Very low moment for #LouisCK. 100% not funny in any form. 1 in 3 girls, 1 in 6 boys.

— Anthony Bradley (@drantbradley) May 17, 2015
. @nbcsnl I hope Louis CK is right about this being his last time hosting. The child molesting bit was disgusting. #SNL40Finale #SNL

— Josh Allen (@j_allen) May 17, 2015
#SNL Louis CK opening monologue #childmolesters #NOTfunny. Lots of victims out there not laughing along with this #offensive #takingittoofar

— Tina (@VirgoMommy) May 17, 2015
Louis C.K. was not without defenders, though, with some claiming others were just "too easily offended."
People who think Louis CK was offensive on #snl really have no sense of humour and are way too easily offended

— Ken Shi (@kenneth_shi) May 17, 2015
Louis CK probably just said the funniest, yet most offensive, line in tv history. I'm stunned that nbc allowed it. #SNL

— BryanBe (@bryanbe75) May 17, 2015
What do you think? Take the poll below and discuss in the comments.
—
Follow Zach Noble (@thezachnoble) on Twitter