Deputies from the Hillsborough County Sheriff's Office stood in front of a Florida home directing traffic over the weekend. There wasn't an accident or crime scene, though. There was, however, a mobbed pink and yellow lemonade stand.
"I'm speechless," 10-year-old Alyssa De Le Sala told WFTS-TV. "Overwhelmed."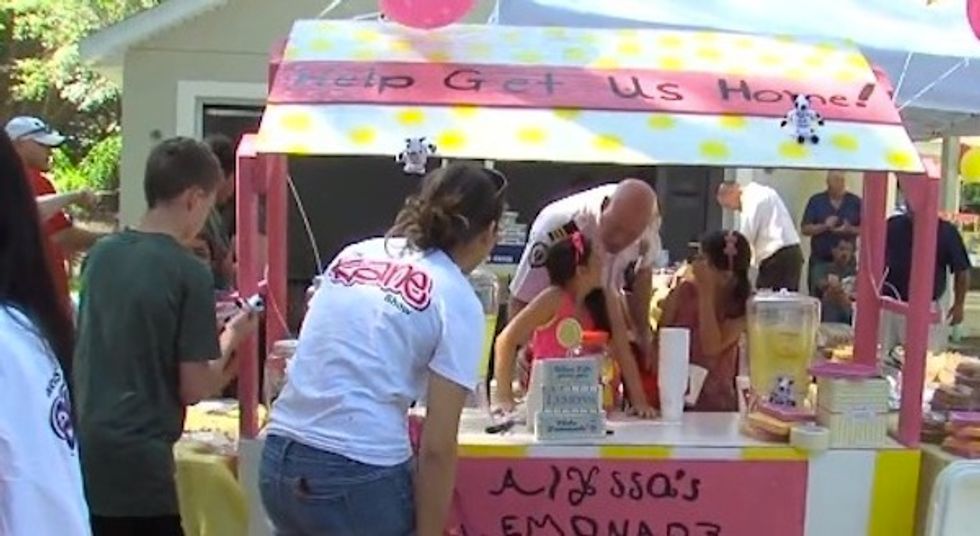 Alyssa's lemonade stand made nearly $15,000 over the weekend. (Image source: WFTS-TV)
Alyssa's home was badly damaged in a fire that started in her family's garage two years ago, but issues with a building contractor left the Lutz, Florida, home still in need of repair.
So Alyssa and her brother decided to help their family in whatever way they could. Last week, Alyssa advertised on a local radio show, reading a letter and including a hand-drawn flier that said, "when life gives you lemons, make lemonade." That old adage is something she took literally.
"She took it upon herself to do something to help mommy and daddy," Jenn De La Sala, Alyssa's mother, told WFTS. "I don't think she expected it to be anything like this either."
The Kane Show on WFLS-FM reported on Facebook that the De Le Sala family "got ripped off in an insurance scam."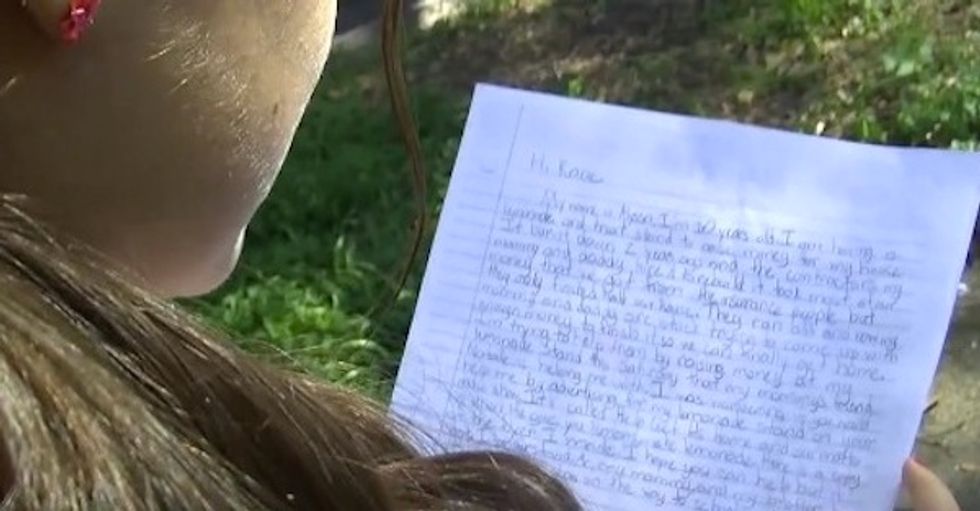 Image source: WFTS-TV
"[...] the contractors my mommy and daddy hired to build it took most of our money that we got from the insurance people but only finished half our house," Alyssa wrote in a letter to the Kane Show, asking for help getting the word out about her lemonade stand. "They ran off and now my mommy and daddy are stuck trying to come up with enough money to finish it so we can finally get home. I'm trying to help them by raising money at my lemonade stand this Saturday [...]."
As of Saturday, Alyssa's Lutz Lemonade raised nearly $15,000.
Watch WFTS-TV's report:
The Tampa Tribune reported that the sheriff's department has been fielding donated items for the family. The family has a GoFundMe page as well.
"We are so amazed. We knew we had a good community, but when you see everyone here, it is overwhelming, incredible," Jenn De La Sala told WFTS.