A bull terrier puppy brought to veterinarians in San Francisco was in such a horrible state that despite their efforts, the doctors had to put him down.
Now, they're offering a $10,000 reward for information leading to the identity of the abuser.
According to KPIX-TV, the puppy named Maximilian was stolen from his rightful owner, a homeless man who was able to be with his dog when he was euthanized. When Maximilian was found under a freeway last week, he had been beaten and burned with cigarettes. The news station reported that some of his nails, teeth and pads from his paws were missing.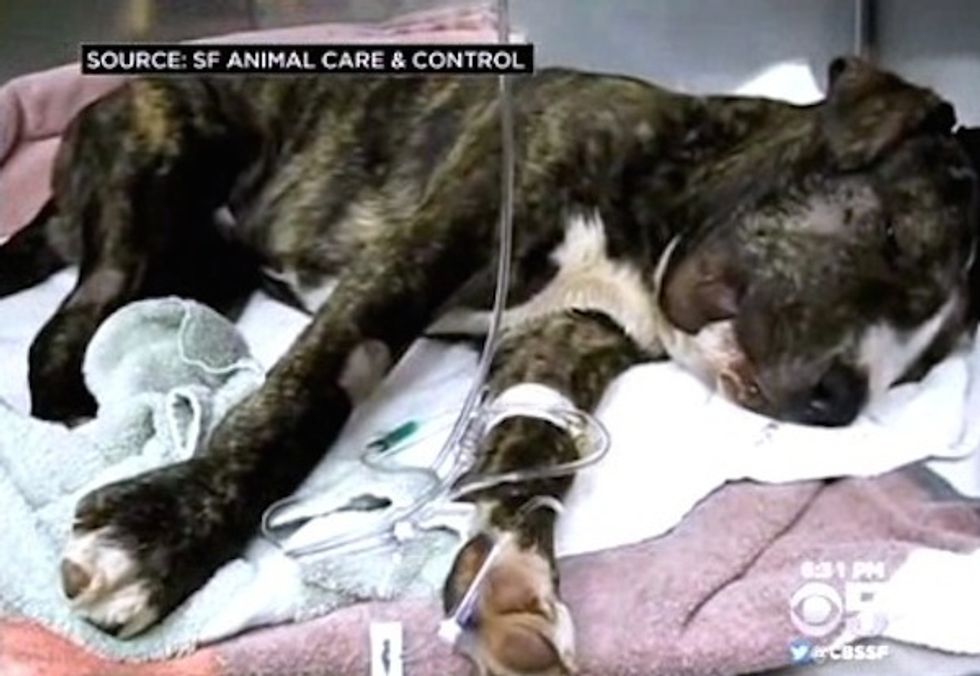 Image source: KPIX-TV
"It's just really, it's heartbreaking. It's just heartbreaking," Virginia Donahue, executive director of San Francisco Animal Care and Control said told KPIX.
"I can't imagine who would do this," she said. "I mean, you have to be totally without feeling."
In a Facebook post, the SFACC said that Maximilian had to be euthanized due to kidney failure that resulted from the abuse.
"He endured so much abuse that his body was not able to recover despite the vet staff's efforts. We are still pursuing leads to find the person who did this to him," the post stated.
Watch KPIX-TV's report: