© 2023 Blaze Media LLC. All rights reserved.
Do These Revelations Spell Major Trouble for the Presbyterian Denomination That Recently Embraced Gay Marriage?
"It's unclear what the denomination's future holds."
Major membership and congregational declines continue for Presbyterian Church (U.S.A.), the mainline denomination that recently changed its definition of marriage to include gay couples.
As debate centers around the denomination's decision to change the matrimonial definition from "a man and a woman" to "two people, traditionally a man and a woman," numbers released by Presbyterian Church (U.S.A.) paint a picture that could spell future trouble.
Consider that the number of congregations under the denominational umbrella fell from 10,038 in 2013 to 9,829 in 2014 — and that was well before the official embrace of same-sex marriage in early 2015, the Christian Post reported.
Of the churches that exited the denomination between 2013 and 2014, 110 were dissolved and 101 were released to other denominations.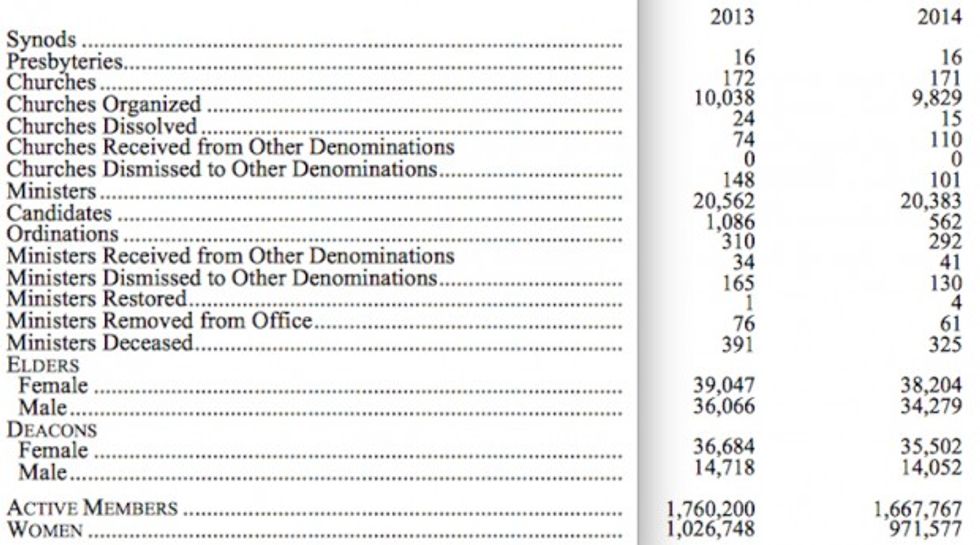 Comparisons between 2013 and 2014 Presbyterian Church (U.S.A.)
As TheBlazepreviously reported, some Presbyterian Church (U.S.A.) churches have taken issue with the denomination's progressive theology and controversial stances, opting to join ECO: A Covenant Order of Evangelical Presbyterians, a theologically conservative denomination that has been growing since its inception in 2012, or choosing alternative paths altogether.
Presbyterian Church (U.S.A.) has lost a total of 637 churches since 2011, when the total number that year was listed at 10,466.
The denomination has also been bleeding congregants as well, losing 92,433 active members between 2013 and 2014 — a decrease from 1,760,200 to 1,667,767 members.
"Membership statistics and church numbers tell one story, but it's not the entire message of how the PC(USA) is impacting the world," the Rev. Gradye Parsons, stated clerk of the denomination's general assembly, said in a statement. "God continues to breathe new life into our work and challenges us to find new, creative ways to touch and transform lives."
It's unclear what the denomination's future holds, though some have warned that decreases will continue as the theology over same-sex marriage, among other issues, continues to be fiercely debated.
The Rev. Dr. Dana S. Allin, executive director of ECO, recently told TheBlaze that he was personally disappointed in Presbyterian Church (USA)'s decision to embrace same-sex nuptials in March, but that he "saw it coming."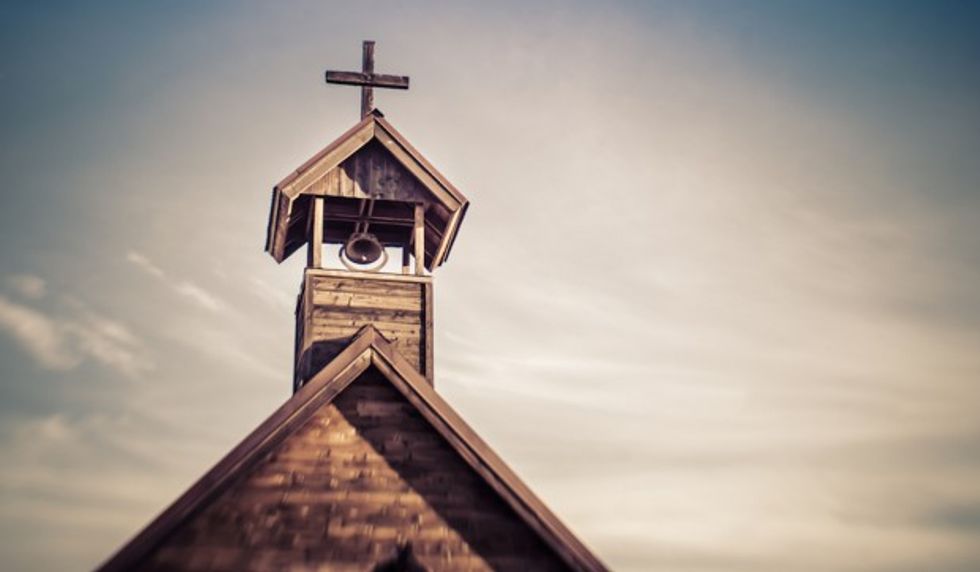 Photo credit: Shutterstock
As for just how much Presbyterian Church (USA)'s newfound marriage stance will hurt the denomination, Allin said that remains to be seen, though some estimates collected prior to the recent matrimonial change reportedly found that hundreds of additional churches — up to 800 — could end up reassessing their relationship with the denomination.
Allin said, though, that it could take some time to see how churches react to the news.
"In my experience, whenever the PC(USA) makes a move like this, there's always a little bit of a delayed reaction coming from churches that are looking at a denominational transition," he said, noting that some theologically divided churches will likely split over the issue. "I think the larger implications are harder to predict."
--
Front page image via Shutterstock.com.
Want to leave a tip?
We answer to you. Help keep our content free of advertisers and big tech censorship by leaving a tip today.
more stories
Sign up for the Blaze newsletter
By signing up, you agree to our
Privacy Policy
and
Terms of Use
, and agree to receive content that may sometimes include advertisements. You may opt out at any time.