The oldest robbery suspect nabbed is Brian Reader, a 76-year-old used car salesman.
He's on the hook along with a 74-year-old man, another five fellas in their 60s and 50s, and then a pair of relative spring chickens — two guys in their 40s.
They all allegedly the core of what appears to be "an old-fashioned gang, some members lured out retirement for a final, lucrative payday," according to Sky News reporter Martin Brunt.
How lucrative? The would-be heist netted an estimated $300 million in jewels and cash, all stolen over Easter weekend after drills burrowed through 6-feet-thick concrete walls at a London safe-deposit company.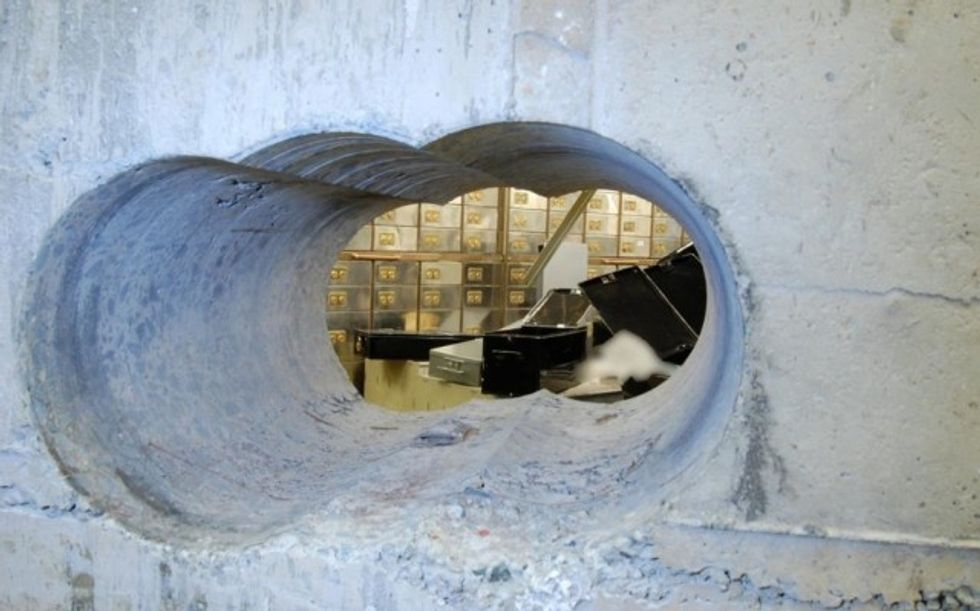 Image source: Met Police
Police said the nine Brits were arrested Tuesday after raids by more than 200 officers turned up "a number of large bags containing significant amounts of high value property" believed to have been taken from the Hatton Garden building last month, CNN reported.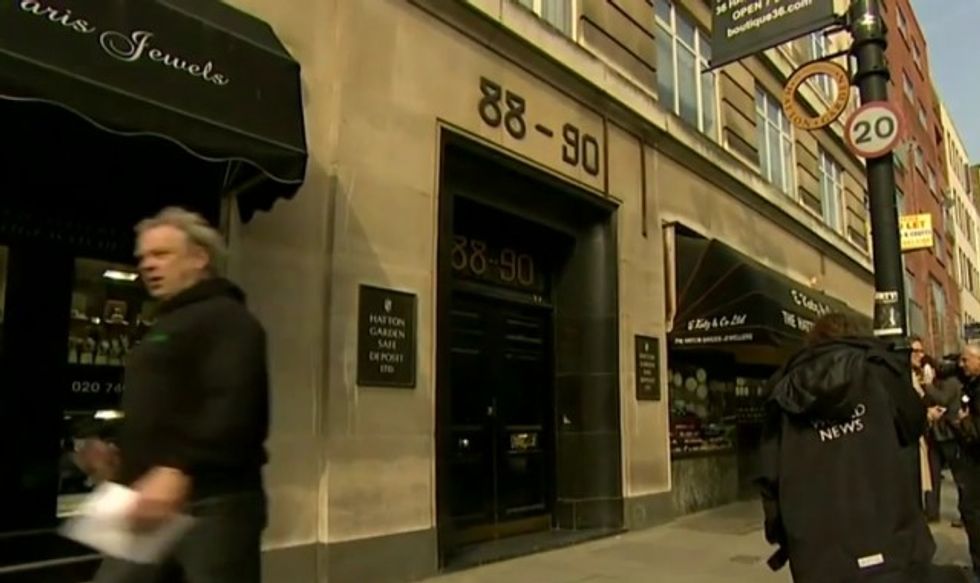 Image source: CNN via YouTube
Given that police found no evidence of forced entry, how did they do it?
The crusty crooks allegedly disabled an elevator on the second floor, according to the Guardian, then shimmied down the shaft into the basement where the vault is located. Then they forced open doors —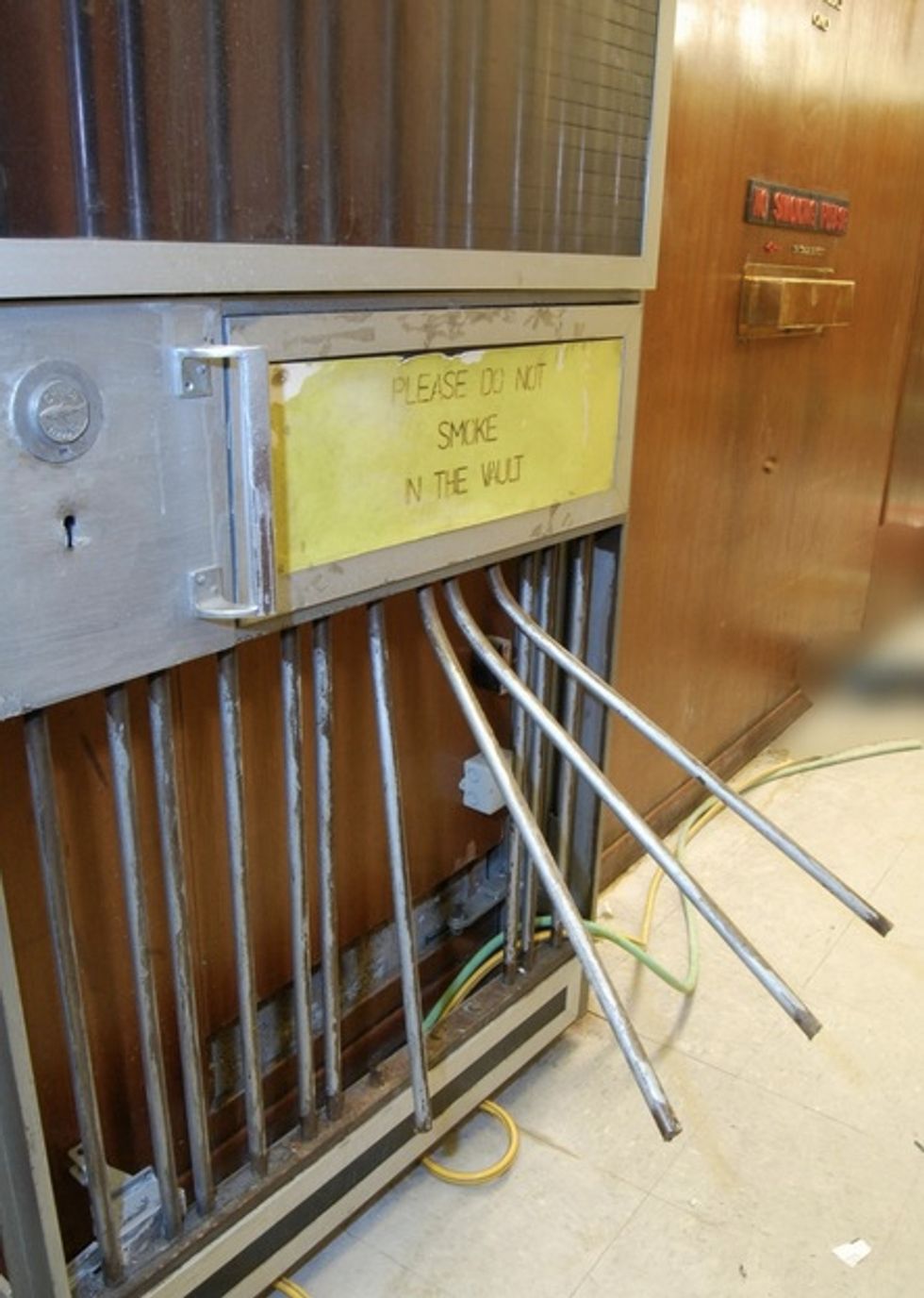 Image source: Met Police
— and tunneled their way into the vault through the 6-feet-thick walls with a diamond-tipped drill bit.
The huge DD350 drill would have been mounted and bolted on a wall after the thieves made several smaller holes in the concrete; drilling to make a hole big enough to fit through would have taken several hours, the Guardian said.
Then they apparently took their time — using the better part of four days to leave and return to the vault, using crowbars to open 72 of 999 boxes safe-deposit boxes and toting away the valuables.
What's more, an alarm was triggered three hours after the thieves got down to business, but police didn't act on it as per protocol.
"As a result of that, officers did not attend the premises when in fact they probably should have done," Commander Peter Spindler said outside New Scotland Yard, "and for that I want to apologize."
Hatton Garden staffers were off over the holiday weekend, the Guardian reported; police were called about the burglary just after 8 a.m. April 7 and found piles of pried-open safe-deposit boxes along with drills, crowbars and angle grinders. Investigators are still reviewing thousands of hours of surveillance video.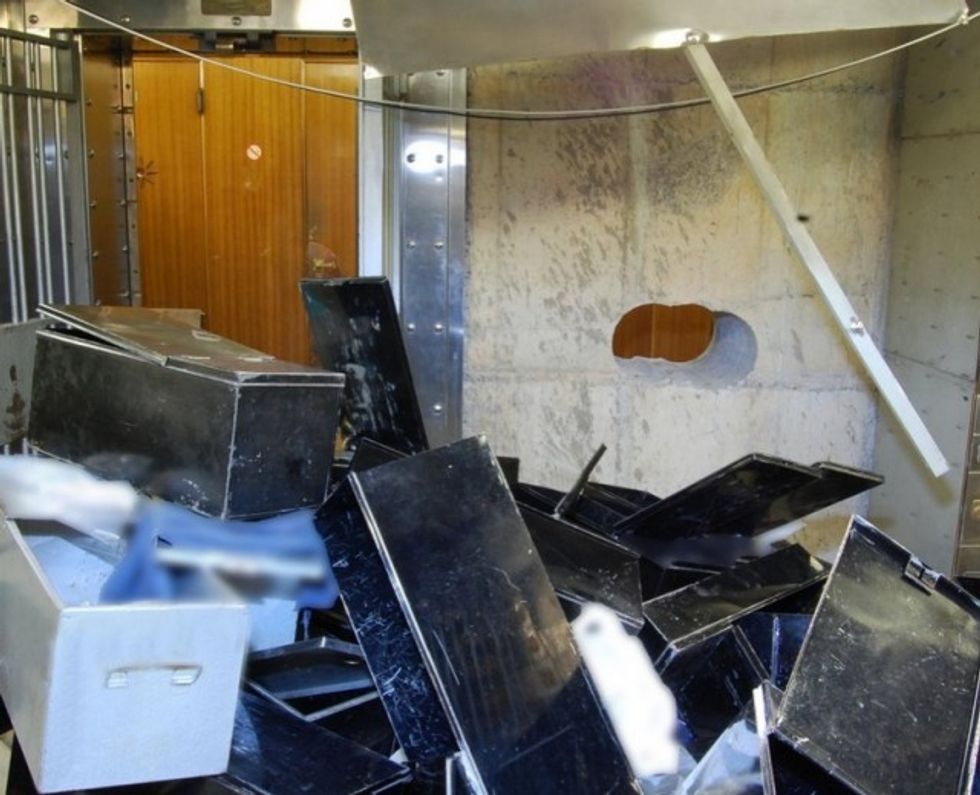 Image source: Met Police
One of the suspects, 48-year-old boiler engineer Hugh Doyle, was described by a neighbor as "always willing to lend a hand," the Daily Mail said.
The neighbor, who didn't want to be named, said that "everyone knows him. The local pub knows him very well. He was not a bad man, he was a helpful ... I am just very surprised. We are shocked."
(H/T: Gawker)
—
Follow Dave Urbanski (@DaveVUrbanski) on Twitter