WASHINGTON (AP) -- A Florida man who landed a gyrocopter at the U.S. Capitol said Thursday that he will never pull a similar stunt again - and doesn't recommend anyone else try it either.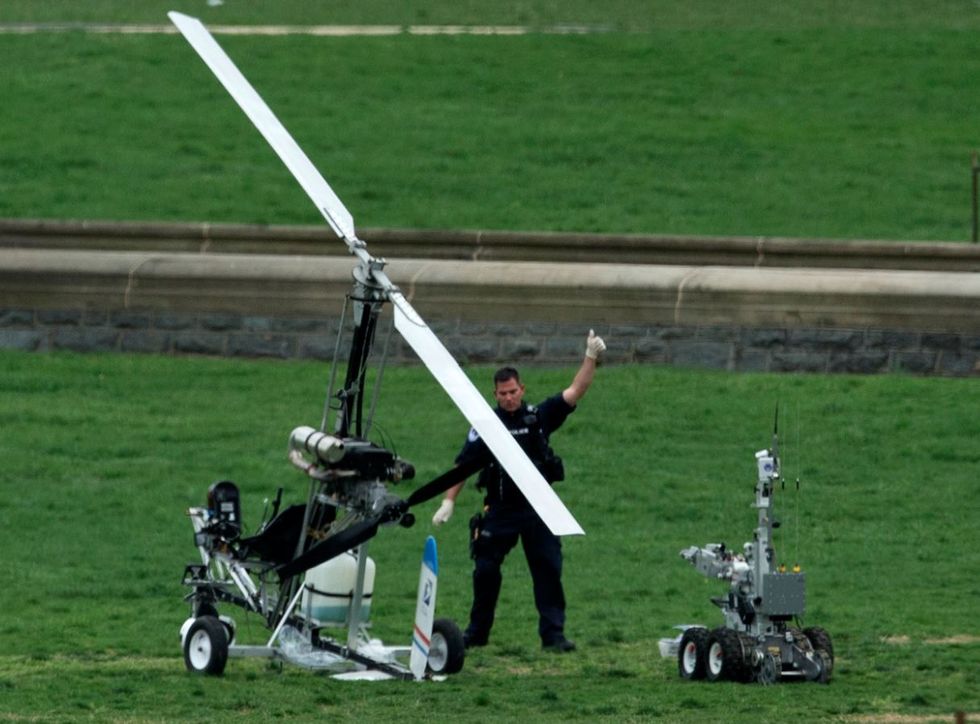 A Capitol Police officer flashes a thumbs up after inspecting the small helicopter a man landed on the West Lawn of the Capitol in Washington, Wednesday, April 15, 2015. Police arrested a man who steered his tiny, one-person helicopter onto the West Lawn of the U.S. Capitol Wednesday, astonishing spring tourists and prompting a temporary lockdown of the Capitol Visitor Center. Capitol Police didn't immediately identify the pilot or comment on his motive, but a Florida postal carrier named Doug Hughes took responsibility for the stunt on a website where he said he was delivering letters to all 535 members of Congress in order to draw attention to campaign finance corruption. (AP Photo/Manuel Balce Ceneta)
Douglas Hughes made the comments after appearing in federal court in Washington where his lawyer entered a not-guilty plea to the six charges Hughes now faces.
Speaking outside of court, Hughes said he wouldn't change anything about his April 15 flight in the bare-bones aircraft, but that he wouldn't be repeating it.
"Let me be clear. I'll never do anything like this again," said Hughes, who has said his flight was intended to call attention to the influence of big money in politics.
He said he believes that if his flight exposed any security flaws, they have been fixed.
"Nobody else could do what I did and get away without at best being forced down, at worst being shot down, and I highly recommend nobody try it," he said.
Hughes, 61, began his flight in Pennsylvania and flew through some of the nation's most restricted airspace before landing on the Capitol's West Lawn, where he was arrested.
On Wednesday, a grand jury indicted him on charges that carry up to 9 1/2 years in prison. The charges Hughes now faces include two felonies: operating as an airman without an airman's certificate and violating aircraft registration requirements. Those charges carry a maximum of three years in prison. He also faces three misdemeanor offenses of violating national defense airspace, each carrying a maximum of one year in prison.
Hughes, who had been employed by the U.S. Postal Service and lives in Ruskin, Florida, also faces a misdemeanor charge of operating a vehicle falsely labeled as a postal carrier, a charge that carries a statutory maximum of six months in prison. The tail section of Hughes' gyrocopter carried a Postal Service logo, and Hughes was carrying letters for each member of Congress.
The charges Hughes faces also carry potential fines. The indictment says that if he is convicted of one or both of the felonies, prosecutors will ask that a judge order him to forfeit the gyrocopter. Hughes said Thursday that he never expected to get his aircraft back, though he'd like to have it.
His next court appearance is scheduled for May 27. On Thursday, a judge modified his conditions of release. While he had previously been on home detention, he is now allowed to travel within the county where he lives. He still has to wear a GPS monitoring device and is not allowed to travel to Washington except for court appearances and to meet with his lawyer.
Hughes said Thursday that he is open to a plea deal with prosecutors.
This post has been updated.