Paper is an understated medium. People often create their works of art on paper — be it penning a poem or sketching a portrait. And while paper structures, like origami, are impressive, Steve Messam took paper art to the next level.
In the English countryside is a bridge arched across a rocky brook that's so red and unusual it almost looks like it was inserted in a photo as a computer graphic. The bridge, a temporary art installation in Cumbria, is not only real, but it's entirely made of paper and is strong enough for people to actually stand and sit on it.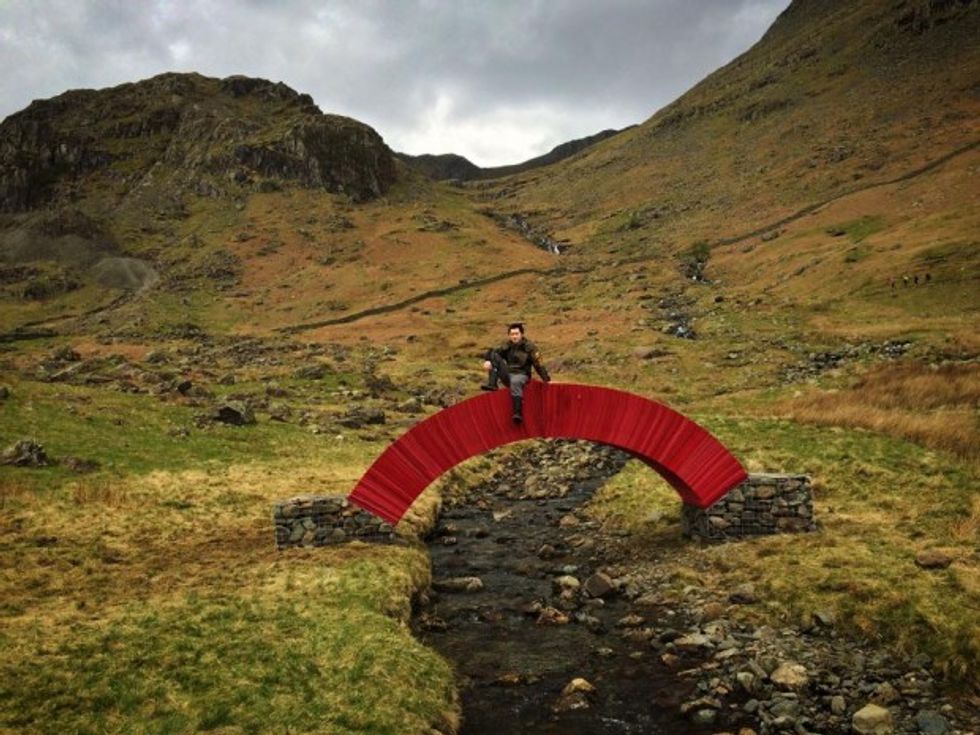 Steve Messam's PaperBridge is a temporary art installation in Cumbria, England. (Photo credit: Steve Messam/Facebook)
"The beauty of doing temporary artworks is you can use materials normally too delicate for permanent pieces," Messam, an environmental artist, told TheBlaze in an email. "Couple that idea of the fragility of paper with the ruggedness of the landscape and it gets people thinking.
"In reality, paper is a very strong material. It's just that it's usually really thin. But if you think of the weight of a box of books, it's actually quite dense," he said. "Because all the fibers are tightly packed with no air pockets, it's twice as dense as oak even and so much stronger too. Put it in compression and it's rock-solid."
Messam explained further how the bridge was created and held together by physics:
All the downward forces (weight of paper, people standing on it etc.) are translated to lateral thrust at the abutments. As the abutments were just cages of stone sat on the ground, they were the weakest part. Strong enough for the purpose, but ultimately tending to move apart. If they had foundations the bridge would last years outdoors. The building of the bridge was quite quick. All the parts came ready measured so was just a case of putting them in place. What took the time was moving 4.5 tonnes of paper 600m across boggy terrain by hand.
On Facebook, Messam wrote that 10 miles of paper from James Cropper's Burneside Mill went into the project.
This video shows how the bridge went up:
Messam said the PaperBridge, commissioned by an art and tourism consortium to highlight Lake District National Park, has generated a lot of interest because of the "strong aesthetic" appeal — "a stunning landscape with a bold colored form in it" — but also because of the novelty of actually being able to stand on it.
Of his work overall, Messam creates installations in rural and urban settings, often including historical pieces and vacant architecture, his website stated.
How does one get into what's deemed environmental art? He said there's no "why" to it, but that it started as a gradual progression from photography.
"It certainly was never a career choice, but now it's what I do full time. For me there's something special about working in the environment," he said. "The work is as much about its surroundings as the object itself. It's more of a total experience than seeing a sculpture in a gallery. It's not just about the form and texture of an object, it's also about how the light moves on it, what sound it makes in the wind, how it responds when you touch it/walk on it.
"And then there's an intangible sense of presence about something at scale. Something alien in a natural environment. For me the ephemeral nature of the work is part of that experience too," he continued. " It's just a fleeting moment, a spark of magic that transforms a place, and then it's gone forever."
Check out more photos of the PaperBridge on Messam's website.