UPDATE: In a Sunday morning press conference, Cleveland Police Chief Calvin Williams said 71 people had been arrested overnight in connection with protests over Cleveland Police Patrolman Michael Brelo's acquittal, WEWS-TV reported.
Charges facing those arrested include aggravated rioting, failure to disperse and one of the charges that Brelo himself had faced: felonious assault.
—
CLEVELAND (AP) — The streets largely remained calm Sunday morning after police in riot gear made numerous arrests overnight of protesters angered by a patrolman's acquittal in the deaths of two unarmed black suspects in a barrage of police gunfire.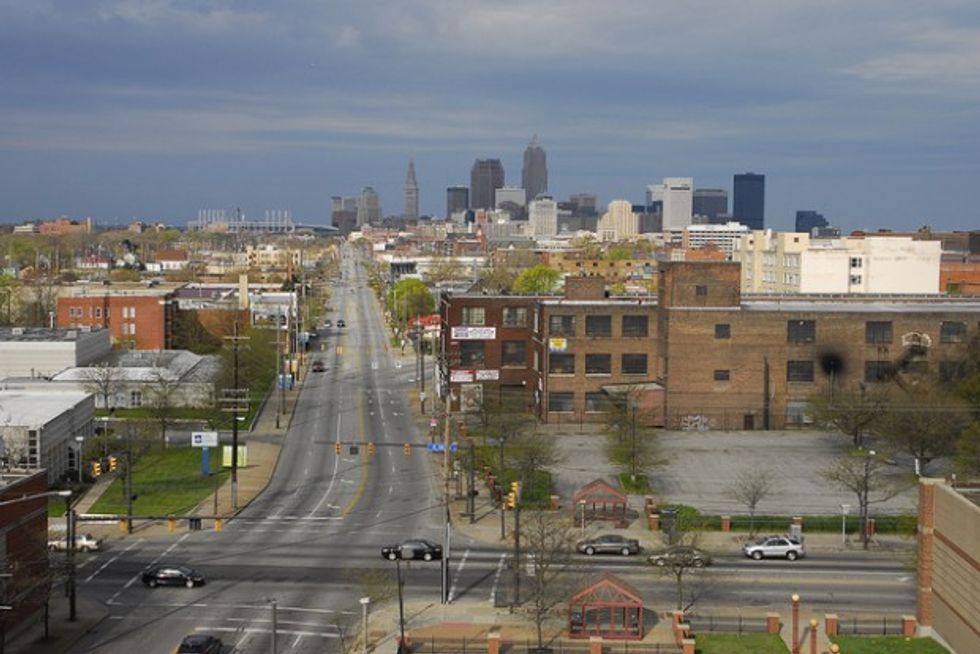 Cleveland, Ohio. (Image via Nitram242/flickr)
Michael Brelo, 31, faces administrative charges while remaining suspended without pay after he was found not guilty Saturday on two counts of voluntary manslaughter, but he no longer faces the prospect of prison. The anxious city now awaits a decision on criminal charges against a white officer in the fatal shooting of a black 12-year-old boy with a pellet gun.
Brelo and 12 other officers fired 137 shots at a car with Timothy Russell and Malissa Williams inside it on Nov. 29, 2012. The shooting occurred at the end of a 22-mile chase involving more than 100 Cleveland police officers and 60 cruisers after Russell's Chevy Malibu backfired while speeding past police headquarters. During the chase, an officer reported that he thought he'd seen Williams with a gun. At the end, police mistook police gunfire for shots from Russell's car.
Brelo fired 49 of those shots that night, but it was the final 15 fired into the windshield while he stood on the hood of Russell's car that led to his indictment and a four-week trial. He faced up to 22 years in prison if convicted on both counts.
The shooting helped prompt an investigation by the U.S. Department of Justice that concluded Cleveland police had engaged in a pattern and practice of excessive use of force and violations of people's civil rights.
Angry but mostly orderly protests followed Saturday's verdict. More than a dozen protesters were arrested Saturday night for failing to disperse from an alley in the city's Warehouse District on downtown's west side, deputy police chief Wayne Drummond said.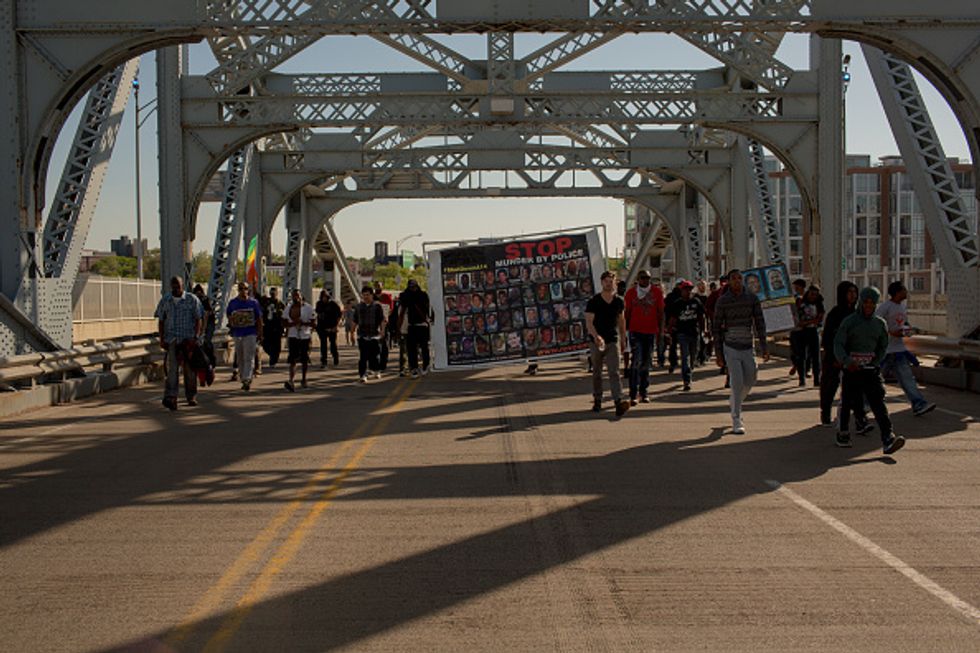 Protestors march across the Detroit Superior Bridge as people take to the streets and protest in reaction to Cleveland police officer Michael Brelo being acquitted of manslaughter charges after he shot two people at the end of a 2012 car chase in which officers fired 137 shots May 23, 2015 in Cleveland, Ohio. After leading police on a 20-mile chase, Timothy Russell and Malissa Williams were shot dead after Officer Brelo jumped onto the hood of the car and unleashing a fatal barrage of gunfire. on May 23, 2015 in Cleveland, Ohio. (Image via Ricky Rhodes/Getty Images)
Several other people were arrested elsewhere downtown.
The first protest formed outside the Justice Center Saturday morning while Judge John P. O'Donnell read from his 35-page verdict.
A larger protest of around 200 people gathered at noon near where Cuyahoga County Prosecutor Tim McGinty lives. Both protests later merged at a recreation center where 12-year-old Tamir Rice was killed by a rookie patrol officer last November. While that demonstration became boisterous, with Eugene Rice angrily calling for justice for his grandson, it remained peaceful.
An investigation into the Tamir Rice shooting is nearly complete and will be given to the prosecutor's office to decide whether to pursue criminal charges.
Alicia Kirkman, 47, of Cleveland, said she joined the march in honor of her son, killed in a police shooting eight years ago.
"I'm just so mad we never get justice from any of the police killings," said Kirkman, who said she settled with the city after her son's death but no charges were filed.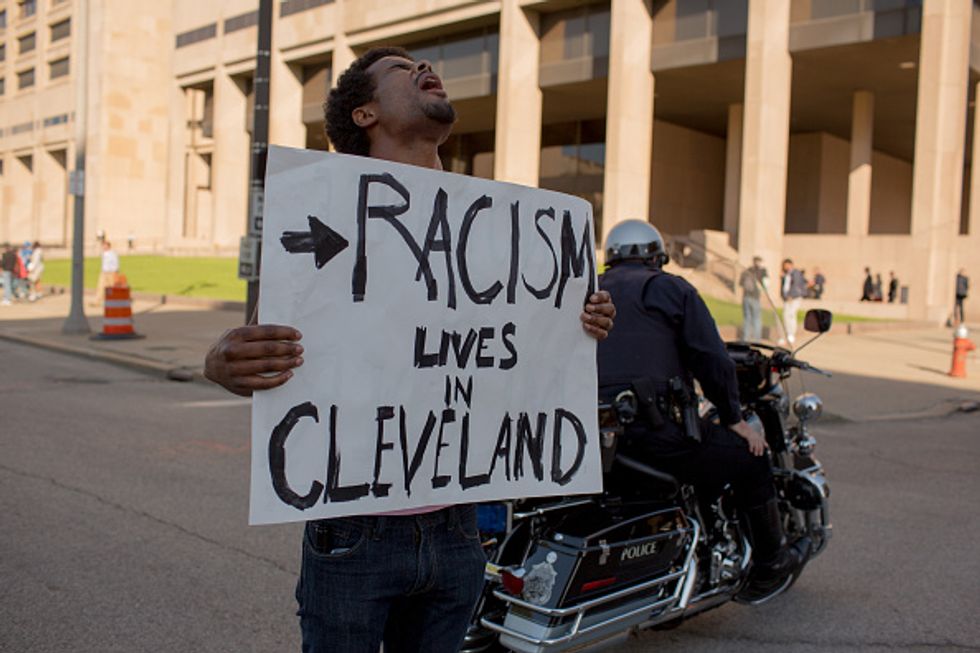 Tanis Quach, of Cleveland, protests in front of the Justice Building. (Image via Ricky Rhodes/Getty Images)
The judge said in his ruling that he wouldn't "sacrifice" Brelo to the wave of anti-police sentiment that has swept across the nation in the wake of other police in-custody deaths. While protests in cities like Baltimore, New York City and Ferguson, Missouri, have erupted into violence, the demonstrations in Cleveland didn't escalate.
The judge's decision to acquit Brelo focused on which shots killed Russell, 43, and Williams, 30, two homeless drug addicts with a long history of mental illness. Four of the 23 gunshot wounds to Russell and seven of Williams' 24 wounds were believed to have been fatal. O'Donnell said that while testimony showed Brelo fired some of the fatal shots, other officers fired kill shots as well.
A grand jury charged five police supervisors with misdemeanor dereliction of duty for failing to control the chase. All five have pleaded not guilty and no trial date has been set.
Prosecutors had argued that when Brelo stood on the hood of the Malibu that he meant to kill Russell and Williams instead of containing a threat to his and other officers' lives. O'Donnell ruled that even the last 15 shots were justified based on Brelo's belief that someone inside the car had fired at police at the beginning, middle and end of the chase.
"Officer Brelo risked his life on that night," Brelo's lead attorney, Patrick D'Angelo, said after the verdict.
McGinty said he respected O'Donnell's decision, and added that the case would prevent police violence.
In addition to the Tamir Rice case, the county prosecutor's office is looking into the death of a black woman who died in police custody while lying face first on the ground in handcuffs. The family of Tanisha Anderson, 37, has sued the city of Cleveland and the two police officers who subdued her. They say she panicked Nov. 12 when officers put her in the back of a patrol car after they'd responded to a call about Anderson having a mental health crisis.
Russell's sister, Michelle, said Brelo would ultimately face justice, despite the judge's decision. The city of Cleveland has paid the families of Russell and Williams a total of $3 million to settle a federal civil rights lawsuit.
"He's not going to dodge this just because he was acquitted," Michelle Russell said. "God will have the final say."
___
Associated Press writers Andrew Welsh-Huggins, John Seewer in Toledo and John Coyne contributed to this report.