UPDATE: Before Memorial Day was over, PacSun announced it will stop selling the T-shirt featuring an upside-down American flag. A photo of the shirt on display in Foley, Alabama, quickly went viral, forcing the retailer to respond.
As a retailer grounded in youth culture, PacSun values artistic and creative expression through the brands that we sell...

Posted by PacSun on Monday, May 25, 2015
---
Retailer PacSun is feeling the wrath of customers and military veterans after a photo of a T-shirt on display in one of its stores on Memorial Day weekend went viral.
The shirt features an upside-down American flag, a symbol that U.S. Flag Code makes clear is only to be used "in instances of extreme danger to life or property." The shirt was reportedly first spotted at the store's location at Tanger Outlets in Foley, Alabama.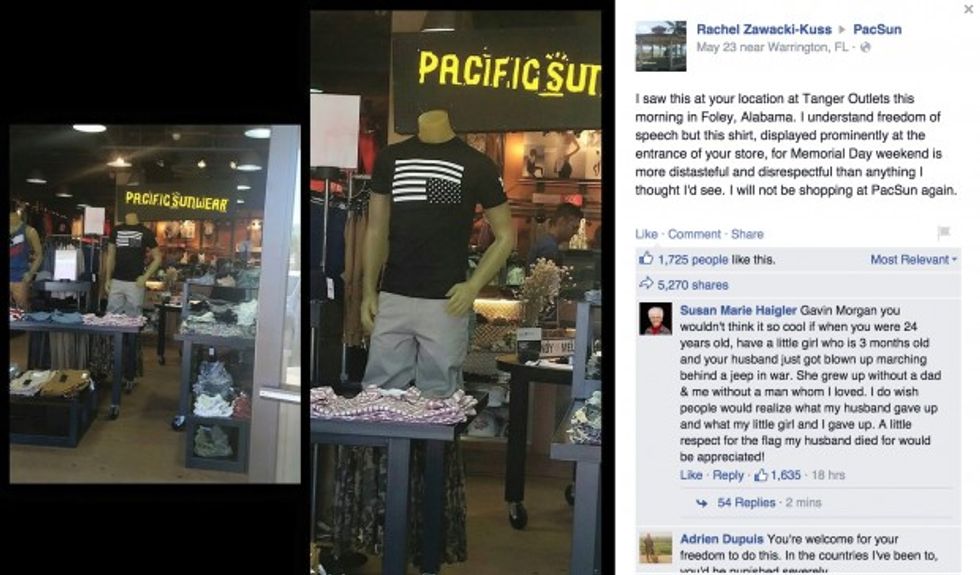 (Facebook)
"Screw you PACSUN," one Facebook user wrote in reply to the company's "buy one, get one 50% off" Memorial Day promotion post. He signed his comment, "veteran."
"As a combat veteran I refuse to step into your store ever again," another apparent veteran wrote.
"Not shopping here anymore," a disgruntled Facebook user added, echoing the sentiment of hundreds of others.
"Is this how you "kick off" Memorial Day?? By disrespecting the reason the holiday exists?" another user asked.
Kicking off Memorial Day Weekend with BOGO 50% off on select styles storewide! Click to shop now or head to your local PacSun store. http://bit.ly/1Lw1PeD

Posted by PacSun on Saturday, May 23, 2015
Most made it clear that while the First Amendment protects their right to free speech, the company made a big mistake by featuring the upside-down flag shirt on Memorial Day weekend, a time to honor fallen veterans.
USA Today's Carly Mallenbaum reported that the T-shirt "was apparently designed in a collaboration with rapper A$AP Rocky, and is still available online." The online reviews of the shirt on PacSun's website are not any more positive.
However, the New York Daily News reported on Monday that the shirt was removed from the Alabama store after the photo went viral.
---