In a salt water lake on an uninhabited rock island in the South Pacific are "literally millions" of jellyfish and because their stingers too small to be considered painful to humans, swimming it makes for "absolutely surreal" experience — not a painful one — one man who recently posted a video of his snorkel trip wrote.
"A place like Palau's Jellyfish Lake is a reminded [sic] of how wondrous the world can be," mikeyk730 wrote.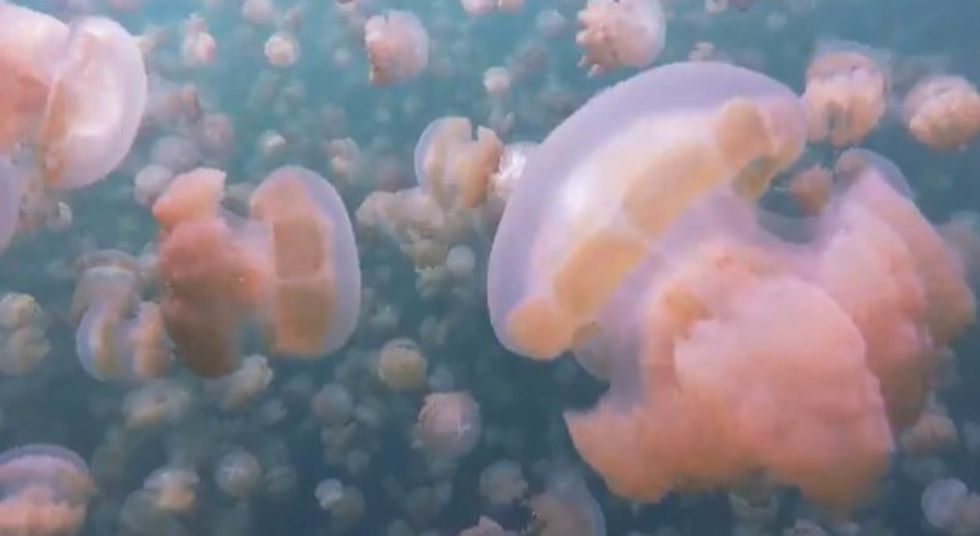 Image source: YouTube
Watch his video so dense with jellies that it looked like he was swimming in a sea of pink cotton balls:
According to the Coral Reef Research Foundation, the lake holds 13 million golden jellyfish, which grow to be about 5.5 inches in size.
Because the golden jellies sting doesn't affect humans like others of its kind, the research foundation notes that some  people have said the jellies lost their ability to sting because the live without predators. The foundation says this is a myth though and that you might experience a tingling sensation, especially if you're stung on more sensitive skin, like your lips.
Unlike some other species that just free float, the golden jellies migrate daily based on the movement of the sun. This the Coral Reef Research foundation says helps them avoid a predatory sea anemone.
"Swimming east in the morning and west in the afternoon ensures the jellies always encounter a shadow before the actual side of the lake. Staying out of the shadows keeps them away from the edge where this major predator lurks," the foundation explained.
GoPro also featured a video from Jellyfish Lake this month. Check it out:
(H/T: Reddit)