Journalists assigned to cover the Hillary Clinton presidential campaign met for approximately two hours Monday to discuss growing concerns about their access to the Democratic presidential contender, The Huffington Post reported, citing sources.
Attendees told The Huffington Post that members of the press expressed growing frustration with Clinton's willingness to engage with them.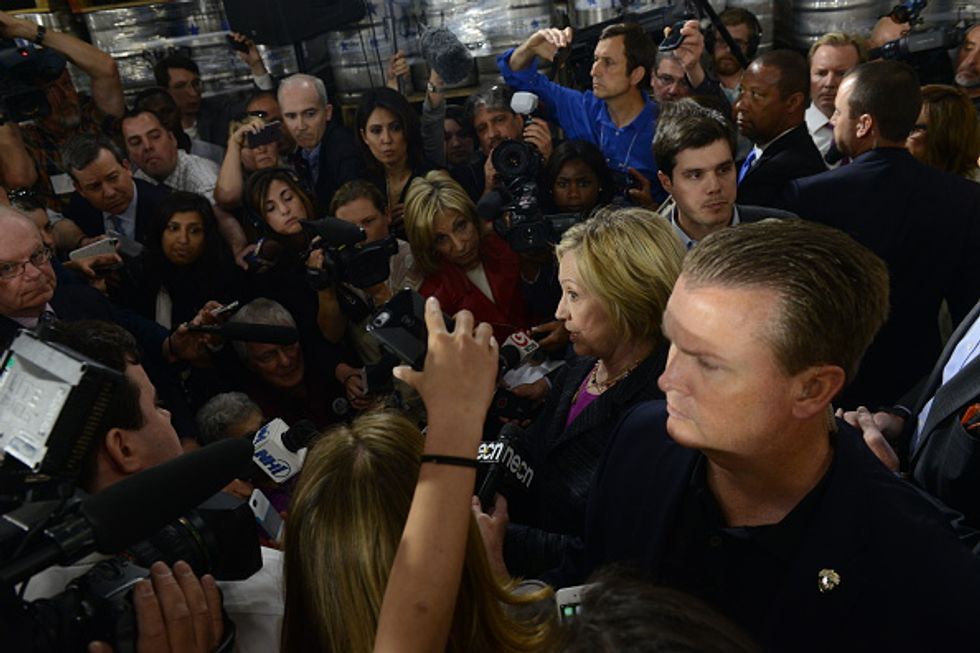 Democratic presidential candidate Hillary Clinton takes questions from reporters following a business roundtable at the Smuttynose Brewery May 22, 2015 in Hampton, New Hampshire. (Photo by Darren McCollester/Getty Images)
Further, reports were upset about what they characterized as her campaign's tight grip on information — even things that appear to just be logistical details, The Huffington Post reported.
More from The Huffington Post:
Among the problems discussed were the campaign's failure to provide adequate notice prior to events, the lack of a clear standard for whether fundraisers are open or closed press and the reflexive tendency to opt to speak anonymously. The complaints mirror concerns that a number of political journalists have also raised in recent conversations with The Huffington Post.
A Clinton spokesman reacted to the news in an email sent to The Huffington Post.
"I'd say two things," Nick Merrill wrote. "First, we want a happy press corps as much as the press corps does. Not in an effort to obtain favorable coverage, but because we're decent humans who want people to be able to plan their lives."
"It's a long campaign, and we are going to do our best to find equilibrium," he added. "Griping on background is not a constructive solution though, and I can't help but point out the irony here."
—
Follow Oliver Darcy (@oliverdarcy) on Twitter