Two leading progressive groups seem to be accepting that no does mean no when it comes to Sen. Elizabeth Warren (D-Mass.) launching a presidential campaign.
The Run Warren Run movement will suspend its effort next week, the organization announced Tuesday, after it delivers 365,000 signatures to the door of Warren's Senate office imploring her to get into the 2016 presidential race. The effort, which has been going on for the last six months, has been run by MoveOn.org and Democracy for America and has cost $1.25 million.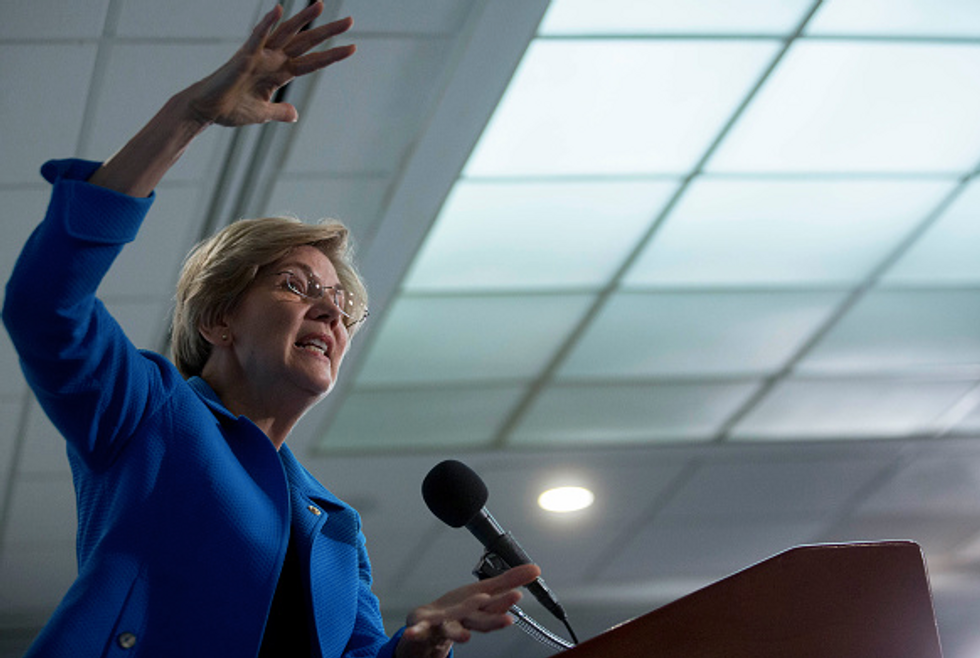 Sen. Elizabeth Warren (D-Mass.) speaks during a Roosevelt Institute event at the National Press Club in Washington, May 12, 2015. (Andrew Harrer/Bloomberg via Getty Images)
The groups will suspend their activities on June 8, the day they deliver the signatures, and then rest their case.
Warren, a favorite among progressive activists, was elected to the Senate in 2012 and has repeatedly said she would not run for president. Her profile has only risen as she became the figurehead leader among Democrats opposing President Barack Obama's trade deal.
"Even without her in the race, Elizabeth Warren and the Run Warren Run campaign she inspired have already transformed the 2016 presidential election by focusing every single Democratic candidate on combatting our country's income inequality crisis," Democracy for America executive director Charles Chamberlain said in a statement.
"We still think there's plenty of time for Sen. Warren to change her mind, but now that we've shown that she has the support she would need to mount a winning a campaign, we're excited to take the grassroots juggernaut we've built with our members and stand shoulder-to-shoulder with Warren in the battles ahead," Chamberlain continued. ‬
‪
The groups say Run Warren Run opened field offices in Iowa and New Hampshire, recruited more than 60 state legislators in the effort, and held more than 400 events. It also gained support of progressive activists and groups such as Van Jones, and the New York Working Families Party.
Some of the would-be Warren support appears to be going in the direction of Vermont Sen. Bernie Sanders, though frontrunner Hillary Clinton still has a commanding lead in polls.
"The Run Warren Run campaign has changed the conversation by showing that Americans are hungry for Elizabeth Warren's agenda—an agenda that rejects the rigged status quo in Washington and puts working and middle-class Americans over corporate interests," said Ilya Sheyman, executive director of MoveOn.org Political Action. "We've assembled a grassroots army and demonstrated the substantial support Sen. Warren could expect if she were to enter the race. Now it's time to suspend our active draft efforts and pivot to standing alongside Sen. Warren on the big fights ahead, starting with stopping Fast Track for the Trans-Pacific Partnership."‬