New surveillance video shows the horrifying moments when a Chinese robbery suspect used a brick to attack a sleeping shop attendant.
The United Kingdom's Daily Mirror reported the incident is believed to have occurred in Schenzen, China, after a shopkeeper dozed off when he was supposed to be working. The robber approaches the sleeping employee from behind the counter and hits him violently several times in the head.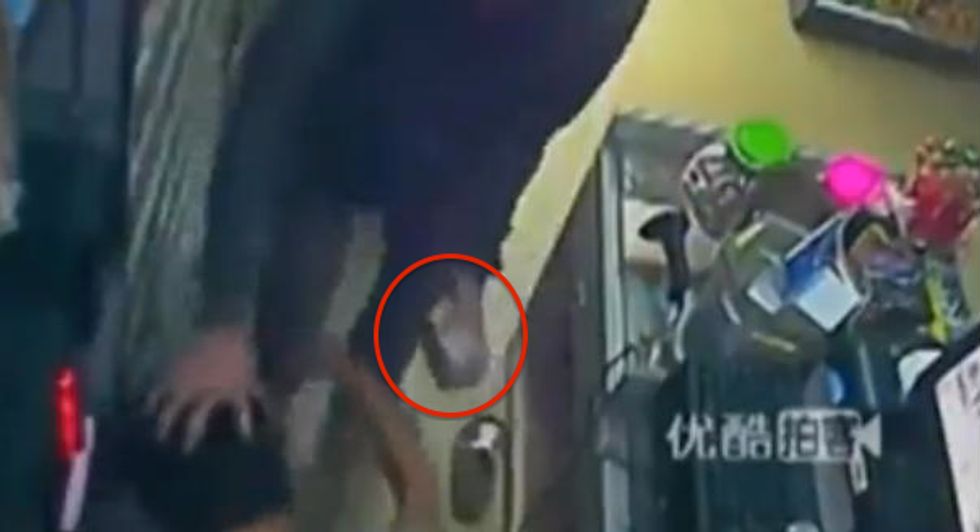 Surveillance video appears to show a robber using a brick to attack a sleeping shopkeeper. (Image source: Mirror)
The hooded figure then forces the worker from behind the counter and out of the view of the camera. The shopkeeper comes back moments later, appearing to rummage through a drawer just before walking back toward the assailant.
The final moments show the suspect latching onto the back of the employee's shirt and forcing him to open the money drawer. The hooded figure takes the cash, leaving the visibly bloodied shopkeeper to fend for himself.
See the horrifying attack caught on camera:
It's unclear if the attacker was ever caught.
(H/T: The Mirror)
–
Follow Jon Street (@JonStreet) on Twitter