Many are anxiously awaiting the Supreme Court's ruling on gay marriage later this month, but a Monday ruling by the high court in the case of E.E.O.C. v. Abercrombie & Fitch Stores is also sparking a fair amount of attention, as it will will have a potentially profound impact on how companies handle prospective employees' religious expressions.
In a nearly unanimous 8-1 ruling, the Supreme Court decided in favor of a Muslim woman who sued Abercrombie & Fitch after she was denied a job at a store in Tulsa, Oklahoma, back in 2008, for failing to comply with the clothing company's ban on head coverings.
Samantha Elauf, who was 17 at the time, subsequently filed a religious discrimination complaint with the U.S. Equal Employment Opportunity Commission (EEOC), claiming that her religious beliefs were not accommodated, according to a press release from the EEOC.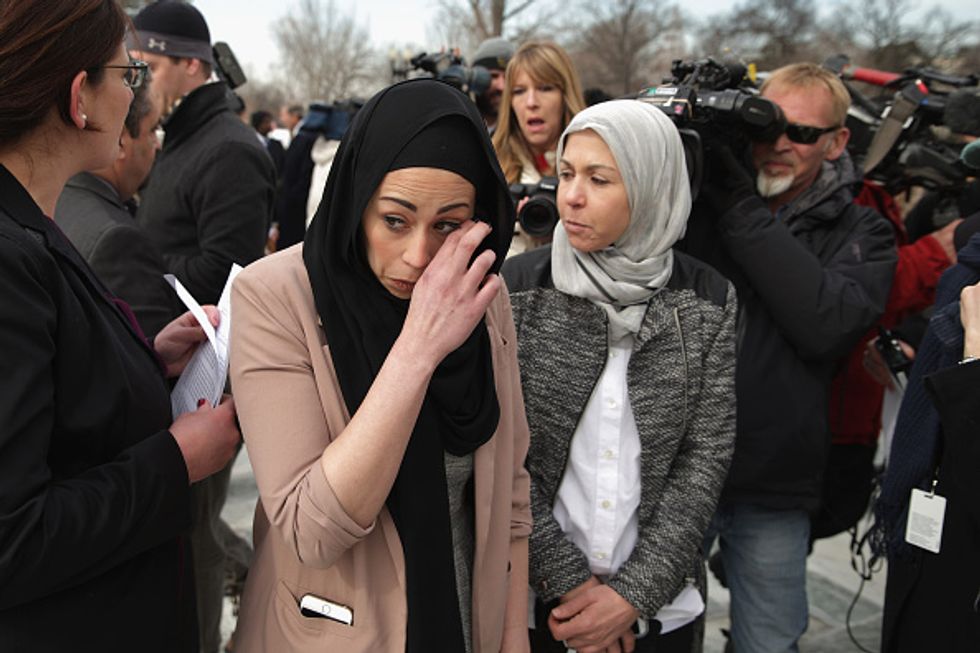 Samantha Elauf (C) and her mother Majda Elauf of Tulsa, Oklahoma, and Equal Employment Opportunity Commission General Counsel David Lopes (L) talk to reporters outside the U.S. Supreme Court after the court heard oral arguments in EEOC v. Abercrombie & Fitch February 25, 2015 in Washington, DC. (Photo by Chip Somodevilla/Getty Images)
At first, Elauf won $20,000 in court, but the United States Court of Appeals for the 10th Circuit subsequently ruled that she had never informed the employer that her garb was religious in nature and, thus, the case should have been thrown out, the New York Times reported.
After the legal back and worth, the case landed at the Supreme Court, with every justice but Clarence Thomas  — who had a partial dissent — ruling in Elauf's favor. Thomas said that the company dress code was neutral and that it could not be the basis for a lawsuit, but the majority of the court disagreed.
According to the EEOC, the court found that employers can't refuse to hire prospective staff members if they are motivated by avoiding the need to accommodate religious practice, as doing so is a violation of Title VII of the Civil Rights Act of 1964.
Plainly stated: religious practice cannot be made a factor in employment decisions.
"Title VII forbids adverse employment decisions made with a forbidden motive," Justice Antonin Scalia said in court. "Whether this motive derives from actual knowledge, a well-founded suspicion or merely a hunch."
The case has been sent back to the district court for consideration, with the Supreme Court overruling its initial dismissal; it is likely Elauf will prevail in the end.
White House press secretary Josh Earnest told TheBlaze's Fred Lucas on Tuesday that, though he hasn't evaluated the arguments that were made in the Abercrombie case, it seems as though the "Supreme Court did stand up for the religious liberty of this one individual."
"This certainly is consistent with the president's view that the American people hold very dear to the First Amendment right to freedom of religion and protect that right to observe that religion, to practice that religion and to not be discriminated against because of the way in which they observe their religion is an important American value, one that appears to have been upheld by the Supreme Court just yesterday," he said.
That assessment in mind, Elauf, who has been fighting the battle against Abercrombie since first filing her case in Tulsa back in September 2009, was elated by the court's conclusion, expressing her gratitude.
"I was a teenager who loved fashion and was eager to work for Abercrombie & Fitch. Observance of my faith should not have prevented me from getting a job," she said. "I am glad that I stood up for my rights, and happy that the EEOC was there for me and took my complaint to the courts."
Naturally, some might wonder how the case will impact individual religious rights. In a Los Angeles editorial board piece written back in February, it was said that the court's ruling held the potential to "significantly strengthen" the rights of religious workers, as companies must accommodate their practices so long as doing so doesn't create a hardship for the business.
So, what does this mean, exactly? Attorneys for Abercrombie had argued that an employee like Elauf should inform them that a religious exemption might be needed. But the Supreme Court ruled that even a suspicion that someone is wearing a hijab for religious reasons means that an employment decision cannot be made based on that fact.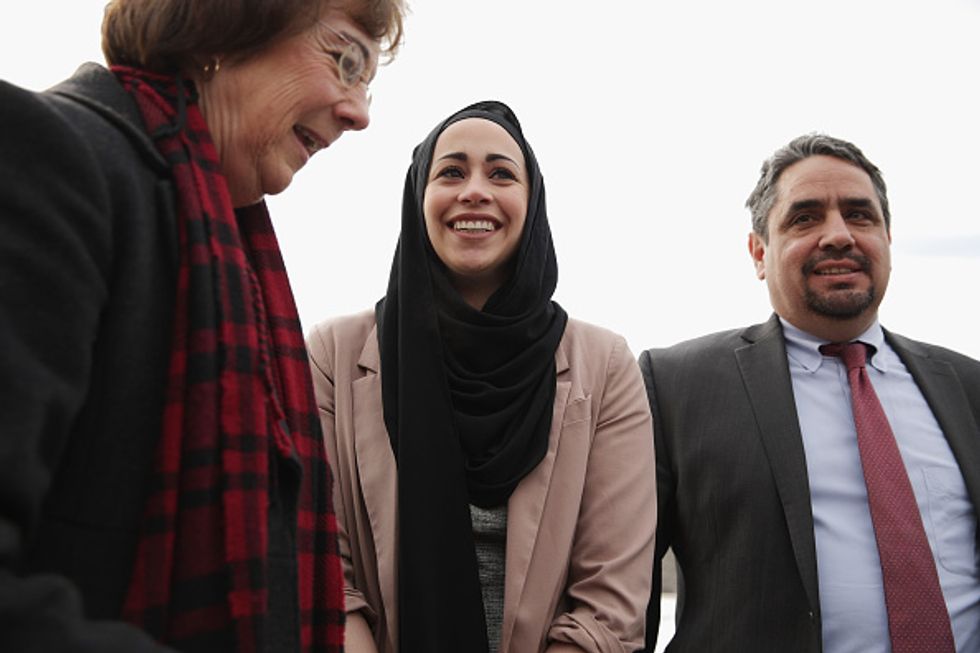 Samantha Elauf (C) and her mother Majda Elauf of Tulsa, Oklahoma, and Equal Employment Opportunity Commission General Counsel David Lopes (L) talk to reporters outside the U.S. Supreme Court. (Photo by Chip Somodevilla/Getty Images)
In the case of Elauf, the store manager testified that she assumed the teen was a Muslim, though it was not disclosed to her as a potential reason why she was seen as violating the clothing policy. This case, of course, has ramifications for other faiths as well.
The Supreme Court decision reads:
Thus, the rule for disparate-treatment claims based on a failure to accommodate a religious practice is straightforward: An employer may not make an applicant's religious practice, confirmed or otherwise, a factor in employment decisions. For example, suppose that an employer thinks (though he does not know for certain) that a job applicant may be an orthodox Jew who will observe the Sabbath, and thus be unable to work on Saturdays. If the applicant actually requires an accommodation of that religious practice, and the employer's desire to avoid the prospective accommodation is a motivating factor in his decision, the employer violates Title VII.
Here's how people are reacting to the ruling:
Dear Employers: Wearing a head scarf or crucifix is officially not fireable. Yours, #SCOTUS http://t.co/OvMvD1yylb #employment

— Merredith (@Merredith) June 1, 2015
What a victory for all minority women, especially ones who wear headscarves! Congrats #SamanthaElauf! #Abercrombie pic.twitter.com/Jms3vKwlfg

— Brown Girl Magazine (@BrownGirlMag) June 1, 2015
People like Samantha Elauf are what you call an inspiration. Being denied a job bcos of a hijab & standing up to her rights.

— 的 热 恩 (@UnOfficial__) June 2, 2015
Whether one wears a head scarf, turban, yarmulke or other religious dress, employers cannot discriminate against you. http://t.co/Asce6zUqlI

— Ted Lieu (@tedlieu) June 2, 2015
In the end, the Supreme Court's decision upholds religious freedom, though it is difficult to tell how sweeping the impact will be, as it's generally tough for prospective employees to know the exact reasons why they have been declined for a job, though Elauf had an upper-hand in this case, as she was reportedly told by a friend after her interview that her head scarf was the reason for the rejection, Hot Air reported.