The terror suspect fatally shot by law enforcement in Boston Tuesday and the second suspect arrested Tuesday night were planning to behead a police officer, according to an FBI affidavit released Wednesday.
The document alleges 26-year-old Usaama Rahim and 24-year-old David Wright conspired to "go after" the "boys in blue" because "it was the easiest target."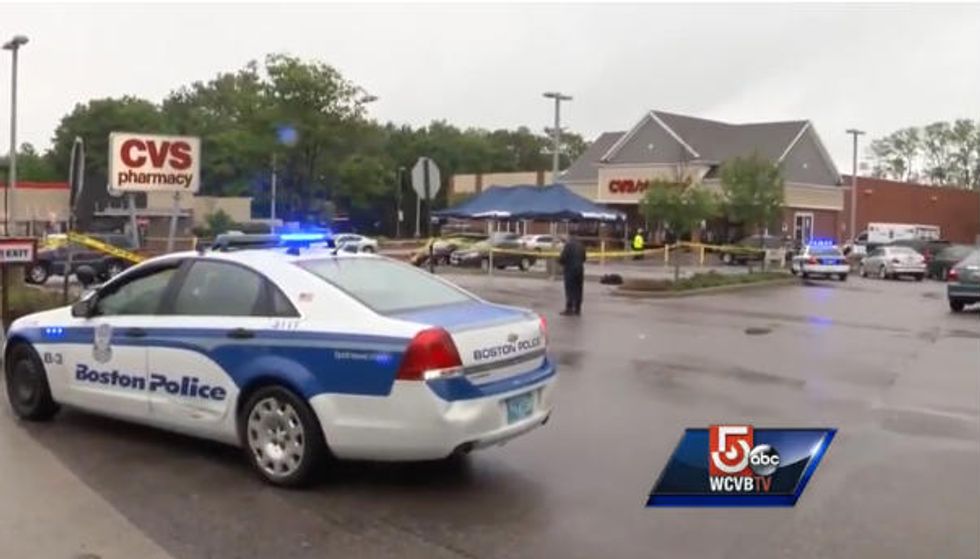 Image source: WCVB-TV
The affidavit also revealed a meeting in Rhode Island Sunday among Rahim, Wright and one other person who was not named. In Rhode Island, Rahim said he was planning to randomly attack police officers in Massachusetts either Tuesday or Wednesday.
The court document adds that Wright agreed with Rahim's plan and supported it.
"We believe the intent was to behead a police officer," an unnamed official said. "We knew the plot had to be stopped. They were planning to take action Tuesday."
Rahim was shot dead by a Boston police officer and an FBI agent in a CVS Pharmacy parking lot Tuesday morning after refusing to drop his "military style" knife, which he purchased from Amazon.com.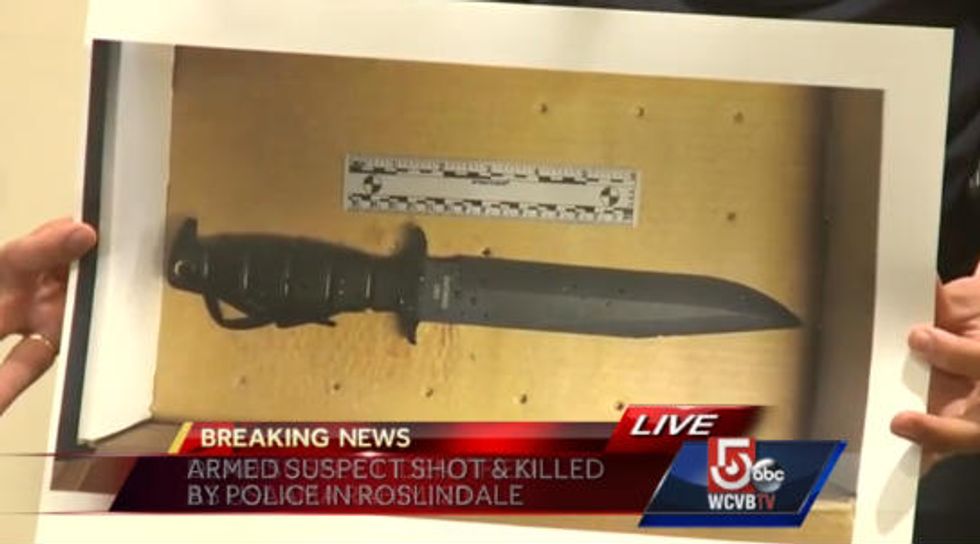 A picture of the knife used by the deceased suspect. (Image source: WCVB-TV)
U.S. Rep. Michael McCaul, chairman of the House Homeland Security Committee, said Rahim was under federal surveillance by the Joint Terrorism Task Force for weeks because he had been "communicating with and spreading ISIS propaganda online."
According to the text of a phone conversation included with the affidavit, Rahim and Wright repeatedly used the phrase "going on vacation," in reference to committing violent jihad.
Police also arrested David Wright Tuesday in Everett in connection with the ongoing investigation. He was charged with conspiracy to obstruct justice.
This is the man we are waiting to see in court, police arrested David Wright at his apt yesterday, story at 6 on Wbz pic.twitter.com/f15iTAEkjL

— Susie Steimle (@SusieWBZ) June 3, 2015
Prosecutors made the argument to a federal judge Wednesday that Wright should be held without bail because he poses a flight risk. A second hearing has been scheduled for June 19.
Boston Police Commissioner William Evans said during a news conference Wednesday that authorities watched video of the shooting. Evans told reporters that Rahim was not "shot in the back" as the suspect's brother had previously claimed.
Instead, Evans said the video showed the officers "backtracking" as Rahim walked toward them. The affidavit said that when police told Rahim to drop his weapon, he said, "you drop yours."
Boston Imam Abdullah Farooq, who spoke at the same news conference, called the video of Tuesday's encounter "inconclusive," the Associated Press reported.
In a statement released Wednesday, the Council on American-Islamic Relations also responded, saying the investigation should be more open.
"We are asking for an independent and thorough investigation, public release of the video and transparency, not only about the killing of Usaama Rahim, but also about the basis of monitoring and surveillance, which had not resulted in probable cause for any arrest or search warrant. The alleged conspiracy to murder a police officer is deeply troubling and yet another reason why transparency in this incident is crucial." CAIR said.
Read the entire affidavit below:
This post has been updated to include new information.
–
Follow Jon Street (@JonStreet) on Twitter