As they promised, members of controversial Westboro Baptist Church showed up outside Beau Biden's funeral Saturday in Wilmington, Delaware, and protested.
It wasn't a massive showing. According to WPST-TV, only three members of the Topeka, Kansas, outfit — known for protesting funerals of soldiers killed in action — came carrying signs.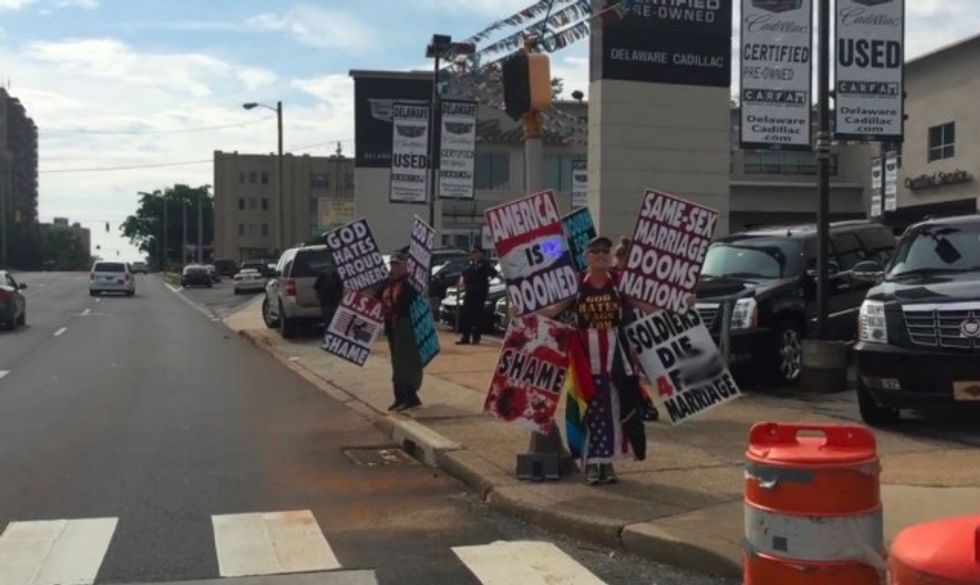 Image source: DelawareOnline (slur redacted)
They were met with a much larger counter-protest on the streets in front of St. Anthony of Padua Roman Catholic Church: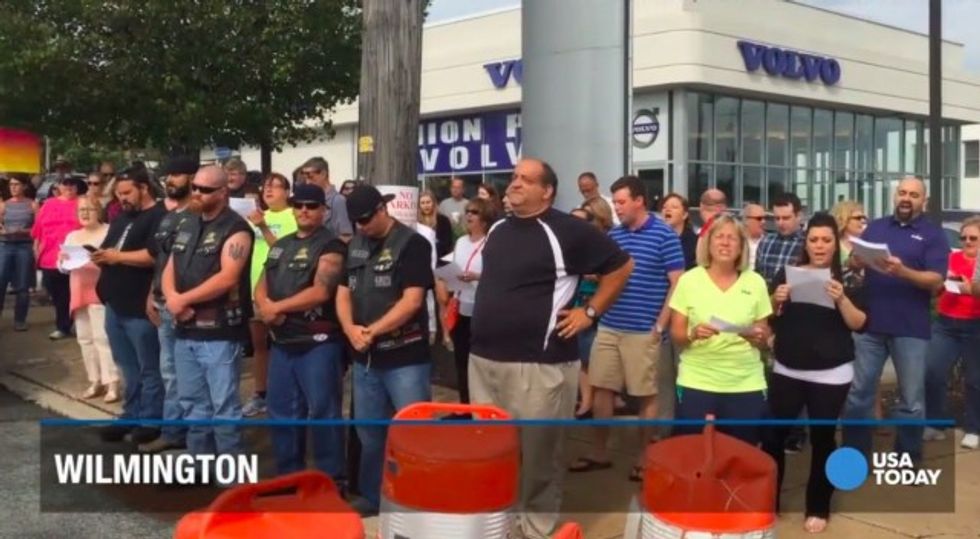 Image source: USA Today
And to boot, they got some coffee out of the deal — though not likely in the manner they preferred.
A man threw the beverage at the Westboro protesters, after which he was arrested:
Man arrested for throwing coffee on Westboro Baptist protesters at Biden funeral. http://t.co/U715KpCe7Y pic.twitter.com/HNdn8WPdHt

— 10 News (@WTSP10News) June 6, 2015
While the Westboro group sang and held signs on one corner, members of the larger counter-protest across the street sang as well — "Amazing Grace" was one of their chosen hymns.
Some counter-protesters stood holding signs high in front of the Westboro group to block their signs:
WATCH: Westboro Baptist Church protesters met with counter protest. #BeauMemorial http://t.co/iHOgtEFRLD pic.twitter.com/nzGnhByEVo

— delawareonline (@delawareonline) June 6, 2015
"This is where the eyes and the ears of the nation are today," Westboro member Shirley Phelps-Roper told WPST.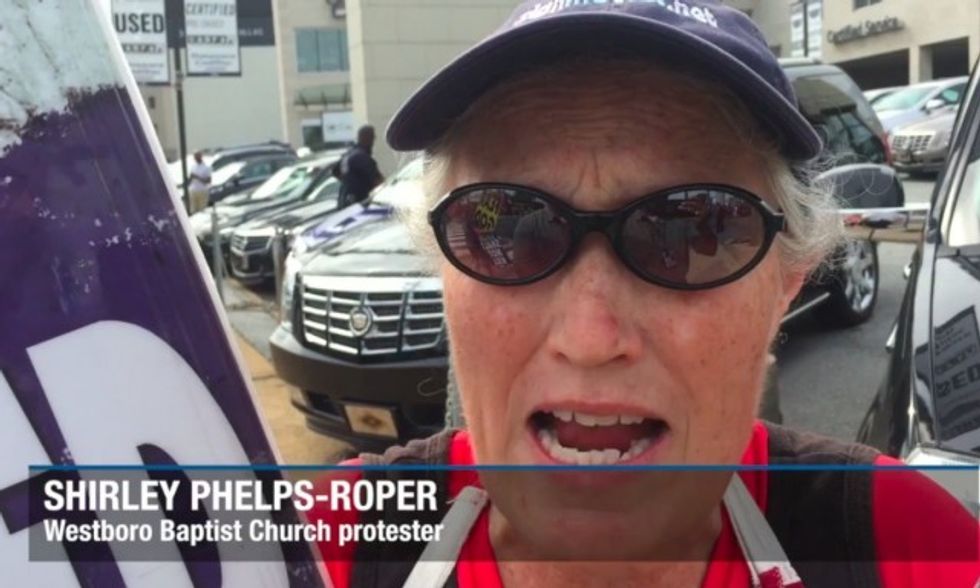 Image source: DelawareOnline
More from WPST:
Westboro announced Friday that it would picket Biden's funeral. "As for Beau Biden, his life was cut short by the will of God to whom all glory is given and he has an eternity of answering to the Lord for his own words, thoughts, actions and sins," the protest announcement said.
U.S. Vice President Joe Biden announced his son Beau's death last Saturday after a battle with brain cancer. Beau Biden, 46, served in Iraq and was a lawyer for the Delaware Army National Guard.
Content warning: Some protesters' signs seen in the following video contain anti-gay slurs:
This story has been updated.
—
Follow Dave Urbanski (@DaveVUrbanski) on Twitter