After the deadly January terrorist shootings at the Charlie Hebdo magazine offices and a Paris kosher supermarket, multiple reports warned of the "dread" and "fear" French Muslims felt as they braced themselves for a "surge of Islamophobia."
Yet a new poll from the Pew Research Center suggested those fears may have been premature and concluded not only has there been no anti-Muslim public opinion backlash in France, but "attitudes toward Muslims have become slightly more positive over the past year."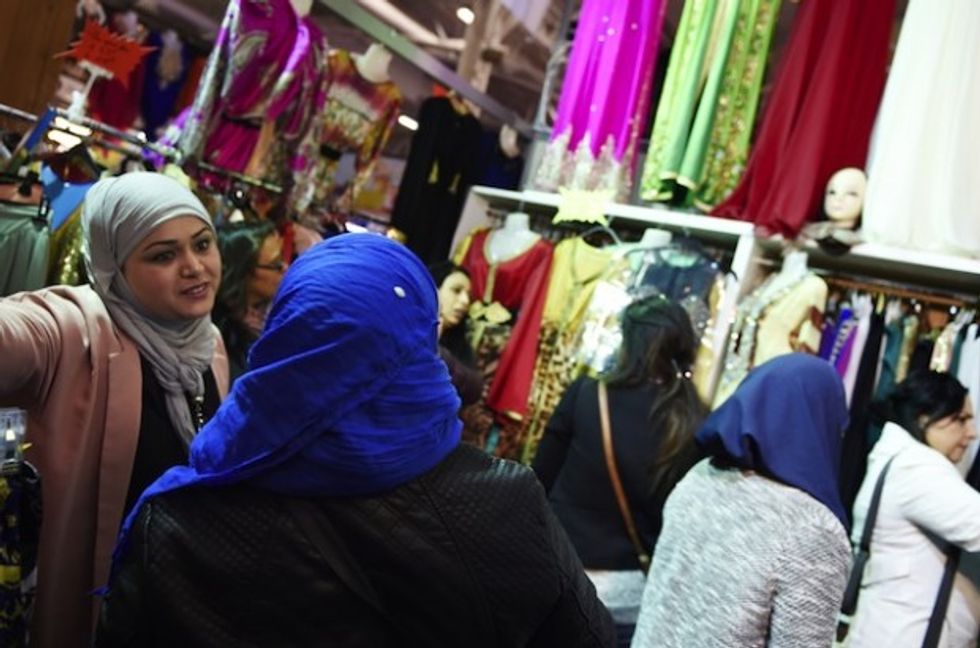 Women look at clothes, on April 6, 2015 during the 32nd Annual Meeting of France's Muslims, at Le Bourget Exhibition center, north of Paris. (Photo: Loic Venance/AFP/Getty Images)
In a poll released on June 3, Pew found that 76 percent of those surveyed in France had a favorable view of Muslims living in their country -- higher than the 72 percent rating last year before the terrorist attacks.
Notably, the percentage of those who expressed a "very favorable" opinion of Muslims increased significantly according to the survey, rising from 14 percent in 2014 to 25 percent today.
The Pew Research Center reported that more positive attitudes came from those who identify with the left in France, though favorable opinions of Muslims grew across the political spectrum.
Pew noted the pattern was similar to public opinion developments in the U.S. following the 9/11 attacks:
Favorable views of Muslim Americans rose from 45% in March 2001 to 59% in November of that year. The increase took place across partisan and ideological groups, with the biggest improvement occurring among conservative Republicans.
Researchers attributed the "counterintuitive" trend to calls for national unity following the attacks, media coverage, and statements by French and U.S. political leaders emphasizing that the terrorists do not represent Islam.
Pew observed that despite the immediate improvement in favorability ratings for Muslim Americans, the opinion that Islam is more likely than other religions to encourage violence has become more common in the U.S.
In March 2002, just months after 9/11, 25 percent of Americans said they believed Islam is more likely to encourage violence. In September 2014, 50 percent of Americans expressed that belief.
France 24 reported that even though the results of last week's poll marked an improvement in the public opinion of French Muslims, the same community faced an increase in violent attacks after Paris terrorist shootings.
The French Collective Against Islamophobia said more than 120 anti-Muslim incidents occurred in the three weeks following the Paris attacks, including 30 attacks against places of worship.