In an effort to contain the spread of a deadly virus, South Korean officials have taken to obtaining already infected patients' cellphone location data. Though this practice comes with some privacy concerns, the authorities also say, in this case, it's something most people readily have consented to.
According to the World Health Organization, there have been 121 confirmed cases of Middle East Respiratory Syndrome coronavirus in South Korea and one in China. South Korea reported its 10th death related to the virus this week, though officials maintain they believe the disease has peaked.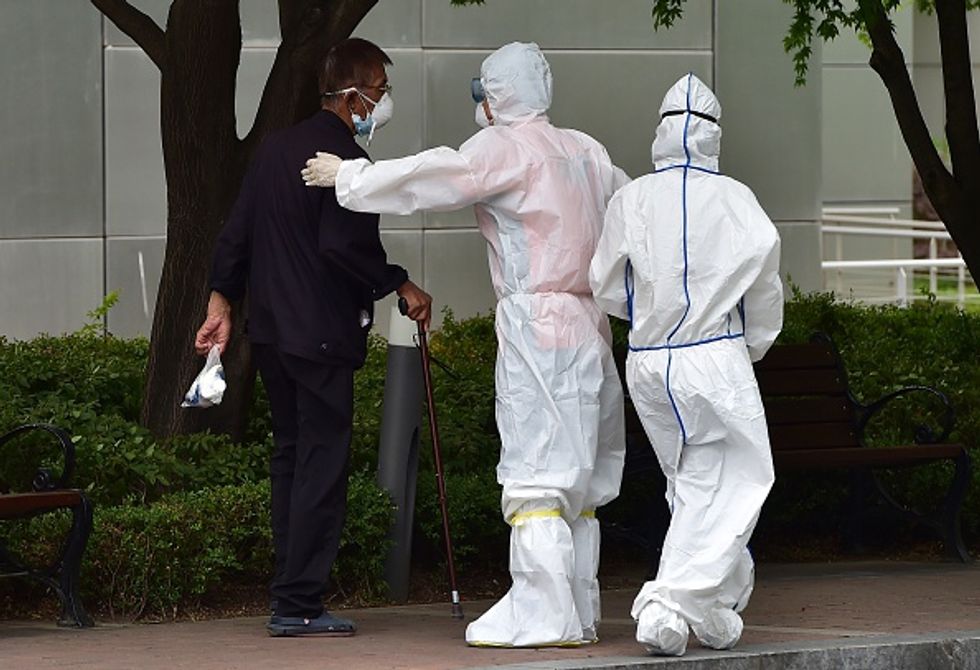 South Korean medical workers in full protective gear guide a man (L) in front of the emergency section at the Samsung Medical Centre in Seoul on June 11, 2015. South Korea's outbreak of the potentially deadly MERS virus on June 11 forced the central bank to cut its key interest rate to ward off greater economic damage, as retailers report a slump in business. (JUNG YEON-JE/AFP/Getty Images)
The MERS outbreak has caused panic in the country ever since the first case, a 68-year-old man who had traveled to the Middle East, was diagnosed on May 20. About 3,800 people are under quarantine and one of the measures to find and track potentially infected patients and who else they could passed the virus to includes cellphone location data.
"We request information from the telecom companies with the individual's consent," Kwon Duk-cheol, who is heading the country's MERS response, told NPR, explaining "we give telecom companies a specific time, and they give us the exact location of the individual."
He noted though that given the situation, consent is not required for the government to obtain this information.
"While an individual's private information is important, we're also trying to stop the virus from spreading for the common good — the interest of the nation," Kwon told NPR.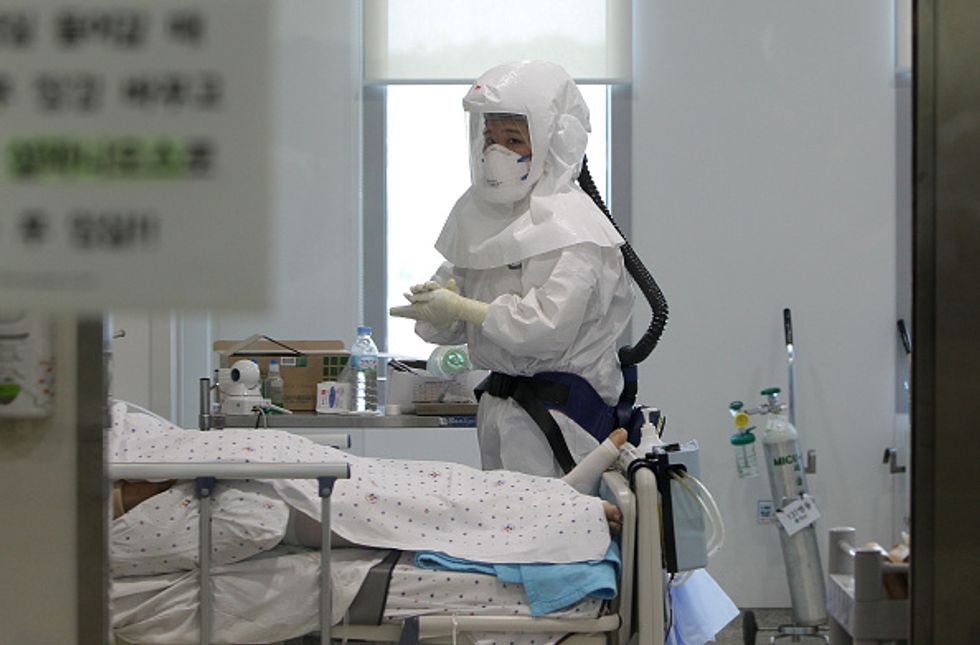 A health care worker wears protective gear as she cares for a MERS patient at Seoul Medical Center where eight MERS patients are hospitalized on June 10, 2015 in Seoul, South Korea. South Korea has reported 9 deaths, over 2400 schools closed, and over 2800 people quarantined as of June 10, 2015. (Chung Sung-Jun/Getty Images)
MERS-CoV was first identified in Saudi Arabia in 2012. According to WHO, it does not pass easily from person to person but is shared via close contact. The virus causes fever, cough and shortness of breath and can lead to more serious conditions like pneumonia. WHO notes that 36 percent of MERS-infected patients have died.
Most of the MERS-related deaths seen in South Korea so far have been of people who had been suffering from pre-existing medical conditions, such as respiratory problems or cancer.
More than 2,600 schools and kindergartens across South Korea were closed Thursday amid the outbreak.
—
The Associated Press contributed to this report.