Hillary Clinton's presidential campaign shut out a pool reporter in New Hampshire on Monday, renewing longstanding issues about her openness and transparency with the press.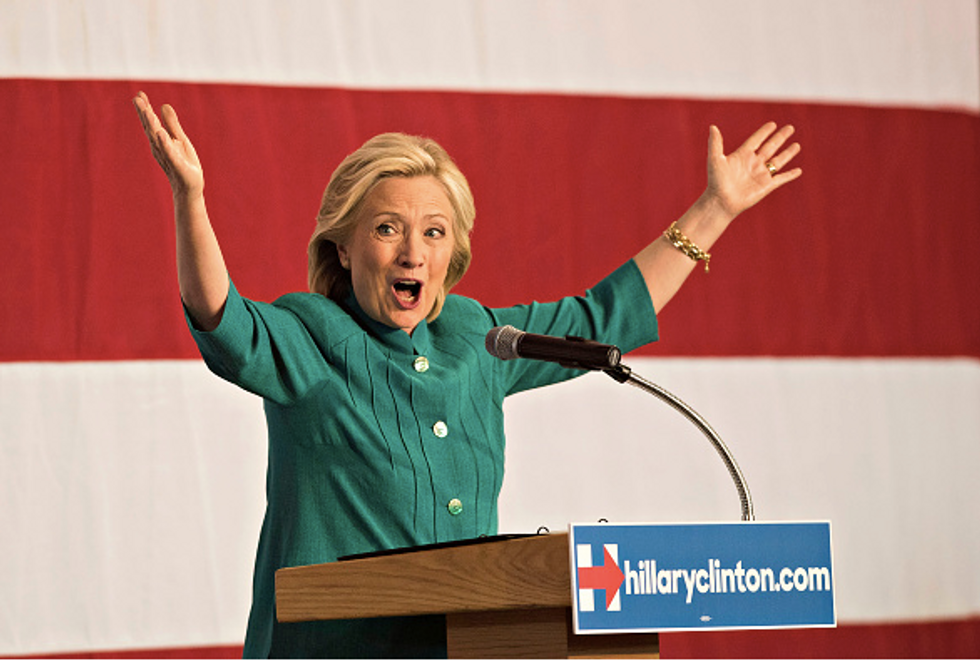 Democratic presidential candidate and former Secretary of State Hillary Clinton speaks in Des Moines, Iowa, Sunday, June 14, 2015. (Daniel Acker/Bloomberg via Getty Images)
David Martosko, the U.S. political editor for the U.K.'s Daily Mail, reported that when he tried to go to a campaign breakfast stop, he was told he would not be able to cover the day's events.
Pool reporters represent the other reporters in the news media who cover a candidate when the space for an event is too small to fit a large crowd of journalists. The pooler sends reports back to other news organizations, who can disseminate those dispatches in their own coverage. Thus, blocking pool coverage from a single reporter can block widespread media coverage.
Martosko's pool report, according to Politico:
"Your pooler showed up at the Puritan Backroom in Manchester on a rainy New Hampshire morning at 7:45 and was greeted in the parking lot by Meredith Thatcher, a press staffer with the New Hampshire Democratic Party. Thatcher told your pooler that he wasn't the approved print pool reporter for today's pooled events," Martosko reported in his first pool report.

"Asked to call her boss, Harrell Kirstein, she did so and then reported: 'So I'm afraid it's a no. You're not on the list.' She said [campaign press secretary] Nick Merrill should be phoned with questions," Martosko continued. "Asked if the print pooler was being prohibited from getting on either of the pool vans, Thatcher replied: 'I'm afraid that's right.' Asked why, she responded: 'All I know is what Harrell has told me. I got an email saying the print pooler would be changed for today. Sorry.'"

Denied a ride in the pool van, Martosko told Thatcher that he would drive to the first campaign stop in Rochester on his own, "in the hope that things would be sorted out during the 75-minute drive."
Martosko also relayed that Merrill said the Daily Mail doesn't qualify for the campaign pool because it isn't a member of the White House Correspondents Association's regular print pool. The Daily Mail has a White House correspondent who is a member of the association but is not yet in the pool rotation.
Daily Mail representative Sean Walsh said the organization is "seeking an explanation from the Clinton campaign as to why this occurred as Mr. Martosko was scheduled to be the designated print pool reporter in New Hampshire this morning."
In a statement to Politico, Merrill said: "We want a happy press corps as much as the press corps does. And we work very hard to achieve that in tandem with them. It's a long campaign, and we are going to do our best to find equilibrium and best accommodate interest from as many news outlets as possible, given the space limitations of our events."
The incident comes after Clinton, who formally launched her campaign over the weekend, was seen as finally being a little bit more responsive to the press, granting two interviews in Iowa after a near-blackout period.