NASA's latest analysis of nearly two dozen climate models and historical data, shows what the world's temperature projections could look like by 2100.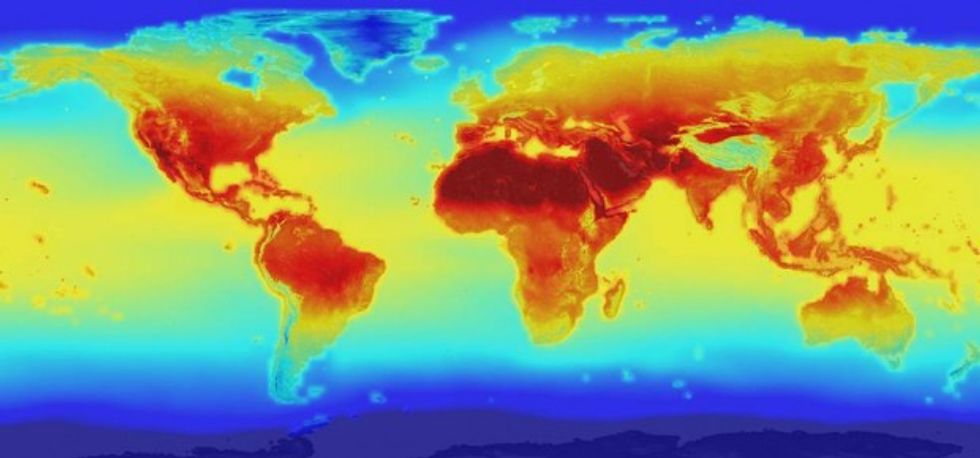 This map shows temperature projections around the world in 2100. (Image credit: NASA)
Using 21 climate models based on different greenhouse gas scenarios, NASA Earth Exchange researchers conduct risk assessments on how changes in the environment can affect temperature, precipitation and agricultural productivity.
"NASA is in the business of taking what we've learned about our planet from space and creating new products that help us all safeguard our future," NASA Chief Scientist Ellen Stofan said in a statement. "With this new global dataset, people around the world have a valuable new tool to use in planning how to cope with a warming planet."
The 11-terabyte dataset, NASA noted, uses actual measurements and climate simulations that "used the best physical models of the climate system available to provide forecasts of what the global climate might look like under two different greenhouse gas emissions scenarios: a 'business as usual' scenario based on current trends and an 'extreme case' with a significant increase in emissions." 
The whole purpose of the dataset is to "assist the science community in conducting studies of climate change impacts at local to regional scales, and to enhance public understanding of possible future global climate patterns at the spatial scale of individual towns, cities, and watersheds."
According to NASA, each of its projections includes minimum and maximum temperatures and precipitation from 1950 up until 2100.
In 2013, NASA issued projections for 2100, saying the average temperature rise across the U.S. could be up to 8 degrees Fahrenheit by then:
On the climate change front, two weeks of U.N. talks recently concluded with negotiators trimming a draft global climate pact but leaving core sticking points to be untangled later.
Frustrated by the slow pace of the climate talks, some negotiators and observers called the meeting in Bonn, Germany, a squandered opportunity to capture the momentum of a declaration this week by seven world leaders including President Barack Obama endorsing a long-term goal of decarbonizing the global economy — moving away from a dependence on fossil fuels.
"We must go faster," said European Union delegate Ilze Pruse.
Earlier, officials leading the Bonn talks called for patience, with co-chair Ahmed Djoghlaf telling reporters no one can craft a universal agreement with more than 190 countries overnight.
In Bonn, negotiators reorganized sections as they shortened a 90-page text to 85 pages. The co-chairs were asked to streamline the text further by August.
The draft still contains multiple options on contentious issues, including how to differentiate between the obligations of rich and poor countries to fight climate change and what commitments of financial support to fight climate change poor nations want from the rich.
It remains unclear whether the pact will be legally binding.
Also undecided is whether the first round of emissions targets should cover the 2020-2025 period or 2020-2030. Most targets submitted so far are for the latter, while the United States insists on the former.
(H/T: Gizmodo)
—
The Associated Press contributed to this report.