British activists are planning to rip and stomp on Israeli flags at a protest in one of London's largest Jewish communities next month.
But while Jews in the U.K. have perhaps become accustomed to anti-Israel displays, what's different for the July 4 event is the activists' stated intention to first meet privately and burn the Talmud, the text holding the key rabbinic commentary on the Torah and Jewish law.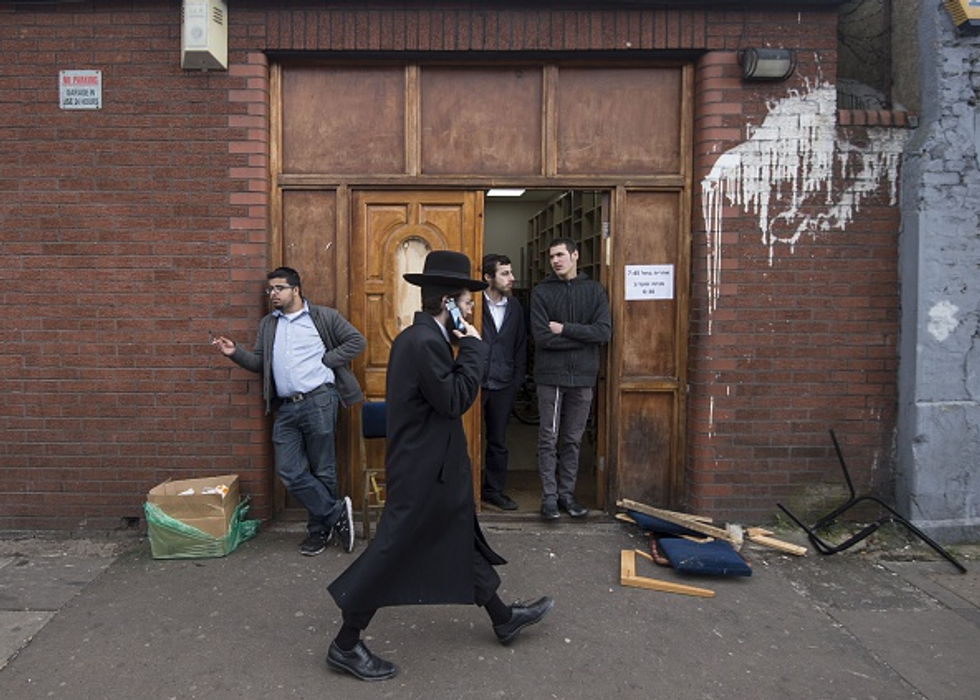 An Orthodox Jewish man talks on his mobile phone as he walks past the Ahavas Torah synagogue in the Stamford Hill area of north London, March 22, 2015. Six people were arrested after a group broke into a synagogue in the heavily Jewish area in what police as an anti-Semitic incident. (NIKLAS HALLE'N/AFP/Getty Images)
July 4 also happens to be a Saturday, which is the Jewish sabbath.
Joshua Bonehill-Paine, whom the British newspaper the Jewish Chronicle described as a "white supremacist activist," wrote on his website that the group will be protesting the "Shomrim," a volunteer neighborhood watch-type group that works with police when crimes are reported by residents of neighborhoods with large ultra-Orthodox populations.
The protesters also plan to stand "in solidarity with those oppressed by the illegal state of Israel."
Bonehill-Paine invited participants to bring Israeli flags to "dismember" by hand and to step on.
"There will also be a private ceremony held before the demonstration at an undisclosed and private location where copies of the Talmud books will be burnt in recognition of it's racist Anti-White teachings," he wrote. He also said he aims to "expose the vast cultural Marxist Jewish conspiracy at the heart of our government."
Definitely @DannyCohen. "Where they burn books eventually the will burn people". This must be opposed.

— Douglas (@Cingefort) June 16, 2015
@DannyCohen bloody hell, it's 2015 - how is this still happening?

— Greg Jenner (@greg_jenner) June 16, 2015
Also as part of his "anti-Jewification initiative," Bonehill-Paine announced the group will next be demonstrating in other predominantly Jewish neighborhoods of north London.