Discussing the prospect of a push for greater gun control in the aftermath of the tragic Charleston church shooting, Blaze TV host Dana Loesch clashed with anti-gun advocate Nomiki Konst on Thursday night over whether stronger gun laws would prevent future mass shootings.
Loesch made it a point to note that suspected shooter Dylann Roof was already legally prohibited from carrying or obtaining a firearm as he had a felony drug possession charge pending against him. Roof was reportedly given a gun as a birthday present by his father in April.
"In South Carolina, all you have to do is be charged with a felony to be declared illegitimate to carry, which he was in February of 2015. He was charged with a felony for drug possession," Loesch said. "It was methamphetamines and cocaine. His father purchased a firearm for him for his 21st birthday, April 4, 2015. That could have been a straw man purchase, which is also a felony. He reportedly told someone that he stole the gun that he used in these murders. That's also a felony."
She added, "Felony, felony, felony."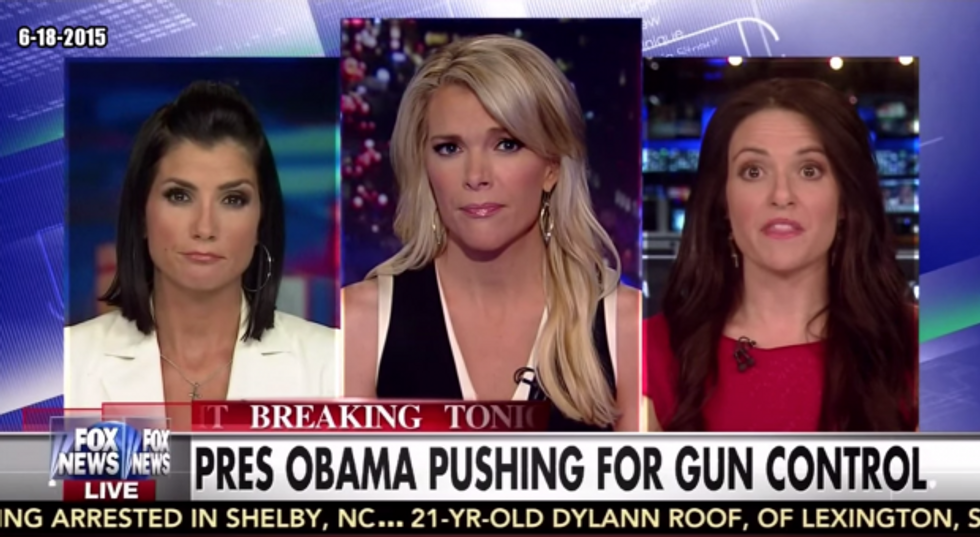 Fox News
Later in the segment, when host Megyn Kelly stated that a man with a legal gun was able to save a woman from being decapitated in Oklahoma, Konst called it an "anecdote."
"So, anecdotes are fascinating, but they're not data," she said. "And we do have very serious data that backs up that gun reform does prevent murders, massive murders — 49 of the 60 massive murders that we've had in our country have been due to illegal and legal purchasing of gun."
"If it's illegal, how is another law going to prevent it?" Kelly asked.
"Let me clarify, meaning, passing on, such as this situation, where it was gifted or stolen," Konst replied.
Loesch then interrupted, "And it's illegal, it's a straw man purchase."
Watch the entire segment below via Fox News:
(H/T: Newsbusters)
---