President Barack Obama spoke deeply about faith, race in America, the Confederate flag and gun control during his eulogy for the Rev. Clamenta Pinckney, gunned down last week with eight parishioners at a historic black church.
Obama's eulogy sounded at times like a sermon, as he spoke and later sang the words to "Amazing Grace" and often drew "amens" from the Charleston, South Carolina, congregation, along with numerous and lengthy standing ovations.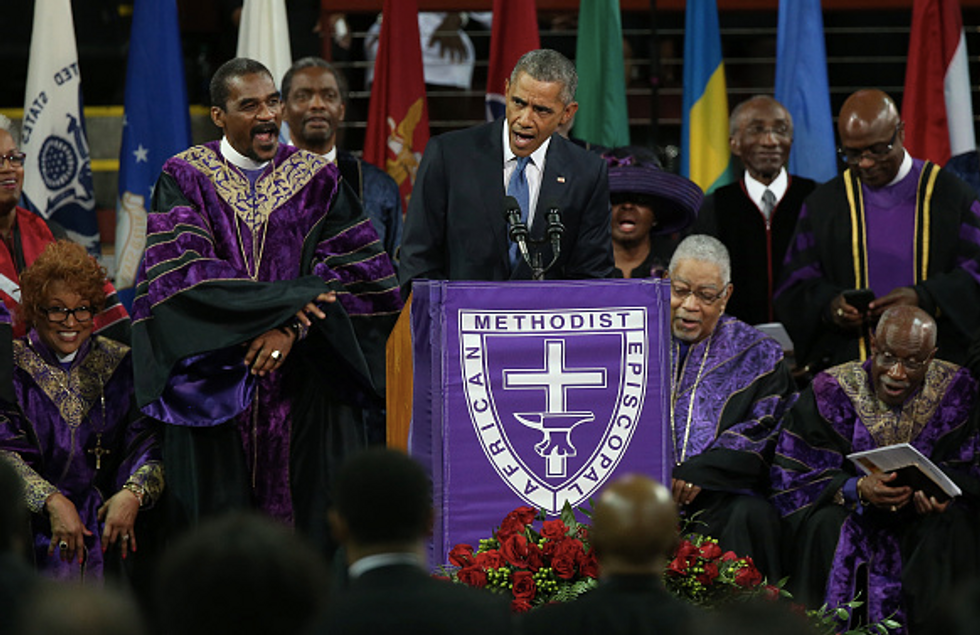 President Barack Obama sings "Amazing Grace" while delivering the eulogy for South Carolina state senator and Rev. Clementa Pinckney during Pinckney's funeral service, June 26, 2015 in Charleston, S.C. Dylann Roof is accused of killing nine people on June 17 during a prayer meeting at Emanuel African Methodist Episcopal Church, one of the nation's oldest black churches. (Win McNamee/Getty Images)
Obama gave credit to South Carolina Republican Gov. Nikki Haley, who earlier this week called for removing the Confederate flag from the state Capitol grounds in the wake of massacre.
"For too long we were blind to the pain that the Confederate flag had stirred in too many of our citizens," Obama said.
"It's true a flag did not cause these murders, but as people from all walks of life ... we all have to acknowledge, the flag has always represented more than just ancestral pride," Obama said.
"Removing the flag from this state's Capitol would not be an act of political correctness, it would not be an insult to the valor of Confederate soldiers, it would simply be an acknowledgement that the cause for which they fought, the cause of slavery, was wrong," Obama said. 
Obama went on to say, "By taking down that flag we express God's grace."
The talk of the flag elicited strong audience approval, as did the next controversial topic, one which the president didn't dive quite as deep into.
On gun control, Obama said that sporadic incidents should not be the only thing that draws the country's attention to gun violence.
"For too long we've been blind to the unique mayhem that gun violence inflicts upon this nation," Obama said.
He talked about the Charleston shooting, as well as the Aurora, Colorado movie theater shooting and the Newtown, Connecticut elementary school shooting. But added that 30 people in American are killed by guns each day.
"A vast majority of Americans, the majority of gun owners want to do something about this," Obama said to lighter applause. "We see that now. I am convinced that by acknowledging the pain and loss of others, even as we respect the traditions and ways of life that make up this beloved country, by making the moral choice to change, we express God's grace."
The entire message was not political.
The large audience leaped to its feet at Obama spoke inspiringly about how the Charleston community came together in the aftermath of what the killer hoped would tear it apart.
"An act he imagined would incite fear and recrimination, violence and suspicion, an act that he presumed would deepen divisions that trace back to our nation's original sin," Obama said.
"Oh, but God works in mysterious ways," Obama said to rousing applause. Almost shouting to speak over the applause, Obama added, "God has different ideas."
Obama did not name Dylann Roof, the alleged shooter who reportedly claimed his goal was to start a race war. But to loud applause, the president talked about what Roof did not anticipate.
"He didn't know he was being used by God."
"Blinded by hatred, the alleged killer could not see the grace surrounding the Reverend Pinckney and that Bible study group, the light of love that shown as they opened the church doors and invited a stranger to join in their prayer service," Obama said. "The alleged killer could have never anticipated the way the families of the fallen would respond when they saw him in court – in the midst of unspeakable grief – with words of forgiveness. He couldn't imagine that. "
Obama added, "Blinded by hatred, he failed to comprehend what Rev. Pinckney so well understood: the power of God's grace."
Early in the eulogy, Obama spoke of 41-year-old Pinckney's life both as both a state senator and as a pastor. The president stressed that the AME church does not separate church life from public life.
After listing public policy issues such as the Confederate flag, gun control, bias in the criminal justice system and voter ID laws, Obama said, "It would be a betrayal of everything Rev. Pinckney stood for if we allow ourselves to fall into a comfortable silence."