Police in England are looking for a woman whose dog they believe is responsible for chasing sheep off a cliff.
According to the Daily Mirror, a woman was walking with three men when her dog cornered two sheep against the edge of a cliff in Seven Sisters County Park in Sussex. Onlookers watched in horror as one sheep lost its footing and plummeted 70 feet to its death. The other sheep managed to escape the dog.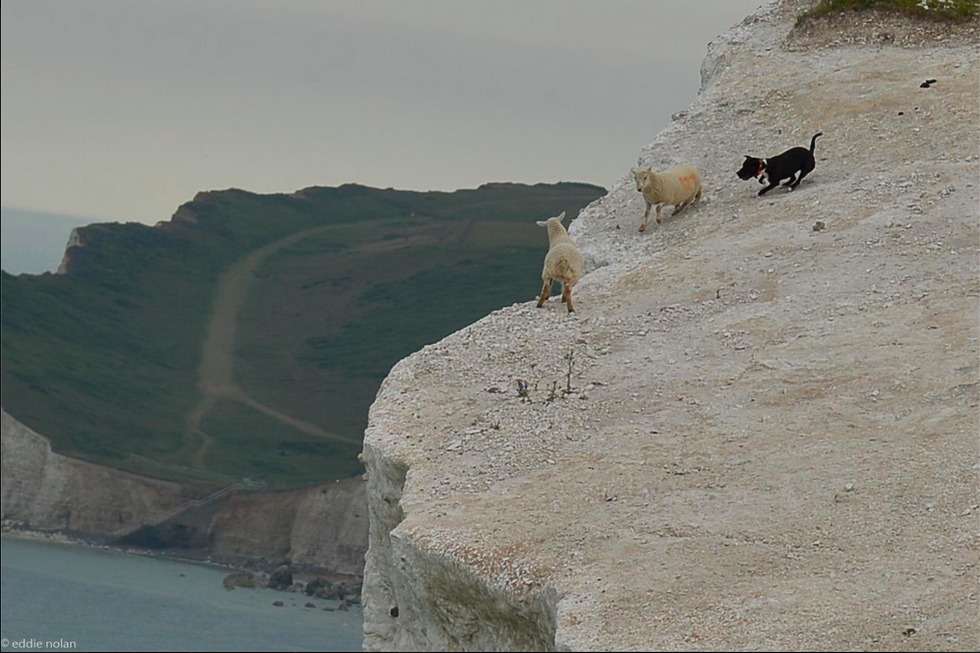 Photographer captures dog chasing sheep off a cliff in England. (Image via Zoe Stanisstreet/Facebook)
Zoe Stanisstreet, who the Mirror identified as a farmer, posted photos of the incident and of the alleged dog owner to Facebook.
"[N]ot only is this a huge lose [sic] but both these lambs would of [sic] experienced a great deal of stress and panic," Stanisstreet wrote. "Many tourists were present during this horrific ordeal. Sheep worrying is a growing problem for farmers not only in the south east but across the country and is a criminal offence."
"It was a really shocking moment when [the sheep] went over and everyone there looked pretty shaken by it," Eddie Nolan, a photographer who witnessed the ordeal, told the Mirror. "The dog just moved on to the other sheep while its owners screamed and shouted at him."
The Mirror reported that the dog's owner could be prosecuted for being in charge of an animal that causes injury to livestock.
[H/T: The Daily Mirror]