The two convicted killers who escaped an upstate New York prison planned to head to Mexico after breaking out, Gov. Andrew Cuomo said Monday, citing statements made to authorities.
The plans of David Sweat and Richard Matt hinged on former prison worker Joyce Mitchell, who is accused of helping the two break out of Clinton Correctional Facility more than three weeks ago, the governor told "The Capitol Pressroom" radio show.
Cuomo said that when Mitchell failed to show up with a getaway vehicle, the duo's plans changed and they decided to head north to Canada.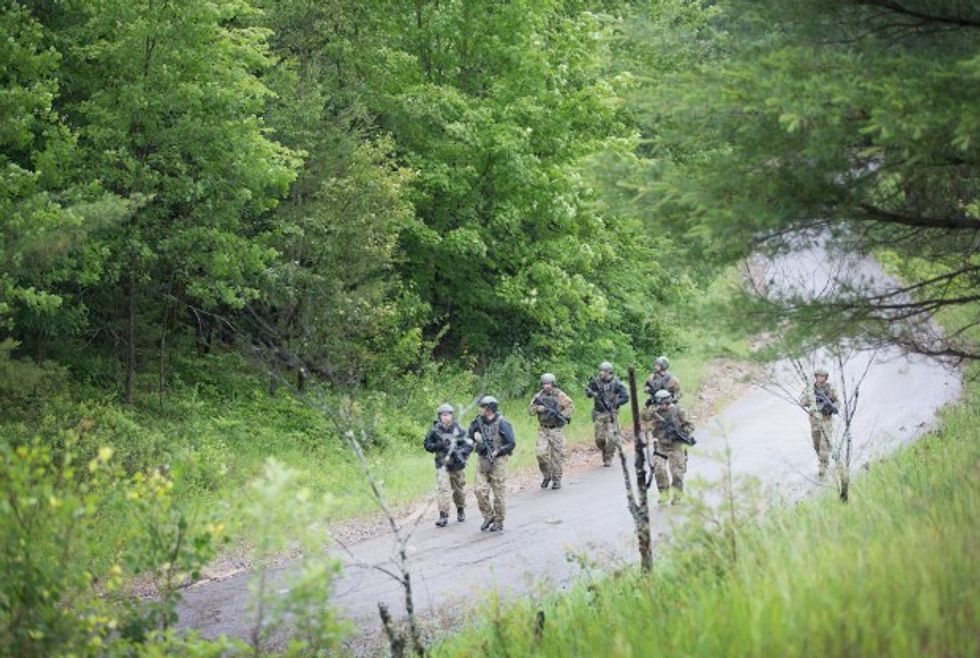 FBI agents cunduct a search for convicted murderer David Sweat on June 28, 2015 near Duane, New York. (Photo by Scott Olson/Getty Images)
"They would kill Mitchell's husband, and then get in the car and drive to Mexico on the theory that Mitchell was in love with one or both of them," Cuomo said. "And then they would go live happily ever after, which is a fairy tale that I wasn't read as a child. But we all believe what we want to believe."
[sharequote align="right"]"Some added details, some added twists."[/sharequote]
"When Mitchell doesn't show up, the plan gets foiled," Cuomo added.
Authorities took Sweat into custody Sunday after a law enforcement officer spotted him, gave chase and ultimately fired two shots at him. The 35-year-old is now in serious condition at a hospital in Albany.
Matt was fatally shot by authorities last week after being spotted.
Sweat ditched Matt about five days ago, afraid the older inmate was slowing him down, Cuomo said. The New York governor added that authorities did find Matt with blisters on his feet, possibly the reason he was unable to keep up with Sweat.
"Some added details, some added twists," Cuomo said.
—
Follow Oliver Darcy (@oliverdarcy) on Twitter