The U.S. Open might have concluded a couple of weeks ago, but one city is still reaping the benefits in a way that some people might find a bit unsavory.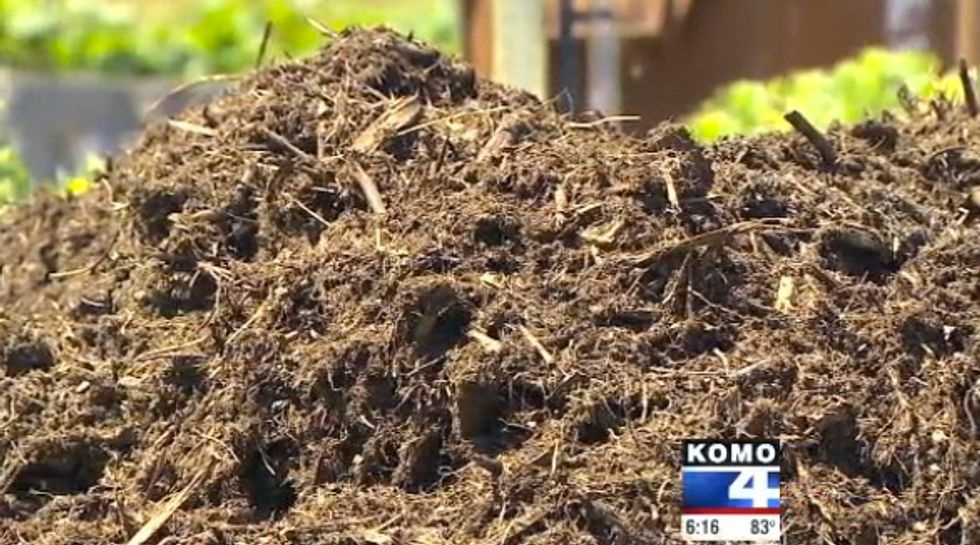 Image source: KOMO-TV
The town of Tacoma, just six miles from University Park where the U.S. Open was won by 21-year-old Jordan Spieth, is using the waste from the thousands of attendees to help solve its soil shortage.
You see, Tacoma sells soil mix called TAGRO and right now they're all out, according to the city's website.
"Proven safe and effective — and awarded the U.S. Environmental Protection Agency's highest rating for use in landscaping, vegetable gardens and indoor container gardens — all-natural TAGRO products are made from a blend of pasteurized wastewater byproducts called biosolids and other weed-free gardening components," the city's website stated.
Dan Thompson with Tacoma's wastewater management operation told KOMO-TV the city is thankful to the U.S. Golf Association for the part it played in bringing more people to the area, contributing to the wastewater supply.
"It wasn't like a huge influx, but we did get a significant increase in flow. That will translate to more [product] in the end," he said.
Thompson explained to the news station that plants "love" TAGRO because "they get the nitrogen when they need it, not all at once [like] with a chemical fertilizer."
The News Tribune had more from Thompson last week about the cause of the TAGRO shortage:
No. 1: Local folks did lots of gardening and planting this spring.

No. 2: There isn't enough of it. Number two, that is.

"If you guys would just eat a higher-fiber diet, that would solve the problem," Thompson said, only half joking.
Dan Blachly, who volunteers at a learning garden in the city, praised the potting mix.
"[Other volunteers] said this site here is the best it's ever been," he told KOMO. "Everything here is growing in TAGRO mix. It's recycling human waste in a way that I am told is the number one uniquely best place for processing human sewage."
Watch KOMO's report:
According to the city's website, people who have used TAGRO reported faster growing gardens and thicker growing lawns.
"Vegetables and flowers grown in TAGRO have earned more than 120 ribbons at the Puyallup Fair since 1992," the city stated. "And our biosolids program has received national awards, including the Environmental Protection Agency's first place award for the best biosolids program in the country."
Watch this video from the city about TAGRO:
—
Front page image via Shutterstock.