GREELEYVILLE, S.C. (AP) -- The Rev. John Taylor feared the worst when he learned his church was on fire, only days after a mass shooting at a black church in Charleston prompted Southern leaders to call for removing Confederate flags.
The Mount Zion African Methodist Episcopal Church was burned to the ground by the Ku Klux Klan in 1995, one of many arsons at black churches that prompted President Bill Clinton to create a federal task force that led to hundreds of arrests.
"Of course we thought about it. We wouldn't be human if we didn't," he said, standing in the hot sun outside the church's charred shell on Wednesday. But Taylor also recalled the fierce lightning storm that blew through town about the time the fire began Tuesday night. "I really thought it probably was a lightning strike is what I thought."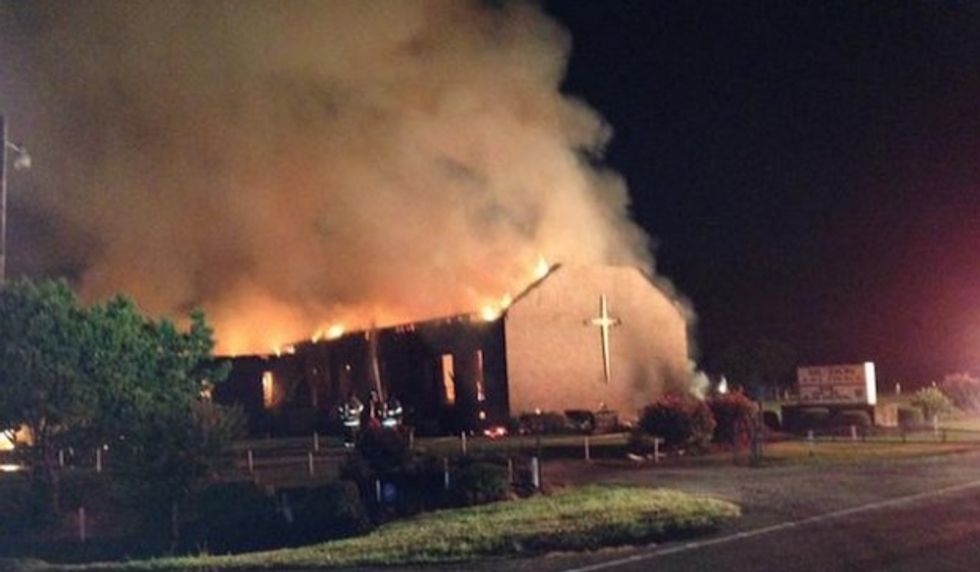 Twitter
Preliminary indications suggest the Mount Zion fire was not the result of arson, according to a federal official who spoke with The Associated Press Wednesday on condition of anonymity, for lack of authority to discuss the case publicly.
More than a half-dozen fires at black churches have burned in the days since a white gunman was charged with murder in the shootings of nine black churchgoers in Charleston. Investigators have determined that several were intentionally set, but have yet to announce any evidence of racial motives.
According to the best available national statistics, if these have been the only church fires happening recently, this would be a relatively safe time.
An average of 31 houses of worship burned every week from 2007 through 2011, according to a 2013 estimate by the National Fire Protection Association, which analyzed government data and survey results.
Among these, arson was relatively rare: Just 16 percent of the estimated blazes at religious structures were intentionally set during the five-year period ending in 2011. That means arsonists set fire to roughly five each week. The figures include a small number of funeral homes and do not distinguish between predominantly white and black congregations.
Taylor, who is in his ninth year as the pastor of Mount Zion, said when he heard of the fire, he immediately recalled the blaze two decades ago, for which two KKK members served long prison sentences. Clinton himself came to dedicate the rebuilt church that burned down Tuesday night.
Speculation has run rampant on social media. Could white supremacists be reviving this terror tactic? Was someone looking to make a statement after President Barack Obama called for an honest accounting of America's racial history during his eulogy in Charleston on Friday?
"I can tell you we're not going to leave any stone unturned," announced Craig Chillcott, assistant special agent in charge of the Bureau of Alcohol, Tobacco, Firearms and Explosives office that oversees North and South Carolina.
Jesse Parker, the mayor of the community of about 400, is urging patience as investigators determine the cause.
"We'll just let them do their jobs and let them bring us the results of how it got started and we will accept the findings," Parker said.
No one keeps an up-to-date tally of every church fire in the United States, making exact comparisons impossible. But 84 percent of these fires happen for reasons other than arson. Kitchen equipment and faulty heating and electrical systems are the most likely causes.
It may simply be that people are paying more attention to church fires now, given this month's tumultuous events, suggested NFPA analyst Marty Ahrens.
"Perception matters," Ahrens said. "We don't know all the causes of all the fires that have gone on this week. But if the church arsons had not happened so soon after the tragedy in Charleston, that horrible incident, would it have gotten the same level of attention?"
Some intentional fires set in black churches defy simple racial motives. The Clinton task force found whites represented 63 percent of the people arrested for bombing or burning black churches in the late 1990s, but 37 percent were black.
Motives also varied widely: Some were vandals or pyromaniacs. Others tried to cover up burglaries or financial theft, or simply held grudges.
Only the brick walls remained at Mount Zion Wednesday morning. The glass was gone from its narrow windows. A large white cross on the brick front wall appeared charred. It's a total loss, but the congregation will rebuild again, Taylor said. Offers of help are already coming in from around the country.
"We will rise again. Our dreams are not lost. They are not dead," the pastor said.