The Islamic State group threatened to topple the Hamas leadership in Gaza, accusing the Palestinian terrorist group of not ruling by Shariah law.
According to Reuters, in a video released Tuesday and addressed to the "tyrants of Hamas," an Islamic State member vowed: "We will uproot the state of the Jews and you and Fatah, and all of the secularists are nothing and you will be over-run by our creeping multitudes."
Fatah is the party headed by Palestinian Authority President Mahmoud Abbas.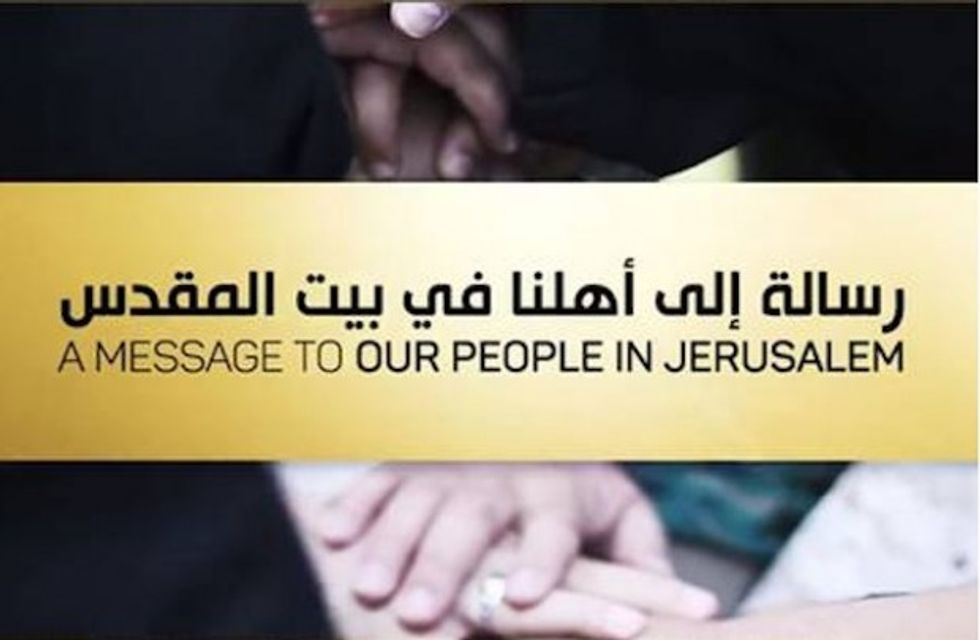 The new Islamic State video, "A Message to Our People in Jerusalem," lambasted Hamas for being too secular and revering the Palestinian flag. (Screenshot: Islamic State video)
In the video, titled "A Message to Our People in Jerusalem," the Islamic State derides Hamas for "raising their children to respect this [Palestinian] flag," Britain's Independent reported.
"The rule of Shariah will be implemented in Gaza, in spite of you. We swear that what is happening in the Levant today, and in particular the Yarmouk camp, will happen in Gaza," the jihadi says, referring to the Palestinian refugee camp in the Syrian capital in which Palestinians and Islamic State militants have been fighting.
The threat may have been prompted by Hamas' recent crackdown on rival extremist groups who last month fired rockets at southern Israeli communities, in violation of the cease-fire Hamas committed to last summer.
The video is believed to have been recorded in Syria.
(H/T: Reuters)