The coastguard in England's East Devon District are cordoning off part of Exmouth beach after a 15 foot by 15 foot hole mysteriously appeared late Thursday.
"I looked over and there were big plumes of water coming out of the beach. It was all bubbling up much like a geyser. It was probably going about a foot above the beach -- it was quite tremendous sight," Kite surf instructor James Dart told the BBC.
The hole was reportedly even shooting out plant life and snails, which Dart described as "something to spice things up in the rain."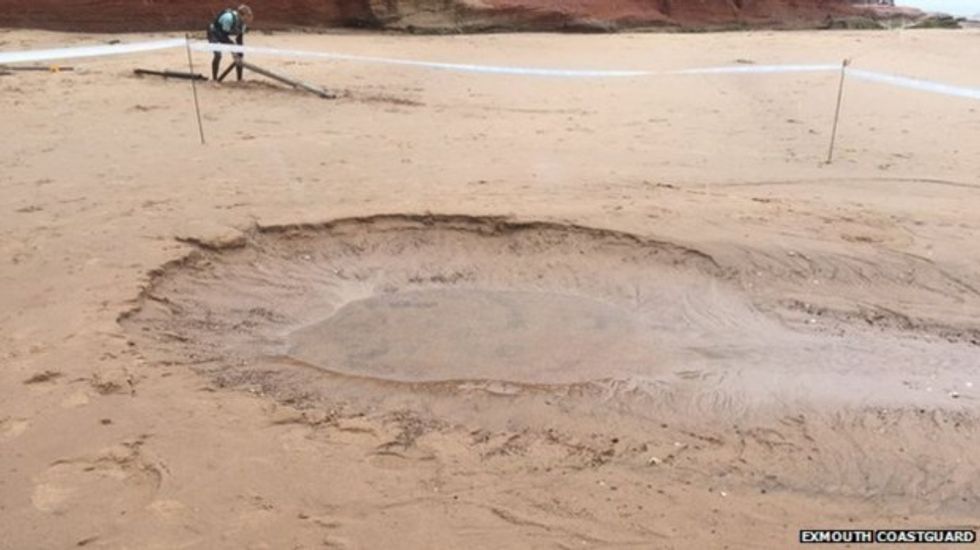 Image credit: Exmouth Coastguard
A Coastguard representative said: "Please keep away and do not enter the cordon. ... Although it doesn't look like it, We've estimated the depth of the soft sand in at around 10-15ft."
Over time the tide partially filled in the hole, though the issue of why it appeared was still perplexing. Moreover, officials added that the sand nearby was unnaturally soft and filled with smaller holes.
"Council engineers are currently on site investigating and report that the sand around the hole is soft underfoot," a spokesman for the East Devon District Council said. "They will continue to monitor the situation over the weekend and between tides. Heavy rain yesterday may be the cause of the hole – a natural phenomena – to have opened up."