With nearly a dozen attacks off the North Carolina shore this summer, this year's popular Shark Week on the cable channel Discovery could not be more timely and relevant.
And the message shark biologists are pushing is the same one they've always voiced.
"The sharks aren't targeting humans. It's something that is more of a mistake," Dr. Craig O'Connell with the O'Seas Conservation Foundation told TheBlaze in a phone interview Monday, noting that places like North Carolina seem to have the "perfect conditions" for sharks right now.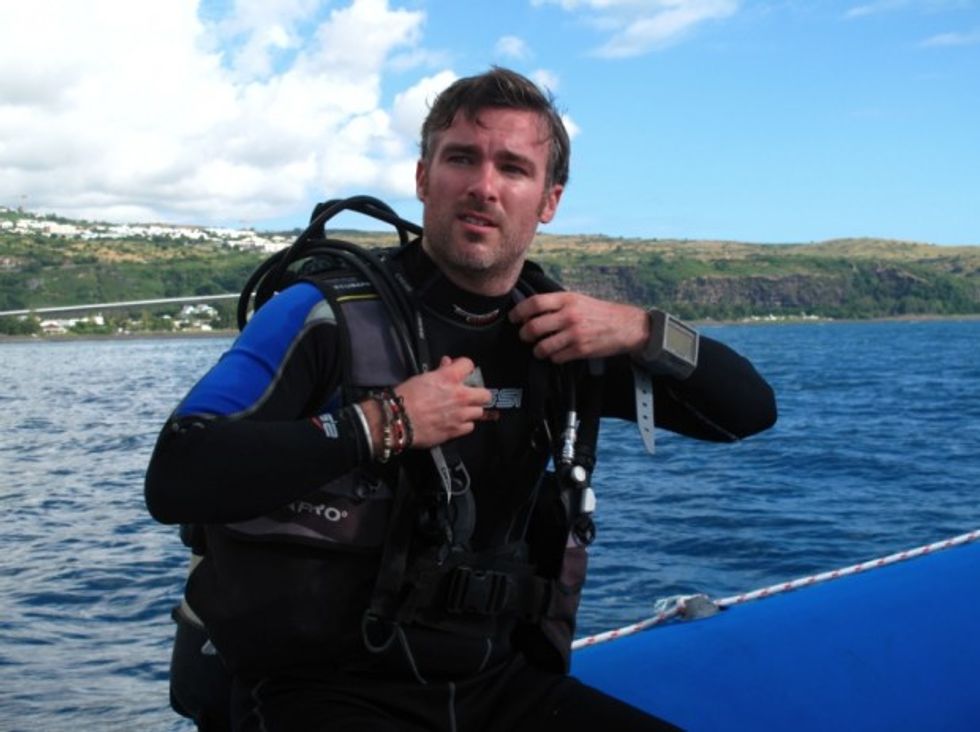 Craig O'Connell appears in "Shark Island," a feature during Discovery's Shark Week. (Image credit: Discovery)
The water close to the shoreline can be "very murky" and their vision is restricted, "so sharks are relying on other senses to find their prey and it's because of this that they often make these mistakes," O'Connell added of the incidents involving humans.
"There's a preferred temperature, salinity and prey item for sharks. It seems like all those conditions right now are in North Carolina and that might be why sharks are hanging out close to shore," O'Connell said, noting that scientists don't know for sure what factors have lead to an uptick in attacks, but they're researching it.
Travel across the Atlantic to the French Reunion Island in the Indian Ocean and you'll find scientists researching the same thing: What factors can lead sharks to concentrate their numbers in an area and, in some cases, to mistakenly attack humans?
O'Connell said that development on the Reunion Island, for example, has lead to more pollution, which could have caused the shark population to shift. Reunion Island has seen 17 shark attacks in the last four years, the latest being the fatal attack of a 13-year-old boy who was surfing in April.
Discovery's culmination of Shark Week will focus in on "Shark Island," the attacks and the research being done there. "Shark Island" will air Sunday, July 12 at 8 p.m. ET.
Another obvious but frequently overlooked factor related to shark attacks is just the number of people in the water. Americans made 2.2 billion visits to beaches in 2010, up from 2 billion in 2001, according to a U.S. Army Corps of Engineers estimate.
"We're basically flooding them out of their own home. It's a function of how many people we've got," George Burgess, director of the Florida Program for Shark Research, told the Associated Press. "You get this unholy mix of bait fish, sharks and humans together. When you have that, you're going to have some bites."
Image source: Shutterstock
In addition to learning more about the factors that can lead sharks to mistakenly attack humans, scientists like O'Connell are trying to figure out and deploy ways to deter sharks from populated areas in the first place.
O'Connell was actually motivated to find a career in shark conservation after he saw the image of one trapped in a fishing net during a Shark Week event several years ago.
"Now, it's my goal to find a solution [... and prove we can] still share water with these animals without having to kill them," he said, noting that after shark attacks, some governments conduct shark culls. "We can't go on killing these animals to make the ocean more convenient for us."
Some of his research has lead to the development of a barrier that targets a system in sharks and rays, driving them away from a specified area with magnetic fields. Using the field, O'Connell said they were actually able to stop sharks actively pursuing prey from an area.
Overall, the magnetic barrier doesn't cause the sharks any harm, but simply manipulates their swimming pattern, he added.
O'Connell said based on the response he's seen in North Carolina that people, fortunately, seem to respect and understand that despite the attacks the sharks were not intentional in their actions.
"The people in North Carolina understand that [the ocean is] the sharks' environment," he said.
For people who still want to go into the water in areas with known shark attacks, O'Connell provided a few tips:
Avoid swimming or surfing at dawn or dusk when sharks are more likely to be feeding.
Avoid areas that have schools of fish swimming around.
Avoid swimming or surfing alone; try to go with a group of people.
With Shark Week already in progress, O'Connell emphasized how this year's programming, especially Shark Island, features real science.
"We will bring reality to these people's living rooms," he said. 
And while he said most people enjoy seeing and learning about sharks, the value of dedicated programming like Shark Week is its importance "for shark awareness [and] for shark conservation."
For those who might have been turned off by Shark Week programming's "pseudoscience" in past years, Howard Swartz, Discovery's vice president for documentaries and specials who oversaw all Shark Week content for the first time this year, told the Associated Press that this year's features will be about "exploration and adventure, science and research."
"Technology keeps begging new questions that researchers are going after, whether it's about behavior, about migration, about finding new shark habits they didn't know before," he said.
"My best friend in keeping Shark Week new is the research community and the technology they're using," Swartz added.
That's not to say that entertainment and hyperbole are missing in action — this is commercial TV, after all. Consider "Bride of Jaws," (9 p.m. Tuesday, all times EDT), about the search for the largest female Great White yet tagged, or "Sharksanity 2" (9 p.m. Saturday, July 11) with viewer rankings of Shark Week's "most insane bites, strikes and close calls," as the channel describes it.
Shark Week kicked off at 8 p.m. Sunday, July 5, with "Shark Trek," in which Massachusetts' marine fisheries biologist Greg Skomal tags Great Whites off Cape Cod and tracks them as they head out — with patterns pointing to the southern U.S. as their destination.
More notable Shark Week footage: epaulette sharks on Australia's Great Barrier reef using their fins as makeshift legs to return to the ocean from the rocky shore ("Shark Planet," 9 p.m. Thursday, July 9) and "Tiburones: Sharks of Cuba" (10 p.m. Tuesday, July 7), which relates the joint exploration of the island's waters by American and Cuban scientists.
—
The Associated Press contributed to this report.
—
Front page image via Shutterstock.