When Trish Walden walked outside to pick up the morning newspaper Sunday, it wasn't the front page headline that caught her surprise. Instead, it was what she saw in her own front yard.
Like many residents along her street, Walden and her husband put up an American flag in their front yard to display their patriotism on July Fourth. At some point throughout the night Saturday and into Sunday, however, the flags were vandalized and stolen.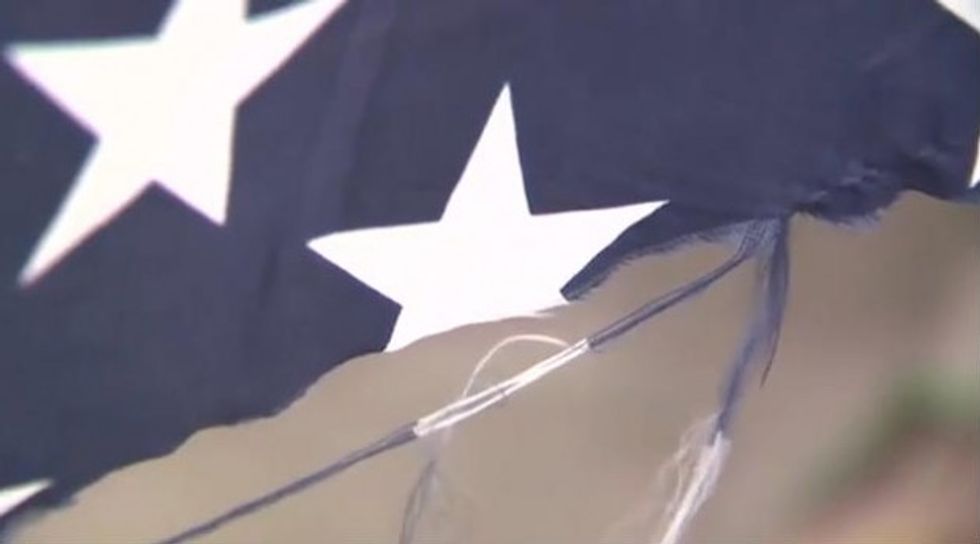 Image source: KPRC-TV
"When we came out, we saw that the flag had been bent over and was almost on the ground and had been torn or ripped," Walden told KPRC-TV. "There was just a little piece of the flag left behind."
The flags belonged to Tomball Memorial High School choir booster club, whose members placed them in residents' yards for small donations. But now that many of them have been destroyed or stolen, the booster club is left with the tab to replace all the flags it lost.
"Heartbreaking. I was disgusted by it," Walden said. "So unpatriotic, so un-American if you ask me."
Walden said she hopes that police find whoever is responsible and make them pay for the damage. Police said they have received several other reports of flags being desecrated and believe a group of teenagers is driving around committing the acts, but don't have a description of the car they were in.
"I think the saddest thing is that it happened on our Independence Day," Walden said.
video platformvideo managementvideo solutionsvideo player
(H/T: KPRC-TV)
–
Follow Jon Street (@JonStreet) on Twitter