Police in Colorado are investigating a woman after a video surfaced allegedly showing her giving wine to her infant son, even to the point that he appeared intoxicated.
The person who claims to have shot the cell phone video provided the footage to KDVR-TV and the Loveland Police Department but asked to remain anonymous.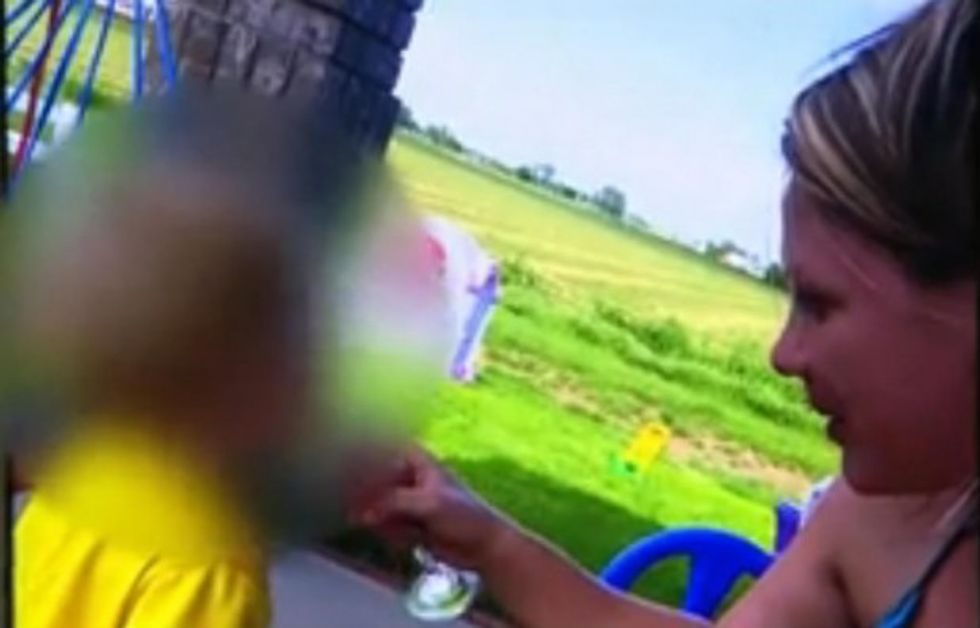 Image source: KDVR-TV
"You like it huh. Just a little bit?" the women tells the 15-month-old boy as she keeps giving him more and more alcohol in front of what appears to be a vineyard in the background.
As one medical expert pointed out to KDVR-TV, a small child who weighs 28 pounds can become intoxicated after consuming just two ounces of alcohol. If they drink it regularly, it could cause brain damage.
Despite the risks, however, the woman is seen laughing throughout the video and even defends her actions after she realizes that she's being recorded.
"You're not f***ing videotaping me are you?" she says.
The person recording then pointed out that the boy didn't just have "three sips." But the woman still didn't see a problem.
"It's like four, OK?" she says.
The witness identified the woman as 26-year-old Alexandra Bremkamp, who declined to be interviewed by KDVR. But the outlet spoke with the woman's mother, who played down the allegations.
"That's my daughter, she's got a terrific sense of humor and she's acting silly," Patty Bremkamp said. "That's not wine. That's probably one of those sparkling things that I gave her."
But Patty Bremkamp's daughter tells a different story in the video.
"It's OK. It's just wine," Bremkamp says. "People put f***ing whiskey on their bottle's gums every day and you think three sips of wine is going to do nothing."
The Loveland Police Department said it is looking into the situation and has notified child protective services in the meantime.
(H/T: KDVR-TV)
–
Follow Jon Street (@JonStreet) on Twitter