Ahead of the South Carolina House of Representatives voting in favor of having the Confederate flag removed from Capitol grounds, Rep. Jenny Horne delivered a blistering response to one of Confederate flag supporters' main arguments, that being its "heritage."
"I would like to express how important it is that we not amend this bill," Horne said after taking to the podium. "The reason we need not amend this bill at this time is because if we amend the bill in any form or fashion it is going to a conference committee. It is not going to end quickly. We are going to be doing this all summer long."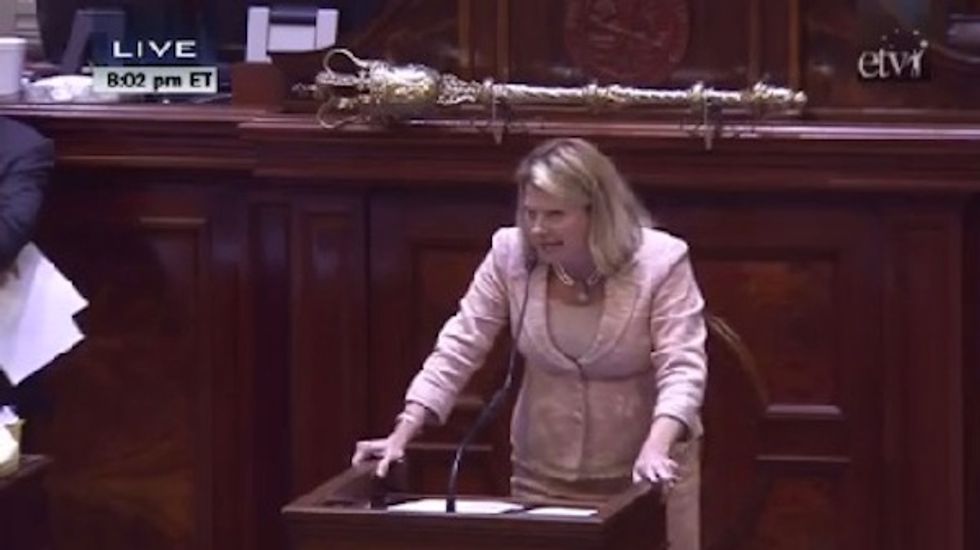 Jenny Horne delivered a tearful and emotional message regarding suggestions that the South Carolina House add an amendment to a bill to remove the Confederate flag from Capitol grounds. The House ended up passing the bill to remove the flag as is. (Image source: C-SPAN)
"The people of Charleston deserve immediate and swift removal of that flag from this grounds," she continued.
Saying she spoke on behalf of the people in Charleston where nine people were killed last month in a shooting that took place inside a historic black church, Horne choked up as she said "this flag offends" and named and pointed to several of her friends and fellow representatives present.
"I cannot believe that we do not have the heart in this body to do something meaningful such as take a symbol of hate off these grounds on Friday," Horne said through tears, her voice rising to a shout.
Horne said that amending the bill to remove the flag would continue its flying, adding "insult to injury" for the family of the victims of the Emanuel African Methodist Episcopal Church shooting.
"I will not be a part of it," she yelled, gripping the podium. "And for all of these reasons, I will not vote to amend this bill today. We may visit this another session, another year, but if we amend this bill, we are telling the people of Charleston we don't care about you. We do not care that someone used this symbol of hate to slay eight innocent people who were worshiping their God."
"I'm sorry but I have heard enough about heritage," Horne said. "I have heritage. I'm a lifelong South Carolinian. I am a descendant of Jefferson Davis. OK? But that does not matter. It's not about Jenny Horne! It's about the people of South Carolina who have demanded that this symbol of hate come off of the state house grounds!"
Watch Horne's tearful statement via C-SPAN:
After more than 13 hours of debate, the House approved the Senate's bill. It moved Republican Gov. Nikki Haley's desk for signature, who has supported its removal from the start.
(H/T: Mediaite)