As San Francisco is set to raise its minimum wage to $15 over the next few years, Chipotle raised the price of its food.
According to Investors Business Daily, Chipotle in San Francisco raised its prices as much as 14.4 percent as the Golden Gate City raised its minimum wage by 14 percent.
"We believe the outsized San Francisco price hike was likely because of increased minimum wages (which rose from $10.74 per hour to $12.25 on May 1) as well as scheduled minimum wage increases in future years," Sharon Zackfia of the investment firm Williams Blair said in client note obtained by Investors Business Daily.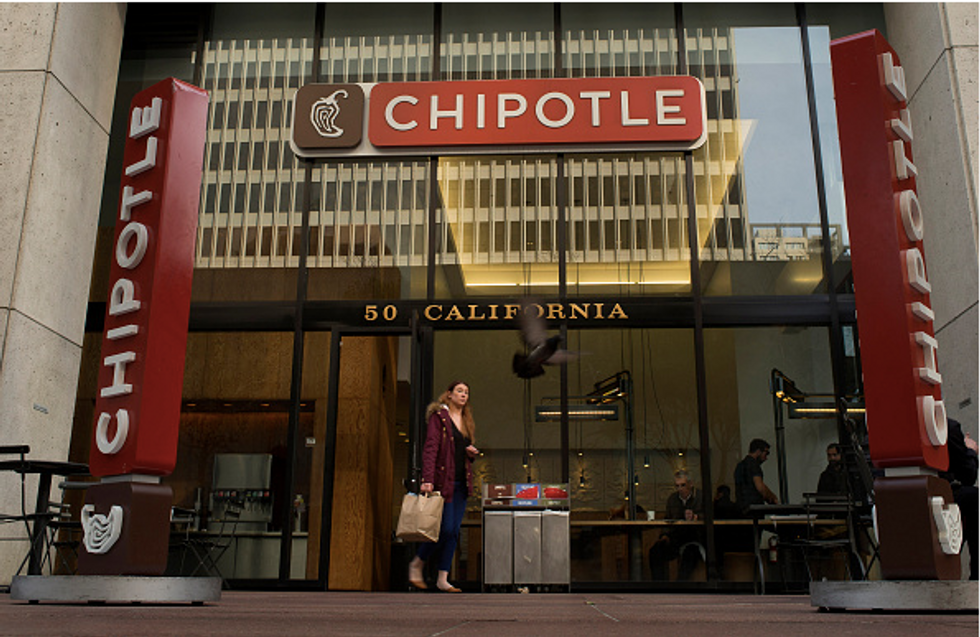 A customer exits a Chipotle Mexican Grill in San Francisco, California, U.S., on Monday, Feb. 2, 2015. Chipotle Mexican Grill is expected to release earnings figures on Feb 3. Photographer: David Paul Morris/Bloomberg via Getty Images
Restaurants in Denver, Chicago, Orlando and Minneapolis also saw an increase in prices, according to the William Blair review, but those increases averaged out to only 0.5 percent, largely in part to a rise in the price of beef. In San Francisco, prices of beef entrees were raised 14.4 percent, large sodas were raised 11.1 percent, chips were raised 10.3 percent and water was raised 10 percent.
San Francisco will raise its minimum wage to $13 in 2016 and then to $14 in 2017 and $15 in 2018.
Chris Arnold, a spokesman for Chipotle, confirmed to the Chicago Tribune that the San Francisco pricing hike was "done in part to offset higher labor costs." Pricing at Chipotles nationwide vary due to the cost of doing business, he said.
"California, and San Francisco in particular, has a high cost of doing business," Arnold said. "In San Francisco, for example, our occupancy costs are about double the Chipotle average as a percentage of sales, and our menu prices there are right around the average for Chipotle restaurants around the country, so increases to wages can have a greater impact than they might elsewhere."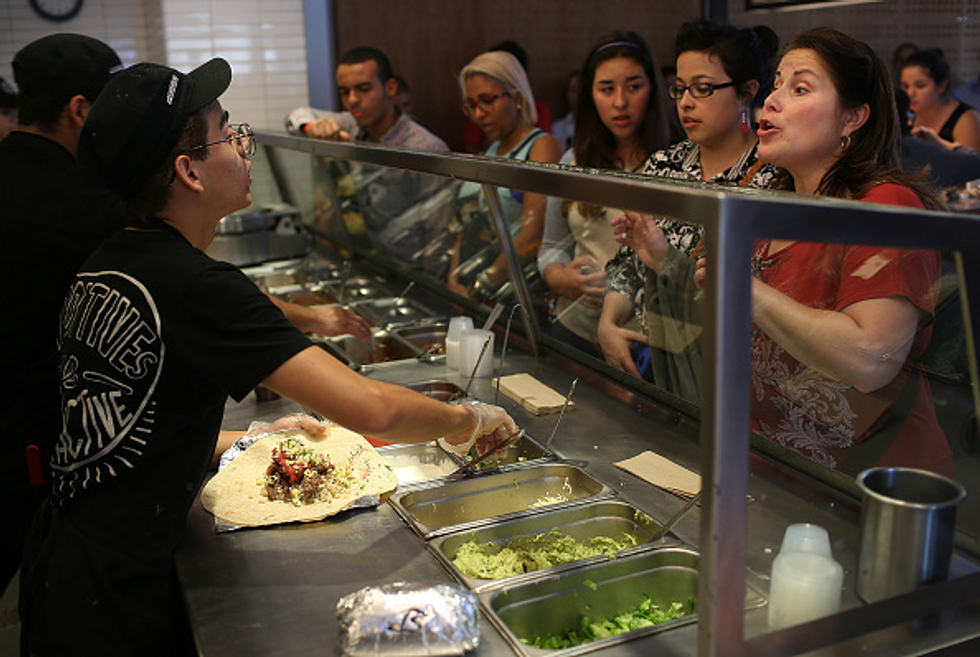 MIAMI, FL - APRIL 27: Chipotle restaurant workers fill orders for customers on the day that the company announced it will only use non-GMO ingredients in its food on April 27, 2015 in Miami, Florida. The company announced, that the Denver-based chain would not use the GMO's, which is an organism whose genome has been altered via genetic engineering in the food served at Chipotle Mexican Grills. (Photo by Joe Raedle/Getty Images)
According to Eater, while officials in Los Angeles and Seattle have also approved a minimum wage hike to $15 per hour, it is unclear whether or not Chipotle will raise prices in those communities as well.
Chipotle recently made its debut on the American Customer Satisfaction Index, coming in second place right behind Chick-fil-a.