Donald Trump, a 2016 GOP presidential candidate, responded defiantly after being confronted by a Mexican man over the issue of illegal immigration at FreedomFest in Las Vegas on Saturday.
"There are illegal immigrants that are horrible and terrible," the man said. "There are also legal immigrants who are horrible and terrible."
"Ask a question, please," Trump responded tersely. "Did the government of Mexico ask you to come up here and say this?"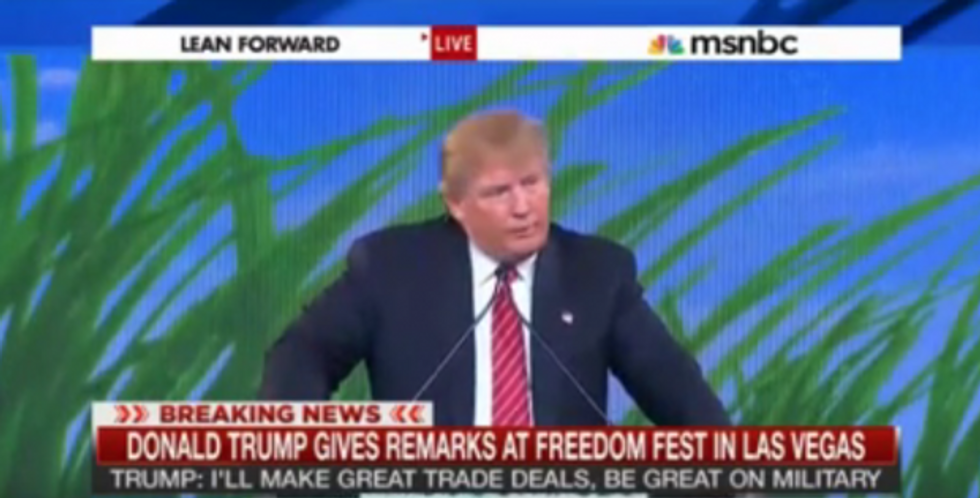 Screengrab via MSNBC
The man, who claimed to be from Mexico, finally asked Trump if he would build walls around all the states in the U.S. to "prevent al lot those rapists and killers that come from elsewhere," referring to the Trump's recent controversial remarks on illegal immigrants.
Trump replied, "I would build a wall between our country and Mexico, because people come from all over the world…I encourage legal citizenship."
He reiterated that he would encourage immigrants from around the world to become "legal" immigrants, but said he doesn't encourage people coming into our country illegally."
"And I don't encourage where a government forces some people in that the government doesn't want — and these people wreak havoc on our population," he added.
Before giving up the mic, the man told Trump he should "read the Statue of Liberty."
Watch the exchange below:
(H/T: Mediaite)
---