The decades-long constitutional battle over a veterans' memorial in San Diego, California, that includes a 29-foot Christian cross is potentially nearing its conclusion, with the U.S. government reportedly agreeing to sell the land on which the monument stands to a private organization.
"The Mt. Soledad Veterans Memorial Cross has stood since 1954 as a symbol of the selfless sacrifice of our nation's veterans," Liberty Institute attorney Hiram Sasser said in a statement. "Such a sacred memorial should receive our highest honor and protection."
The monument includes thousands of plaques that honor veterans who have served the armed forces.
Sasser, who works for the conservative legal firm that has defended the cross, said that the sale of the land to the Mt. Soledad Memorial Association, a nonprofit group that manages and maintains it, for $1.4 million will ensure that the memorial will be able to continue commemorating the lives of soldiers who have defended the United States, calling it an "ultimate victory."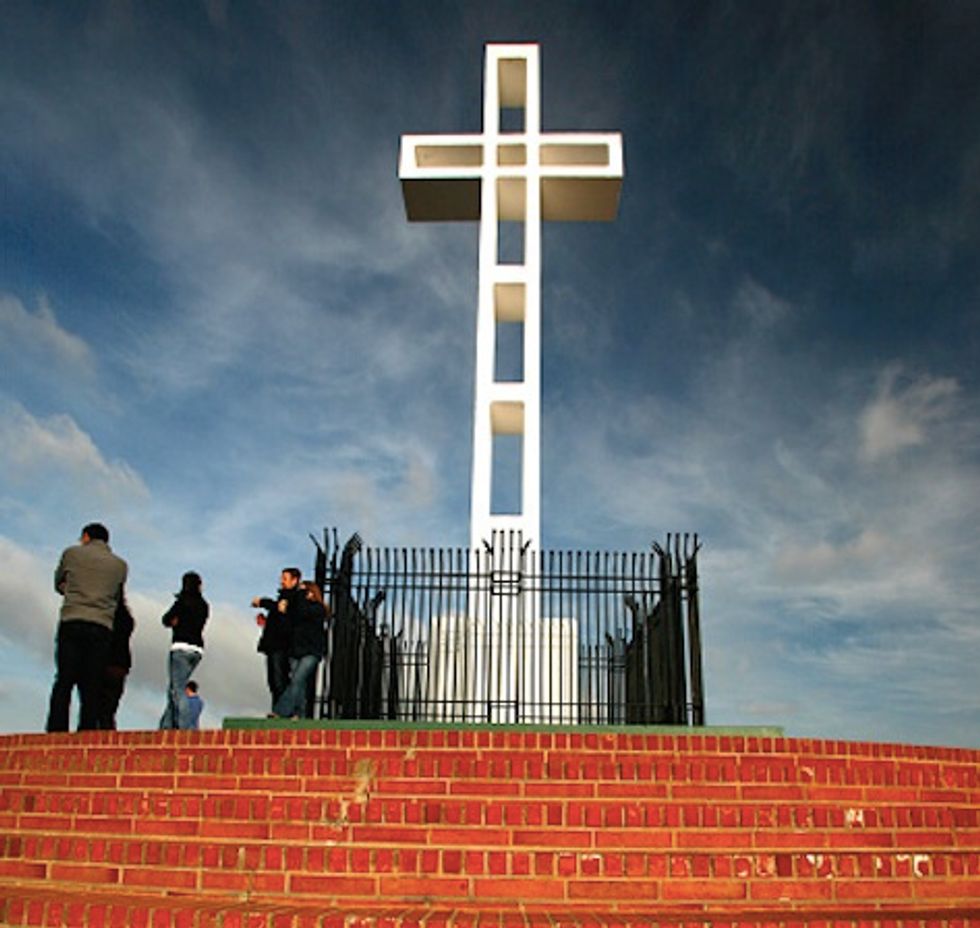 Mount Soledad Latin Cross at Mt. Soledad Veterans Memorial. (Dünzl/ullstein bild via Getty Images)
As TheBlaze previously reported, the battle over the Mt. Soledad Veterans Memorial Cross has gone on for more than two decades, beginning back in 1988 when the land was still controlled by San Diego. The case against the cross was initially launched by Vietnam veteran Philip Paulson, an atheist who passed away in 2006, the Wall Street Journal reported.
The Jewish War Veterans of the United States also turned to the American Civil Liberties Union in 2006 to push against the cross' presence on public land; the lawsuit came after the federal government — specifically the Department of Defense — began controlling the land that year.
The legal battle over the cross has been a harrowing one. The 9th Circuit U.S. Court of Appeals ruled in 2011 that the symbol's presence was unconstitutional, with a judge concluding that "the Memorial, presently configured and as a whole, primarily conveys a message of government endorsement of religion that violates the establishment clause."
The U.S. Supreme Court then declined to hear the case in 2012. It is currently unclear what will happen, as the battle over the cross still stands before the 9th circuit, though the sale could potentially change its future by allowing it to remain on private land.
"Certainly we are glad the government is trying to get out of the business of religion," American Civil Liberties Union attorney David Loy told the Los Angeles Times, though he said he wanted to examine the contract detailing the sale of the land.