The media in Saudi Arabia are openly calling for the Persian Gulf kingdom to use the next decade to develop nuclear weapons, paralleling the timeframe of nuclear restrictions the U.S. and five world powers agreed upon in the historic deal with Iran reached earlier this month.
The Middle East Media Research Institute reviewed articles in the pro-government Saudi press that pushed the notion that Saudi Arabia must become a nuclear power as a deterrent to deep concerns that the Iran agreement will eventually lead its regional rival to develop a nuclear weapon.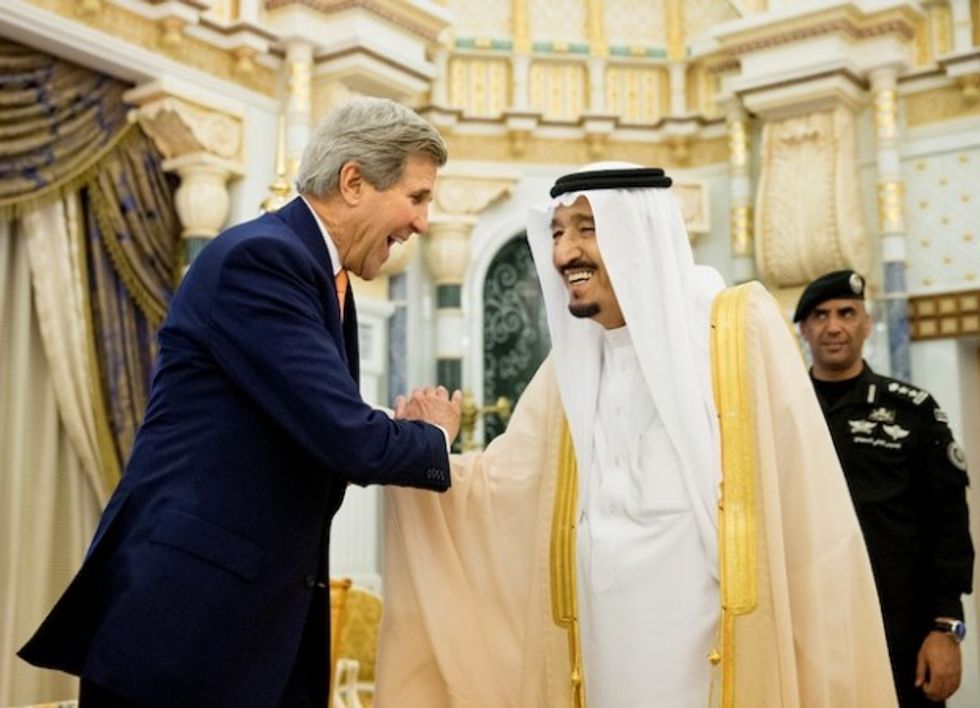 Secretary of State John Kerry with Saudi Arabia's King Salman bin Abdul-Aziz Al Saud Salman in Riyadh, Saudi Arabia, on May 7, 2015. (AP Photo/Andrew Harnik, Pool)
The calls for Saudi nuclear development bolstered the concerns of critics of the deal who have asserted that the agreement spearheaded by President Barack Obama would fuel a Middle East nuclear arms race.
Dr. Hashem 'Abdu Hashem, a columnist for the official Saudi daily Al-Riyadh, said his country should "not delay" or "tiptoe" toward nuclear weapon development.
"Just as Iran has opened the [nuclear] door wide, we must not delay in breaking [the nuclear door] down, with all necessary speed," he wrote in a piece titled, "There Is No Alternative to the Option of a Nuclear Arms Race."
"We are facing a new reality, with no room for tiptoeing around the arms race issue. The countries of the region must confer on how best to cooperate and coordinate on this vital issue, now that it has become the preferred option," he wrote, according to MEMRI.
Another columnist revealed just how little faith the Saudis have in White House assurances that the deal will "prevent Iran from acquiring a nuclear weapon."
Jasser 'Abd Al-'Aziz Al-Jasser wrote in the official Saudi daily Al-Jazirah, "A decade from now, Iran will be able to manufacture nuclear weapons. ... It has the know how, which will surely develop in the coming decade, in addition to amassing thousands of tons of enriched uranium – which will facilitate Iran's production of nuclear weapons."
Al-Jasser said that meant the Saudis now needed to work toward a "nuclear balance" of power.
"Therefore, the countries of the region, especially Saudi Arabia and the UAE, must prepare for that day, and work to create a scientific base and a nuclear [facility] infrastructure by establishing research reactors for producing energy, that can serve the region's countries [in their efforts] to attain a nuclear balance [of power] with Iran or with Israel. Otherwise, only Arab countries will be targets for extortion, by both Iran and Israel," he wrote.
His column was titled "So We Don't Fall Victim To The Nuclear Deception."
Saudi academic 'Abd Al-'Aziz Al-Tuwaijri wrote in the London-based Saudi daily Al-Hayat that not only Saudi Arabia, but other Gulf countries should now work towards nuclear weapons.
"We have entered a new phase of dangerous challenges. ... There is no escape from taking the initiative and establishing nuclear programs that are similar to the one agreed upon between the superpowers (the P5+1) and Iran, and under the same conditions, and [there is also no escape] from bearing all expected and unexpected consequences [of establishing these programs], in order to preserve [the Arab] lands and to defend their existence and security," he wrote according to MEMRI.
Another columnist for a government-backed media outlet presented the steps Saudi Arabia should take to progress toward a doomsday weapon linked to the timeframe of the Iran deal.
Al-Jazirah columnist Khaled Ibrahim Al-Hajji wrote that Saudi Arabia should exploit the Iran agreement over the next 10 years to train Saudis in the area of nuclear energy, recruit "outstanding" students, and set up nuclear energy research and development centers.
He also promoted "conducting clandestine scientific research in absolute secrecy to preserve national security; and recruiting nuclear physicists and scientists from around the world to work in Saudi Arabia in return for special benefits, and granting Saudi citizenship to those who desire it."
"The Saudi nuclear program will be ready to develop and produce nuclear weapons that will deter Iran's nuclear program once its agreement with the superpowers expires," he wrote.
It's not only the Saudi media that have floated the threat of nuclear weapons development; Saudi Arabia's ambassador to Britain last month warned that "all options will be on the table" if the final agreement did not prevent Iran from developing a nuclear weapon, a comment widely interpreted as a threat that Saudi Arabia would be encouraged by the Iran deal to itself become a nuclear power.
"We hope we receive the assurances that guarantee Iran will not pursue this kind of weapon," Prince Mohammed bin Nawwaf bin Abdulaziz al-Saud, the Saudi ambassador to the U.K., told the Daily Telegraph. "But if this does not happen, then all options will be on the table for Saudi Arabia."
Israeli Prime Minister Benjamin Netanyahu has repeatedly warned that the Iran deal "paves the way" to Iran developing multiple nuclear bombs.
Based on the numerous op-eds emerging from the kingdom, that opinion appears to also be widely held in Saudi Arabia.