Back in 2004, Donald Trump told CNN's Wolf Blitzer something that's come back to haunt him in his quest for the Republican presidential nomination.
"In many cases, I probably identify more as Democrat," Trump said at the time. "It just seems that the economy does better under the Democrats than the Republicans."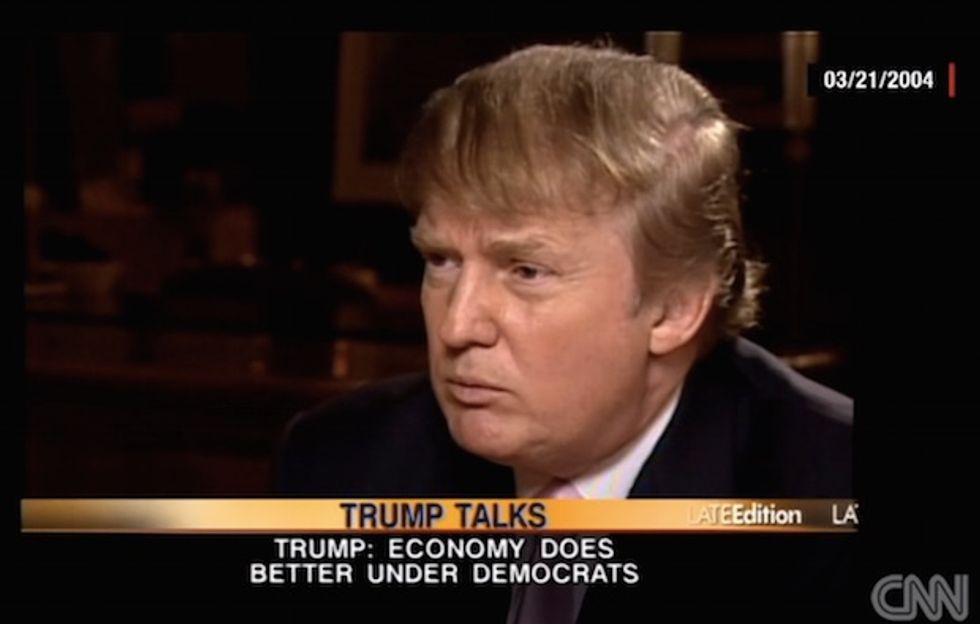 Image source: 2004
TheBlaze TV news anchor Amy Holmes confronted Trump about his comments Friday on MSNBC's "Morning Joe."
"I identify with some things as a Democrat, but generally speaking ... and if you look at what happened ... I was never a Bush fan, I will tell you," Trump said. "In fact, I just say about this one, the last thing we need is another Bush. When the economy crashed so horribly under George Bush, because of mistakes they made having to do with banking and lots of other things, I don't think the Democrats would have done that. Now, I've seen it both ways. But I hated what I was watching in the last two years of George Bush. It was a bubble waiting to explode."
Trump said he predicted the bubble in the economy, adding, "What they were doing was a death wish and I saw that. Now, would a Democrat have done the same things? Possibly."
Recognizing the effect the economic downturn had on the GOP's 2008 nominee, Trump actually cut John McCain some slack, saying, "Abraham Lincoln could have run against Obama at that time, and you just couldn't have won."
He wrapped up his answer to Holmes' question, "I'm a Republican, I'm actually quite conservative, to put it mildly. But, I have seen things done by Republicans that are not good and not smart."
Holmes' question to Trump starts at the 15:38 mark:
—
Follow Mike Opelka (@Stuntbrain) on Twitter