UPDATE: 4:20 p.m. ET:* The New York Times further altered a news story about a potential investigation into Hillary Clinton's email account to say an inspector general referral was about potentially classified information regarding Clinton's personal email account, but not a referral to investigate Clinton. A Justice Department spokeswoman told Politico, "The Department has received a referral related to the potential compromise of classified information. It is not a criminal referral."
Hillary Clinton sent at least four messages from her personal email account containing classified information during her time as secretary of state, according to a memo from the Inspector General of the Intelligence Community obtained by the Wall Street Journal.
Following a New York Times report Thursday that two inspectors general had made a criminal referral to the Justice Department, the Journal cited a letter to Congress from the inspector general.The Times later made revisions to the initial story.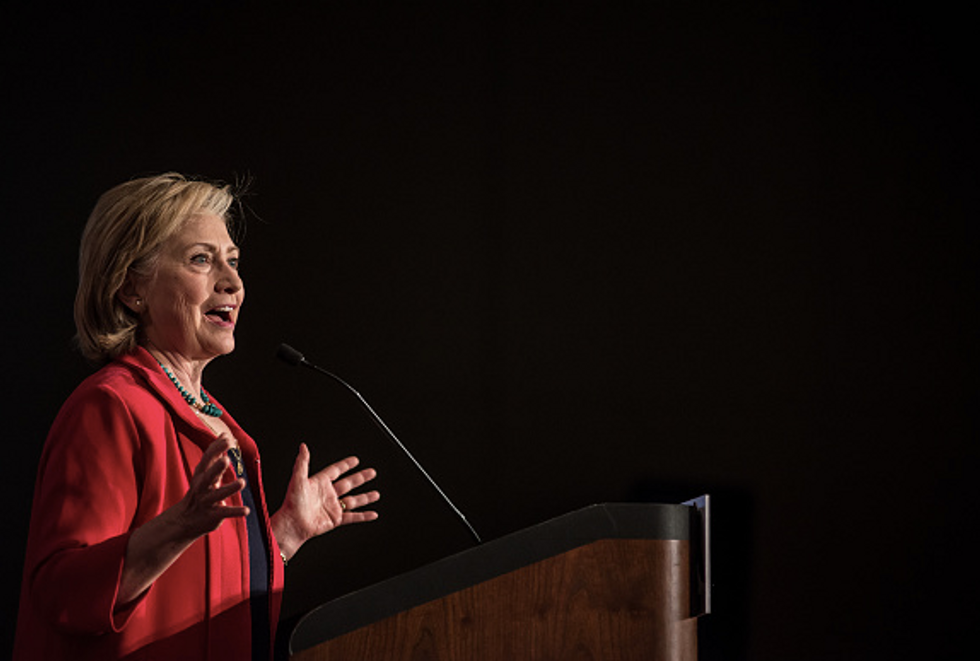 Sean Rayford/Getty Images
The emails "were classified when they were sent and are classified now," Andrea Williams, a spokeswoman for the inspector general, told the Journal.
The IG referred the matter to the counterintelligence division of the FBI. A Department of Justice official confirmed to the Wall Street Journal on Friday that it received the referral to probe whether any classified information was mishandled.
Clinton said during a speech at New York University that the reporting was inaccurate, and referred to a memo released Friday by Rep. Elijah Cummings (D-Md.), the ranking Democrat on the House Benghazi committee.
"I want to say a word about what is in the news today and it is beuase there have been a lot of inaccuracies as Congressman Cummings made clear this morning. Maybe the heat is getting to everybody. We all have a responsibility to get this right," Clinton said. "I have release 55,000 pages of emails, I have said repeatedly that I will answer questions before the House committee. We are all accountable to the American people to get the facts right. And I will do my part. But I am also going to stay focused on the issues. Particularly the big issues that really matter to American families."
The IG only reviewed a sample of about 40 emails from Clinton's inbox, while more than 30,000 could contain potentially confidential information.
In March, Clinton, the leading candidate for the Democratic presidential nomination, said at a press conference: "I did not email any classified material to anyone on my email. There is no classified material. I'm certainly aware of the classified requirements and did not send classified material."
From the Wall Street Journal:
The inspector general's office concluded that Mrs. Clinton should have used a secure network to transmit the emails in question—rather than her personal email account run off a home server.

"None of the emails we reviewed had classification or dissemination markings, but some included IC-derived classified information and should have been handled as classified, appropriately marked, and transmitted via a secure network," wrote Inspector General I. Charles McCullough in the letter to Congress. …

The State Department has downplayed concerns about the classified material found in Mrs. Clinton's 55,000 pages of email—saying that email is often classified after it has been sent.

"It's not uncommon that something that you're sending now on an unclassified network could in later years or later months be deemed to be classified either because the passage of time made it so or because events on the ground have borne out," a State Department spokesman said earlier this month.
This post was updated to include statement from Hillary Clinton.