Billionaire businessman Donald Trump accused Gov. Scott Walker, a fellow candidate for the Republican presidential nomination, of running Wisconsin into financial trouble.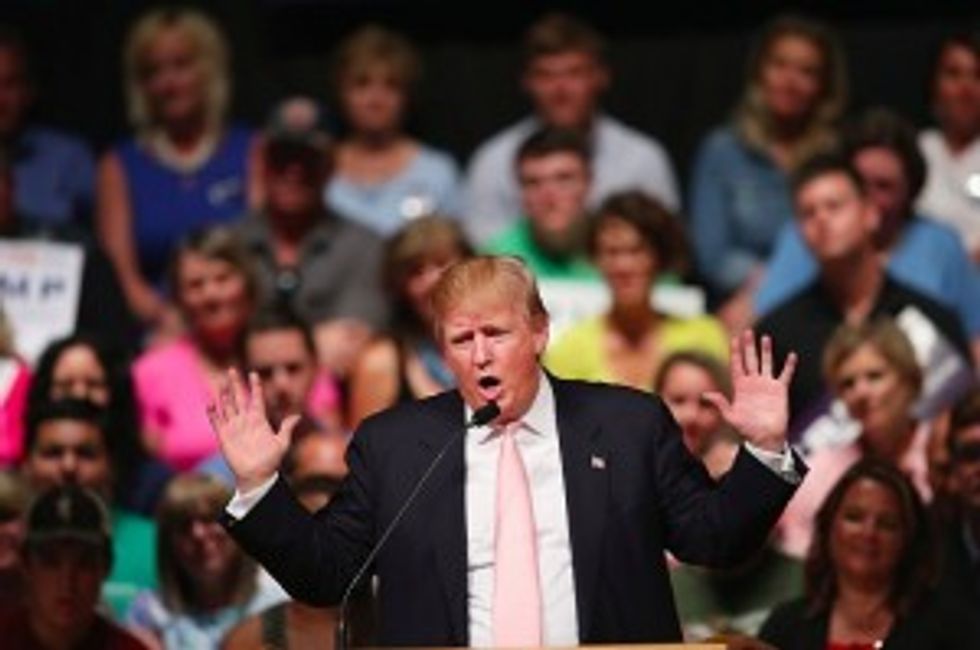 Republican presidential hopeful businessman Donald Trump speaks to guests gathered for a rally on July 25, 2015 in Oskaloosa, Iowa. (Image source: Scott Olson/Getty Images)
In front of about 1,000 people who packed an Oskaloosa, Iowa, high school auditorium for his speech Saturday, Trump said Walker deserves the offensive because a top supporter called Trump "Dumb, dumb" in an email.
"Finally I can attack," he told the crowd in reference to Walker, who leads Trump in Iowa polls.
But apparently Trump didn't limit payback for politicians, as his campaign denied the Des Moines Register press credentials to cover the event.
Why? A highly critical editorial in the newspaper said Trump should end his bid for the presidency, USA Today reported.
Among other things, its Tuesday editorial called Trump "a feckless blowhard who can generate headlines, name recognition and polling numbers not by provoking thought, but by provoking outrage."
Amalie Nash, the Register's editor and vice president for audience engagement, issued a statement in response to Trump's actions against the paper.
"We are disappointed that Mr. Trump's campaign has taken the unusual step of excluding Register reporters from covering his campaign event in Iowa on Saturday because he was displeased with our editorial," she said. "As we previously said, the editorial has no bearing on our news coverage. We work hard to provide Iowans with coverage of all the candidates when they spend time in Iowa, and this is obviously impeding our ability to do so. We hope Mr. Trump's campaign will revisit its decision instead of making punitive decisions because we wrote something critical of him."
Last week, Trump went after South Carolina Sen. Lindsey Graham. He's also characterized other candidates as unfit for the Oval Office.
Trump also criticized Sen. John McCain, faulting the Arizona Republican for being shot down and captured while serving in Vietnam more than 40 years ago.
The Associated Press contributed to this story.
—
Follow Dave Urbanski (@DaveVUrbanski) on Twitter