Ted Nugent turned to his Facebook page this week to share his passionate thoughts on the lion killed by an American dentist, lashing out at "stupid" individuals who have strongly criticized the hunter.
The outspoken rocker and gun-rights advocate said "the whole story is a lie."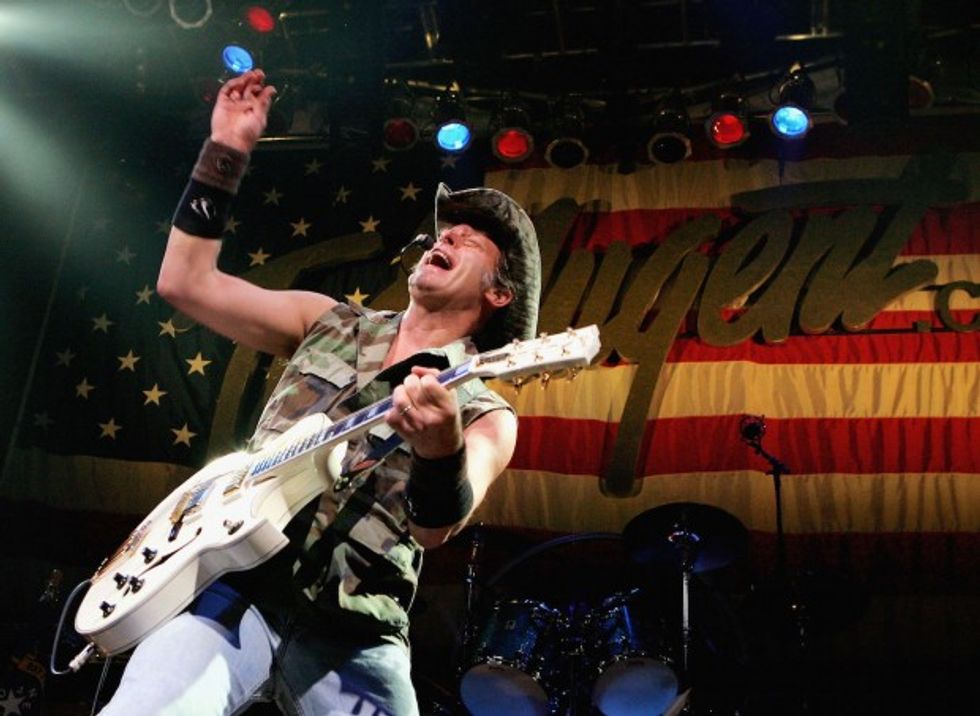 Rock artist Ted Nugent performs at the House of Blues inside the Mandalay Bay Resort & Casino during his Uncle Ted Remember the Alamo tour, July 30, 2005 in Las Vegas, Nevada. (Photo by Ethan Miller/Getty Images)
"It was a wild lion from a 'park' where hunting is legal and ESSENTIAL beyond the park borders. all animals reproduce every year & would run out of room/food to live w/o hunting. I will write a full piece on this joke asap. God are people stupid," he wrote.

Image source: Facebook
Local authorities believe the lion, famously known in Africa as Cecil, was lured from a protected area in July. Walter Palmer, the Minnesota dentist who authorities allege paid $50,000 to kill the large cat, said in a statement that he did not know Cecil was protected.
Zimbabwean officials allege the kill was illegal because one of the two men Palmer hired to help with the kill didn't have a permit. The men have been arrested, but authorities continue to search for Palmer, whose current whereabouts are unknown.
Nugent, however, argued that Palmer did nothing wrong. After calling Jimmy Kimmel a "lying punk" for delivering a passionate monologue on Cecil, Nugent was asked to point out any inaccuracies in Kimmel's commentary.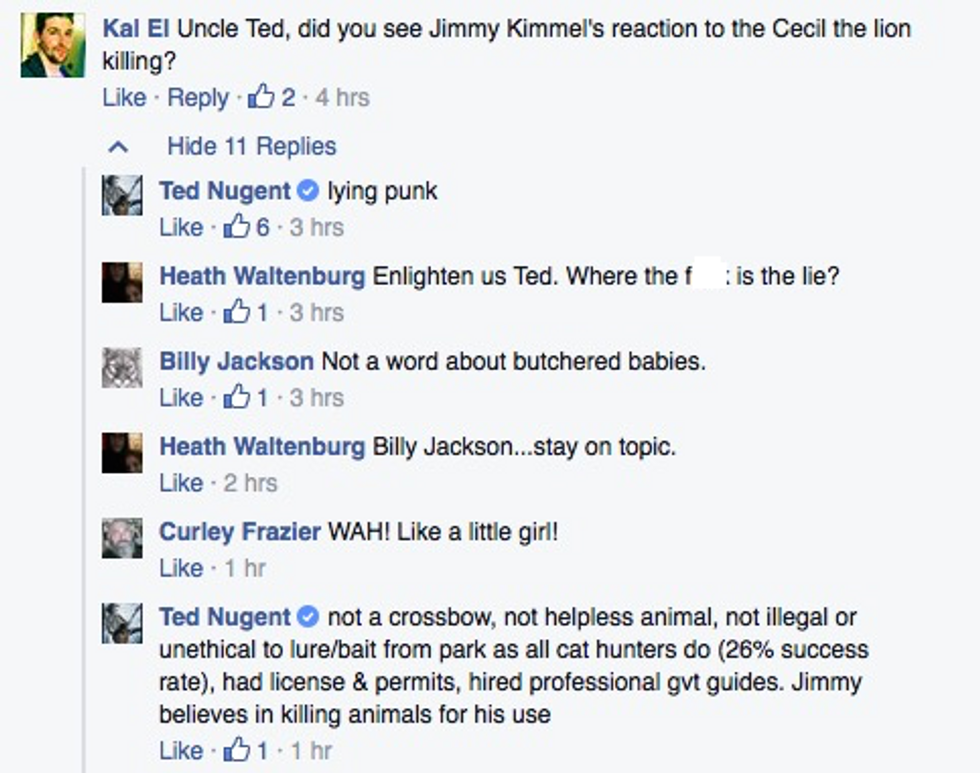 Image source: Facebook
"Not a crossbow, note helpless animal, not illegal or unethical to lure/bait from park as all cat hunters do (26% success rate), had license and permits, hired professional gvt guides," he wrote. "Jimmy believes in killing animals for his use."
Responding to another commenter, Nugent said the idea the hunt was a "trophy" kill was "a lie."
"I have met & hungout with literally 1000s & 1000s of hunters.,never seen any1 discard the precious protein. its all a lie," he insisted.

Image source: Facebook
When one person called Nugent a "coward and stupid," saying she'd like to see him hunt a lion with his "bare hands," the rocker simply replied, "u 1st."

Image source: Facebook
—
Follow the author of this story on Twitter and Facebook: