It was after 2 a.m. Tuesday and Amy Allen was still awake after her family had attended a baseball game earlier in the evening.
So while her husband and son were fast asleep —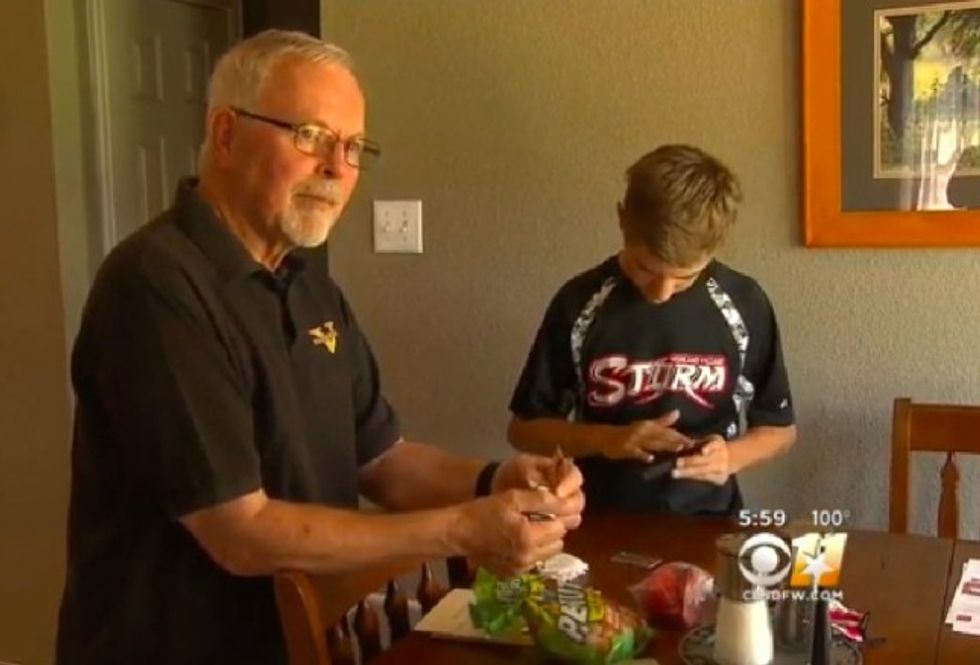 Image source: KTVT-TV
— Allen decided to check on the lawn sprinklers, and came upon a couple of odd sights.
First she noticed a red light on the alarm system, KTVT-TV reported. And then there was the back door.
"From the edge of the kitchen I could see the back door was wide open," she told KXAS-TV. "I thought maybe I had left it open or hadn't shut it very well or the wind had blown it open."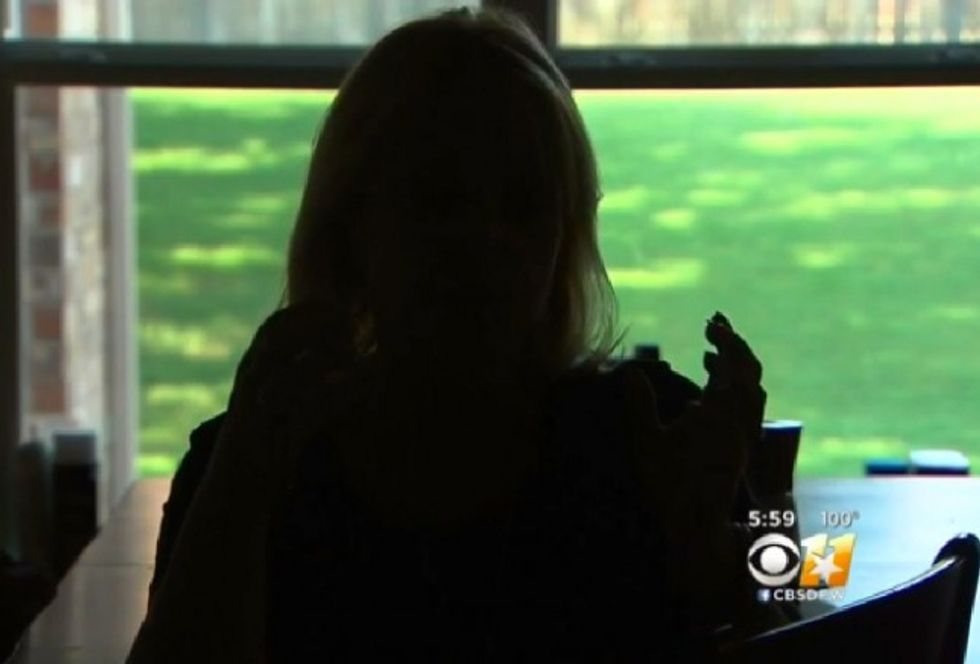 Amy Allen, who didn't want her face shown on camera. (Image source: KTVT-TV)
Then Allen saw something else in her Flower Mound, Texas, kitchen.
"It took me a second to process that it wasn't my husband or my son, and I screamed, 'Hey!'" she told KXAS. "And when he turned around I realized it was a very tall figure in a black hoodie."
That's when instinct overtook her.
"He made a move," she told KXAS of the man who also wore a white mask. "I don't know where he was going, but he was between me, my husband and my son, so I ran straight across the kitchen, hit at a full run and just fought and struggled to get him out the back door."
The intruder grabbed a rum bottle off the counter and used it to attack Allen, but she was winning this fight and managed to get him out of the house.
"I felt good," she told KXAS. "I had got him out, shut it and locked it."
But the intruder wasn't finished.
"He started banging on the door and immediately three strong hits and he was right back through the door," she told KXAS.
The sound of shattering glass and the resumed struggle roused Allen's husband Mike, who quickly made his way to the scene.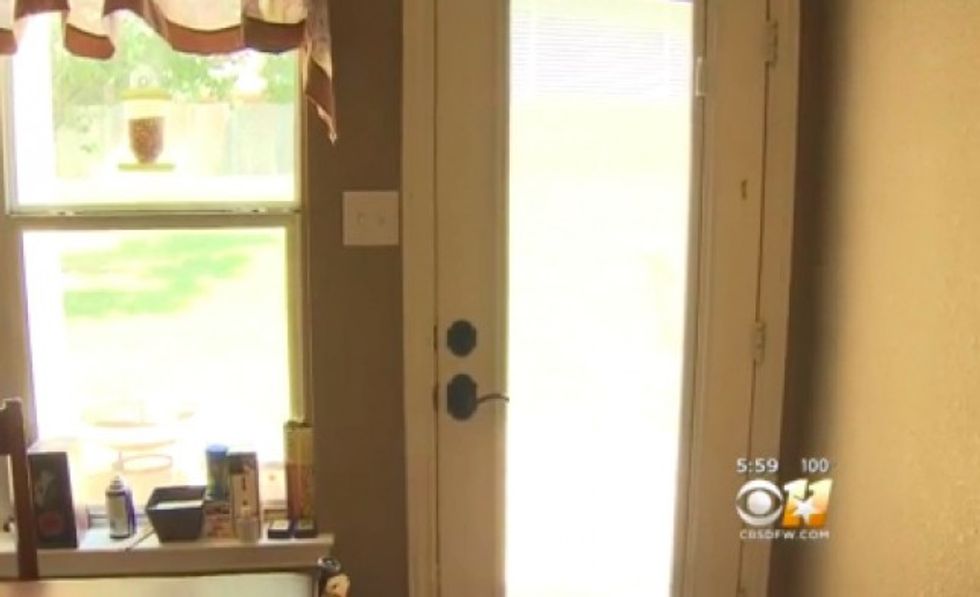 Image source: KTVT-TV
"I reached over and flipped the light on and said, 'What's going on?'" he told KXAS. "And at that point he realized somebody else was in the house and ran toward the front door."
This time the intruder stayed away — but Mike Allen wasn't convinced of that.
"It's awful. It's hard to go to sleep at night," he told KXAS. "We sat up, she was afraid he was going to come back because he was so determined to get back in, so we sat on the couch with baseball bats on our laps while I Shop-Vac'd the broken glass up."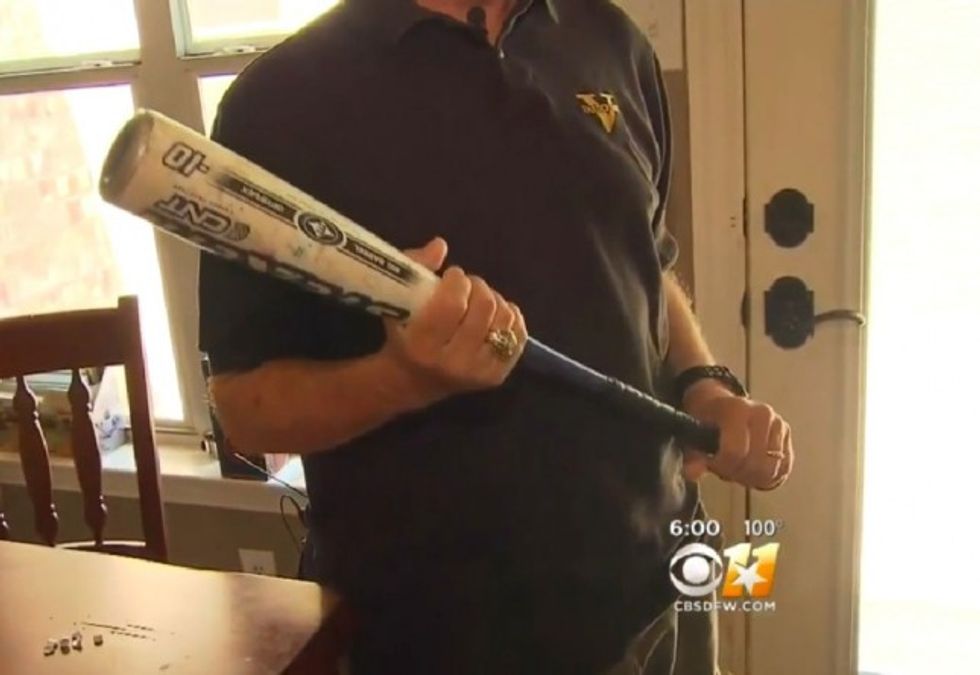 Image source: KTVT-TV
Amy Allen was shocked by the crook's persistence. "I couldn't imagine why he would come back in ..." she told KTVT. "I figured he would run, and he didn't. He came back in, and I never… I don't know that I'll ever understand that."
Mike Allen didn't seem surprised by his wife's reaction. "This was Mama Bear," he told KTVT. "She went after him ... and was screaming, 'get out of my house, get out of my house!'"
Police said the intruder apparently didn't take anything from the house — but he did leave something behind: blood. And police are analyzing it.
The man — who entered the house through an unlocked door — may have glass cuts on his hands, face, or arms, police told KTVT. He's described as white and about 5-feet-10-inches with a slender build and light-colored hair. He was also wearing dark-colored pants.
While Amy Allen recovered from getting roughed up herself, she shared the one primal thought the drove her through the nightmarish ordeal.
"This is my house," she told KTVT. "He's not taking that from me."
—
Follow Dave Urbanski (@DaveVUrbanski) on Twitter