Almost exactly one year ago, on August 9, 2014, Ferguson Police officer Darren Wilson fatally shot Michael Brown, an 18-year-old unarmed black man, during an altercation.
Still in hiding after the St. Louis community erupted in riots, looting and protests amid high racial tensions, Wilson is now telling his story.
Speaking to Jake Halpern of the New Yorker, Wilson, who resigned from the department in November, recalled the August day that he confronted Brown. Wilson said was supposed to meet his wife for lunch when he heard the call come in over his radio about a "stealing in progress" nearby. But the trail was cold, the suspects gone, so Wilson continued on to lunch.
In this undated handout photo provided by the St. Louis County Prosecutor's Office, former Ferguson Police officer Darren Wilson is seen in Ferguson, Mo. After Wilson shot 18-year-old Michael Brown on August 9, 2014, a St. Louis County grand jury who reviewed evidence related to the shooting decided not to indict him on charges, sparking large protests. (St. Louis County Prosecutor's Office via Getty Images)
And that was when Wilson saw them — two young black men walking in the street, perfectly fitting the descriptions of the suspects. The New Yorker relies on the Justice Department's report to piece together what happened next, along with details from both Wilson and Brown's friend who was with him at the time, Dorian Johnson.
Once Wilson swung his police car in front of the two, Brown blocked his door, preventing the officer from exiting the car. The pair exchanged words, although Wilson declined to expand on what exactly what was said, as Brown's parents are still pursuing a civil lawsuit against him.
Next, the DOJ report — collaborated by DNA evidence and bruising on Wilson's jaw — says Brown reached into the Tahoe's window, grabbed Wilson and punched him. The nearest weapon Wilson could reach was his gun, and when Brown attempted to grab that, Wilson shot him in the hand, the report states.
That was the first time Wilson had ever fired his gun while on duty, the New Yorker reported.
A brief chase then ensued before, the New Yorker said, Brown began to move toward Wilson. Some witness said he moved slowly, others said he ran, but he did not comply to Wilson's demands to stop. Wilson shot 10 times at Brown, not every bullet hitting him, before he collapsed and died.
Former Ferguson Police officer Darren Wilson (AP/St. Louis County Prosecuting Attorney's Office, File)
Wilson's wife, Barb, told the New Yorker that they expected the typical protocol after a police shooting: "You get about a week to a week and a half off, you see a shrink, you go through your Internal Affairs interviews. And then you come back."
Instead, the couple spent the night watching the news as unrest in the city escalated.
"We stayed up all night watching, like, 'Oh, my God, what's going on? What are they doing?'" she said.
Wilson's 6-year-old stepson didn't understand why he was seeing images of Ferguson burning on their television and asked what had happened.
"I said, 'Well, I had to shoot somebody,'" Wilson recalled. "And he goes, 'Well, why did you shoot him? Was he a bad guy?' I said, 'Yeah, he was a bad guy.'"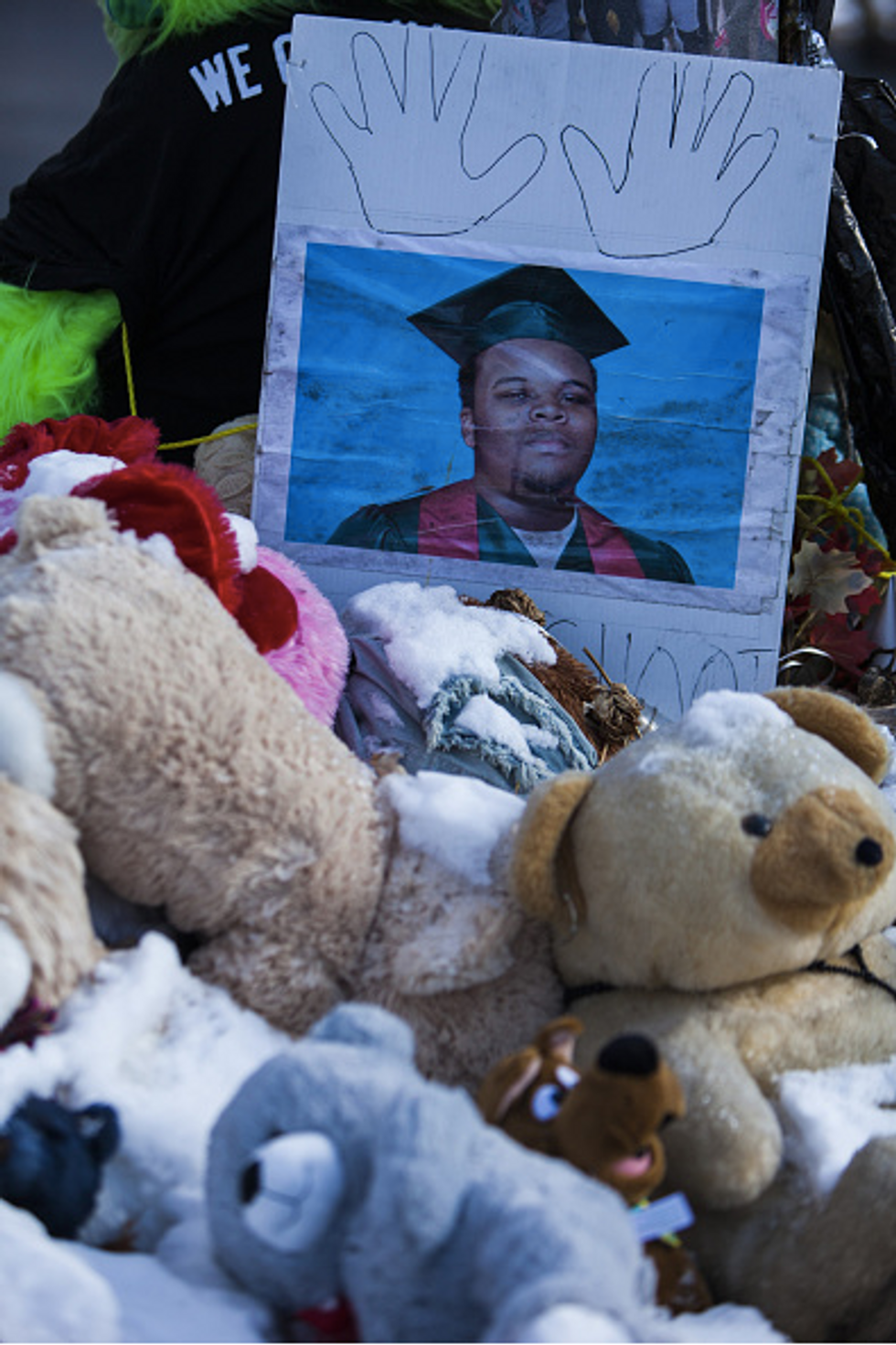 A memorial setup for Michael Brown, seen at the site of his death on Canfield Dr. in Ferguson, Mo., on Nov. 19, 2014. (Samuel Corum/Anadolu Agency/Getty Images)
The aftermath of the shooting sparked a national debate about police brutality and racial bias in police departments, building as other police-related shootings of black men garnered national media attention as well.
"Everyone is so quick to jump on race. It's not a race issue," Wilson told the New Yorker about the greater distrust of police.
"When a cop shows up, it's, like, 'The cops are here!' There's no 'Oh, s**t, the white cops are here!'" he said.
"We can't fix in 30 minutes what happened 30 years ago," Wilson said on the topic of racism in the police force. "We have to fix what's happening now. That's my job as a police officer. I'm not going to delve into people's life-long history and figure out why they're feeling a certain way, in a certain moment."
Prior to joining the Ferguson force, Wilson worked as a cop in Jennings, Missouri — another predominantly black community with a predominantly white police force. But after he joined the police force, questions abounded of just how much power the police in that department had due to a series of misconducts by officers, and the city council voted to shut it down.
"When I left Jennings, I didn't want to work in a white area," Wilson said. "I liked the black community. I had fun there. There's people who will just crack you up."
Read the full New Yorker piece here.
Related articles around the web