Victoria Hearst, granddaughter of famed newspaper tycoon William Randolph Hearst, says that Cosmopolitan magazine is "obsessed with sex," and that its "pornographic" contents encourage a potentially dangerous "sex anywhere, anytime" mentality.
"They tell you to go pick up strange men, they tell you to have sex in public, they tell you that group sex is great and wife swapping, and then they call that ... being a 'fun, fearless woman,'" Hearst told The Church Boys podcast. "I don't know what's fun about picking up a strange man and risking your physical security. I don't know whats fearless about running out and wondering if you're going to get a sexual disease."
Hearst said that these issues as well as the emotional, psychological and spiritual impact of Cosmopolitan's contents aren't taken into consideration, and, as TheBlaze previously reported, she's fighting back.
Her battle, of course, has received a great deal of attention considering that the magazine in question is owned by her family's media company.
Listen to Hearst's fiery message for Cosmopolitan below (caution: some contents from Cosmopolitan are graphic):
 Subscribe to The Church Boys on iTunes
"My issue is the sexual, graphic content that comes under the definition of pornography," she said, taking particular aim at the fact that most stores sell Cosmopolitan without any warning labels on it. "So, any kid right now who can see and has money can buy this magazine and see the graphic drawings of couples — naked men and women — having sex, and read the sexual content."
Hearst, a born-again Christian, recounted how she first became involved years ago in the movement to encourage that age restrictions be placed on the sale of Cosmopolitan, and that graphic blinders be used to cover what she says are sexually explicit messages.
"The Lord said to me, 'You need to do something about this,'" she said, describing how she wrote to the board of directors at Hearst at the time in an effort to sway them, but was unsuccessful.
After taking some time away from her efforts to get Cosmopolitan to take responsibility for its content, she said she has spent the past few years once again heavily advocating for increased responsibility from her family's company.
"This is a 'duh' campaign," she said, going on to read aloud selections of content that is in the August edition of the magazine — statements that were seemingly so graphic that The Church Boys chose to block snippets out in the podcast's post-editing process.
"God has given me this assignment," Hearst reiterated. "This is not family feud ... I am getting zippo out of this. It's costing me time, it's costing me money and the Heart Corporation — apparently the board of directors — don't care."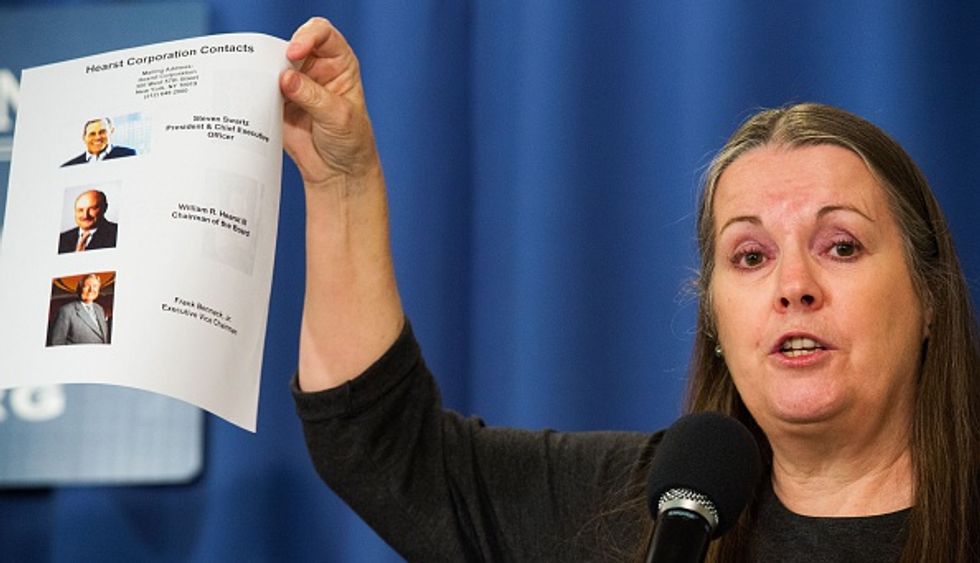 Victoria Hearst, the granddaughter of publisher William Randolph Hearst (PAUL J. RICHARDS/AFP/Getty Images)
Hearst, who recently had success after teaming up with the the National Center on Sexual Exploitation — formerly known as Morality in Media — to convince Rite Aid and Delhaize America store chains to put the magazine behind blinders, was careful to note that she isn't trying to censor or put Hearst out of business, but that she wants the company that he grandfather started to take responsibility to protect kids.
"I have every right to use my inheritance to fight the Heart Corporation over this magazine," she said.
Read more about the debate here.
--
Front page image via Shutterstock.com.